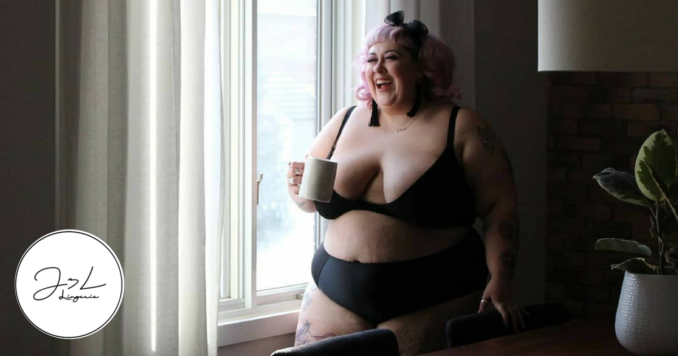 The Get Mesh bralette is a creation of Lingerie J3L, a relatively new company based in the Montreal area. (They started back in January 2017.) Lingerie J3L's goal? Offer lingerie that would fit AND please women of all sizes. They "want to give women the chance to be well in their bodies by wearing a lingerie that is both sensual and comfortable".
I met the two ladies behind the brand… and I was happy to meet two young women who truly seems to have body diversity at heart! They seemed eager to find out about the needs and desire of women of all sizes. #NeverTooManyAllies
Their website is definitely worth checking out. It features (Canadian) models of all sizes and silhouettes. (Lingerie J3L's size range goes from Small to 5X!) I also wholeheartedly command their attitude of next to no photoshopping their pictures.
With the current bralette trend in mind, I put their Get Mesh bralette to the test…!
---
A bralette is meant to keep the breasts in place and limit them from "free movement", but not meant to offer the same support that a regular bra can offer. Still, I was surprised with the impression of "relative support" I got from the Get Mesh bralette. (I even tested it at work and it didn't feel awkward!)
This very minimalistic bralette straps are quite narrow, yet, they didn't mark my skin (most likely because there isn't as much support work to do with this kind of undergarment).
On the downside: the "cups" of the larger size are not necessarily designed to accommodate the natural movement of larger breasts. In a nutshell: when you move, breasts tend to spill out of the "cup". Most women wearing a C-D+ cup might experiment spillage issues (also known as the infamous "double boob").
Outside of the spillage issue, I thought this bralette was overall comfortable and showed promising characteristics. It follows movement well and I'm pretty convinced that, with a fuller coverage, it could become a serious contender to rival with many established brands.
---
GET MESH BRALETTE – FAST FACTS
Price: starts at 45 CAD (35 USD / € 30)
Fabric: 78% Nylon, 22% Spandex
Color: Black
Sizes available: from Delicate to Nice & Curvy (XS to 5X)
Cleaning & Care: Hand-wash in cold water; hang to dry
BEST BACKPACKING FEATURES
-Space efficient (packs small, wire-free)
-Could be an interesting – and comfortable – option to wear on long commutes
---
VERDICT
For women with fuller busts, this model might not be the answer to your bralette calls, unfortunately. The cups being are too narrow to contain or cover the breast enough; this causes unfortunate spillage that
But… The Get Mesh bralette shows potential for women with smaller breasts (I'd say below a C-cup).
---
All photos (C) J3L Lingerie
---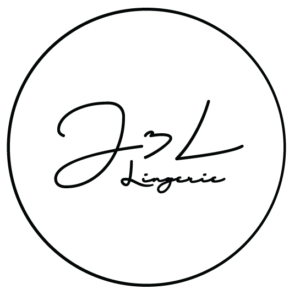 J3L Lingerie (Montréal, QC)
lingeriej3l.ca
Facebook @JtroisL
Instagram @j3l_lingerie