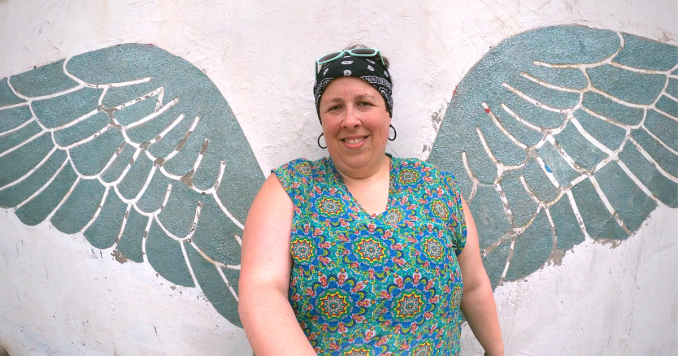 It's right after the Passover weekend that I landed in Tel Aviv. The second biggest city in Israel (right after Jerusalem) is the country's economic hub. It's also a modern, vibrant, bustling city with impressive… traffic. And traffic noise. (Make sure you bring ear plugs if you stay anywhere in the city, you will most likely need them to sleep at night!)
Tel Aviv has a lot to offer. Beaches, outdoorsy getaways, busy nightlife, outdoor markets, history, culture, gastronomy, and so on… If you're looking for something in Israel, chances are, you'll find it in Tel Aviv (also known as TLV, the Big Orange or the White City).
---
It's OK To Be a Big Girl
One thing was rather refreshing as I set foot in the city. Though I know I am bigger than most people, I haven't felt my size was an "issue" or a matter of "curiosity", unlike some places I have visited in the past. From decent chairs to passers by who couldn't care less about my body, this overall feeling of neutrality towards my body was quite pleasant!
But… Be aware! Like in many countries I have visited in the past, the plus-size shopping offer remains limited, nearly absent. Should you need to shop for plus-size clothes, Tel Aviv/Yafo (Jaffa) remains your best bet throughout the country.
---
Still want to give plus-size clothes shopping a chance?
Stay tuned for my upcoming post about my favorite markets in Tel Aviv!
---
Life Is A Beach…

Tel Aviv's western border is the Mediterranean Sea. With over a dozen beaches stretching from the richer North part of town to Jaffa, in the South, you have no reason not to indulge a least ONE beach day! Add to that that my impression of people not having a care in the world about my size also applied to the beach. Wearing a swimsuit there and enjoying the sea and the sun is an essential part of life in TLV. Especially on Friday afternoon and Saturdays, during nice, warm Shabbat days.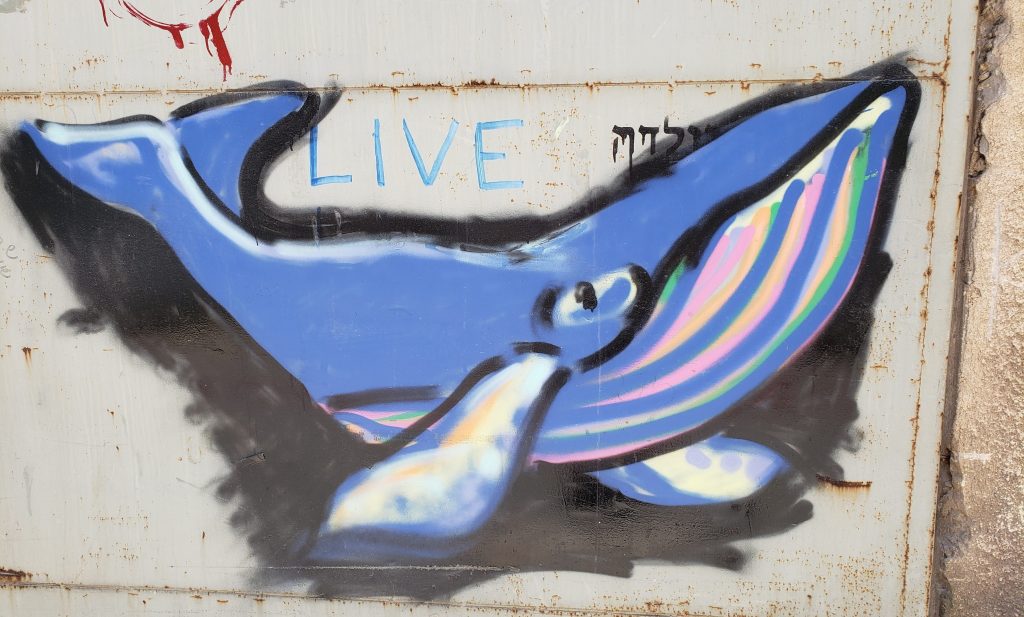 ---
Get Me Out Of Here!
Need a break from the city bustle? Don't worry. It's easier than you think. Tel Aviv is an excellent gateway for many day trips and excursions across the country. (I know, I did it!)
I have joined a tour to the Masada Fortress, the Ein Gedi Natural Reserve and the Dead Sea with Tourist Israel during my stay in the city. (More on that soon!) 

Want to go see another city while based in TLV? The Egged bus network is both cheap and efficient to go around. Here are the time, cost and distance to travel to some other Israeli cities from Tel Aviv:
Note:  ₪ = Israeli New Shekel
1 € = 4 ₪ ; 1 £ = 4.5 ₪ ; 1 USD = 3.5 ₪  (at the time of publishing)
Jerusalem: ±75 km / 1 hr by bus (2-3 buses every hour – 16 ₪)
Nazareth: ±100 km / 2½ hrs  by bus (buses every hour – 34 ₪)
Haifa: ± 100 km / 2 hrs by bus (2-3 buses every hour – 27 ₪)
Tiberias / Galilee: ± 135 km / 2¼ hrs by bus (buses depart nearly every hour – 37.5 ₪)

Don't have enough time? Go spend a few hours in Jaffa, a 40-45 min. walk from the heart of the city. (And don't miss the flea market. Please don't.)
---
Heart of the Israeli Gay Life
If you want to experience the LGBTQ+ culture in Israel, Tel Aviv is where to go in Israel. The city is known for its gay beaches and Pride Parade, but also for an overall tolerance to homosexuality that you are not as likely to find elsewhere in the country. Even in bigger cities (like Jerusalem). Since last year, the country appears to be gearing towards the LGBTQ+ community. I have seen and heard numerous campaigning efforts to add TLV's names to the list of LGBTQ+ friendly countries.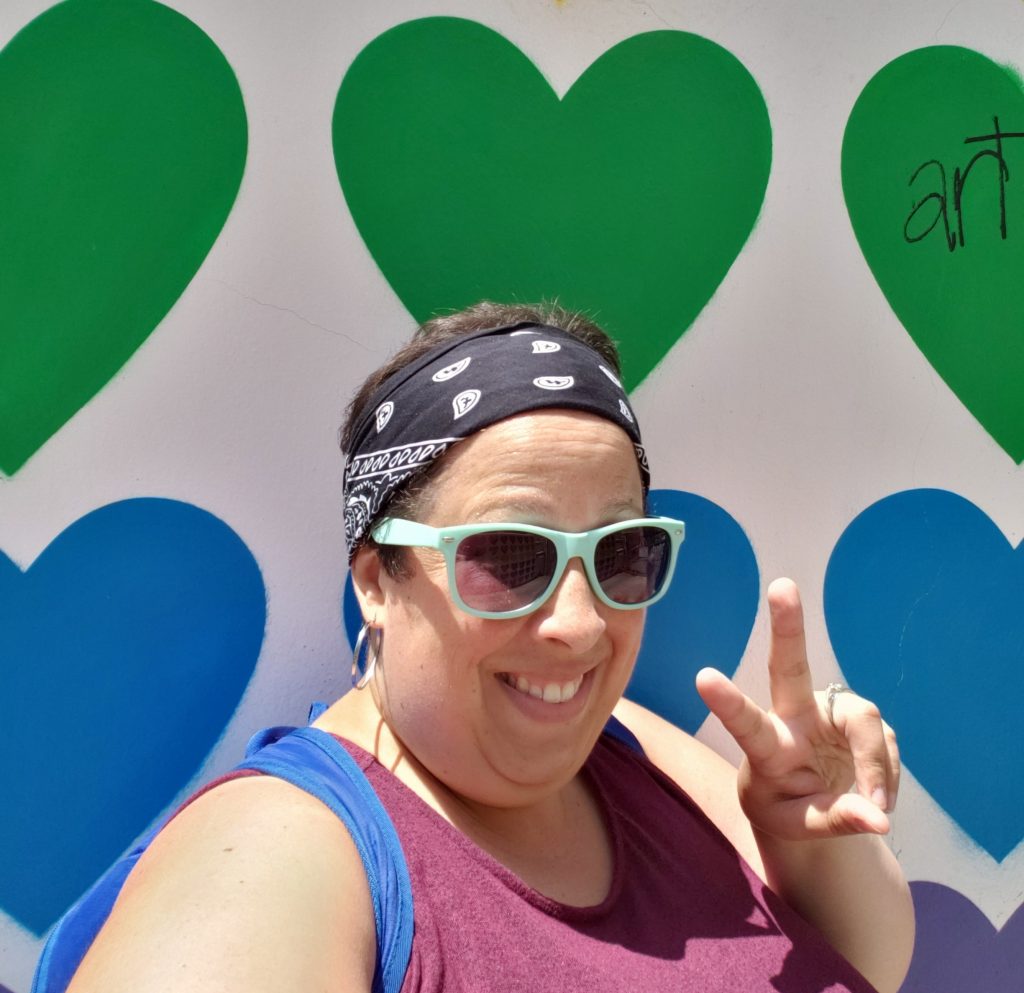 ---
♥ Quick Foodie Suggestions…
Leggenda לג'נדה (Rothschild Blvd 45) : For the iced coffee
Landwer Café (Rothschild Blvd 45) : For Israel's #1 comfort food, the shakshuka (delicious for every meal, including breakfast!)
Hummus Eliyahu (Levontin St 2) : For the homemade lemonade and the finger-licking good hummus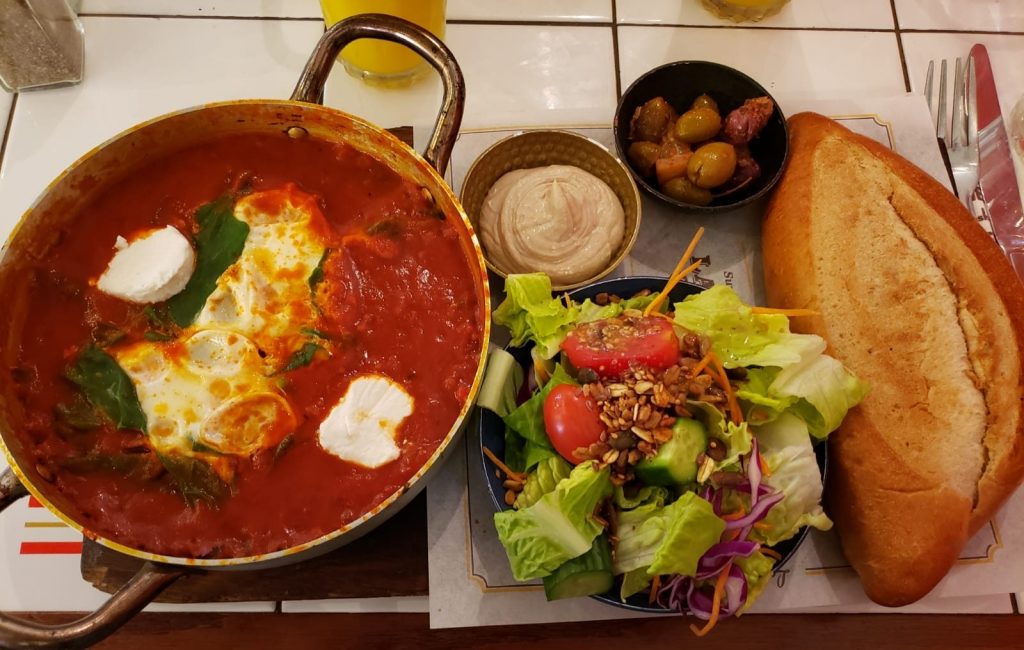 ---
Abraham Hostel Tel Aviv (My rating: 4/5)
I decided to crash at the Abraham Hostel in Tel Aviv for my 2 stays in town (Apr 29-May 2, May 14-17), totaling 6 nights.
On my first stay, I shared #306 (6-bed female dorm). A very large dorm with large, sturdy and comfy beds.
My second stay was in #206 (also a 6-bed female dorm). And it almost felt like I was staying in a different place (dorm-wise anyway). The bed seemed smaller and was VERY squeaky. (And not just for me or because of my size. All beds were squeaky.) Overall, the furniture wasn't the same as in #306. The ladder to reach the top bunk above my bed wasn't long enough and one girl almost fell off as she was climbing and the ladder started swinging… This dorm itself was at the end of the 2nd floor hall, next to what seems to be a mini hair salon (!!!). (No wonder I still find long blond hair in my stuff, 2 weeks after my return!) Also, it was an 8-bed room, yet sold as a 6-bed. (Note: we were never more than 6 booked in the room, though.)
Bathroom-wise, the sink, toilet and shower are separate (in both dorms). It is quite practical, since no one can monopolize all three at the same time!
The hostel has a rooftop terrace and what is the bar / common area at night turns into the (very decent and free) breakfast area in the morning. You can also use the shared kitchen area to store, prepare and cook your own food. There are cold water dispensers on every floor, so you save on plastic bottles (and spare the environment a bit).

Beware of the white chairs at the lower tables in the bar / kitchen: they feel REALLY flimsy. Honestly, I sat on one for about 10 seconds and felt each leg could go its own way at any moment. (At least, the higher, stool-styled chairs are comfortable and sturdy.)
Make sure you bring earplugs, no matter what room you crash in. The outside traffic and/or construction noise is incessant, from very early to surprisingly late.
Overall, a good option for the price, especially due to its strategic location. Just make sure you get one of the better rooms (like #306)!