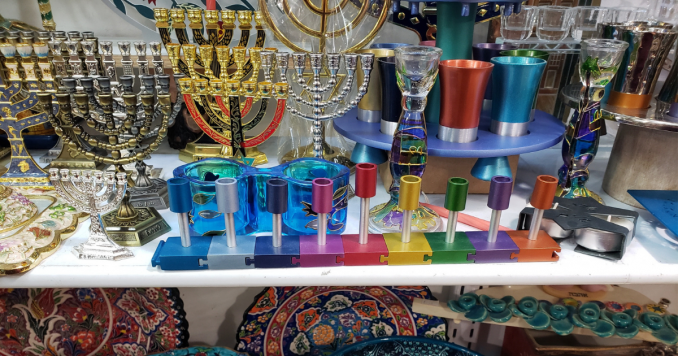 There is such a thing as a Tel Aviv Markets scene! Let's be honest: a busy city isn't complete without proper markets. Also, I love going shopping – and haggling! – in these places. Nothing like a locals' market to sample their culture (and make some awesome discoveries).
I went and visited a few during my stay in TLV… Here is my report on my experience in 3 of the most typical Tel Avivian spots.
---
♥ Jaffa Flea Market (Shuk HaPishpeshim)
Though Jaffa was a distinct city for a while, it's now part of the Tel Aviv-Yafo agglomeration. This is the quintessential market experience in town! You can EASILY spend a full day there, especially if you take a break from the midday sun and heat to eat in the many restaurants around the market. At the Jaffa Flea Market, you can easily turn a day out into a night out to enjoy a drink and/or a good meal. Go more than once, especially in the flea market section, as sellers and merchandise change every day!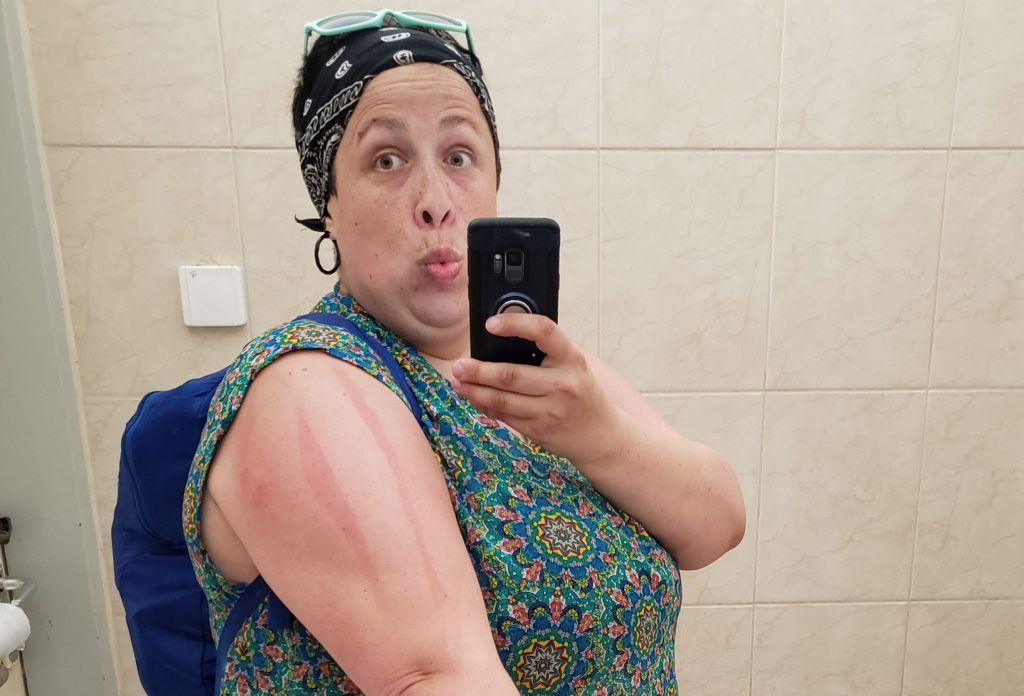 ♥ I recommend: BeerBazaar. (7, Olei Zion Street – Sunday-Thursday: 11am-2am, Friday: 10am-4pm, Saturday: opens at sundown until very late) This small spot with a nice staff and offers a range of 100 Israeli craft beers to their customers. (Also try their free seasoned popcorn.) Taste their cranberry lemonade (watch out: there is alcohol in it!), kick back and enjoy some people-watching from under their awning. (Otherwise, you might burn. Really.)
Fast Facts
What: A flea market, a market hall with dozens of stalls, and many restaurants and bars to rest after shopping! From knock-offs Ray-Bans to paintings to jewelry and clothes, without forgetting souvenirs, this is "THE" market to visit if you only visit one market in the Tel Aviv area.
When: Sunday-Friday, 9am-5 pm (closes earlier on Fridays for Shabbat)

Where: find the corner of Olei Zion Street & Ami'ad Street (look for La Goffre waffle place). Go in one direction (North-West) on Olei Zion St. and you will run into the flea market (a bunch of tables with local selling used goods – and, let's be honest, some junk). Head the other way (South-East) on Olei Zion St. and you will find a "covered" market hall for new items and even more stalls to shop from!
I found some awesome salwar – "Aladdin" – pants and a cute tunic in that market hall. Don't worry about finding the stalls with plus sizes; the sellers will spot you. If you hear a callout in the likes of "Big sizes for you!", chances are, you're in the right spot! (There aren't so many stalls with plus sizes anyway.)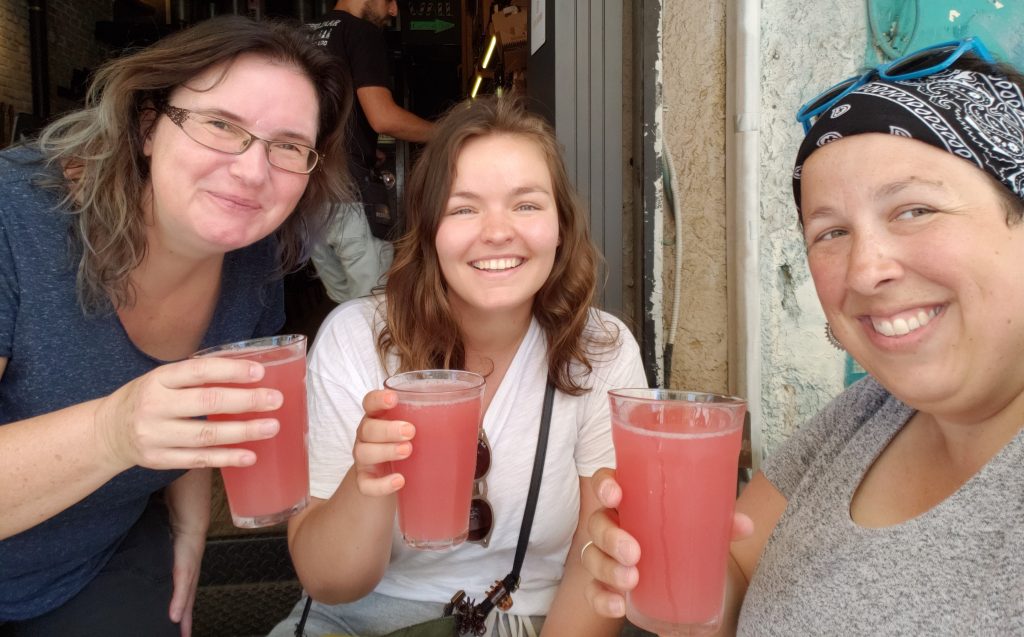 ---
Nahalat Binyamin Artist Market

Twice a week, artists from all corners of Israel come and personally sell their work at this pedestrian mall. Each artists is selected by a committee and is the biggest and oldest of its kind in the country.
I recommend: Make it a 2 for 1 market day; this market is perfect stop on your way to/from Carmel Market (see below). 
Fast Facts
What: Artist street market running twice a week.  You will find there jewelry, art, deco items and much more.

When: Every Tuesday & Friday, all day (ends around 5-6 PM)

Where: intersection of Nahalat Binyamin St & Rambam St (close to Carmel Market – see below) – Website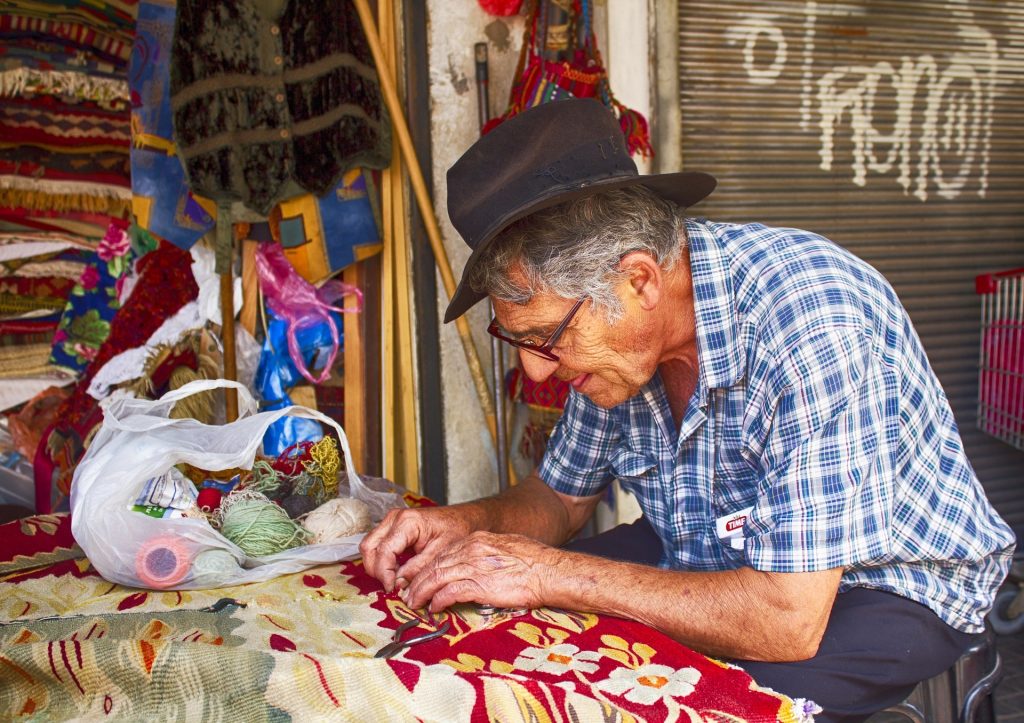 ---
Carmel Market (Shuk HaCarmel)
Load up on fresh fruits, sweets and pastries! There is a handful of restaurants and bars around the market if you're thirsty and/or hungry.  You can also find many stalls selling fresh-made lemonade and fruit slushies to sip on.
Don't be like me: I forgot my bag of loukoums in another stall, after I bought something else. #Sad
I recommend: Pasta Basta – 60, Allenby Street – for quick eat of warm, "customized" pastas.
Fast Facts
What: The biggest of its kind in Tel Aviv. Fruits & vegetables, electronics, souvenirs, pastries…
When: Sunday to Friday, from early to 7 PM (closes earlier on Fridays for Shabbat)
Where: Carmel (or HaCarmel) Street, between Allenby Street and Magen David Square
---
Do you usually visit flea markets, bazaars and similar places when you travel?
Are you a fierce negociator, a crafty haggler?
Share your experiences in the comments!