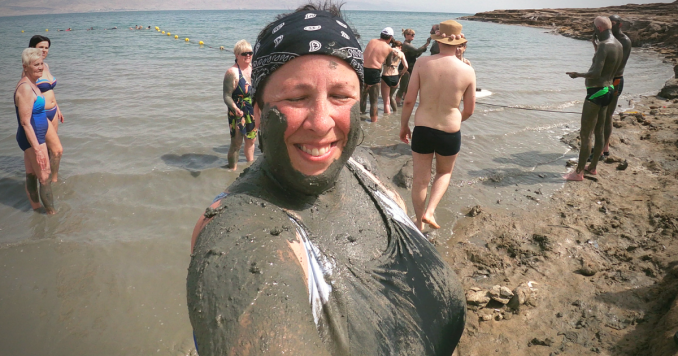 During my time in Israel, I joined a Tourist Israel's day trip departing from Tel Aviv. I thought this was a good way to visit some of the most iconic sites of the country. On top of getting to "sample" many sites in one day, I was eager to test how well the Tourist Israel's vehicle and tour were adapted to plus-size travelers. So I joined their
"Masada, Ein Gedi, Dead Sea, & More" tour
. Here's my report on my experience!
My Tips for the Tour
Comfortable walking shoes adapted to rougher, uneven terrain are absolutely essential, at the risk of your day being ruined. A large-brimmed hat will protect you from the sun and face/ears/neck/nose sunburns. Don't cheap on the sunscreen and make sure you apply sufficiently and often enough. Though you will have a few opportunities to buy some during the day, make sure you bring a lot of water. (A reusable bottle will prove useful at Masada, but there aren't free water fountains everywhere. You don't want to risk running out.) To give you an idea: I went through a 2 litres bottle during that day trip alone!
---
Masada Fortress
This mythical Judea construction dates back to the 1st century BC. It was the place of the Siege of Masada, in 72-73 BC in which the Romans and a group of nearly 1000 Jewish Sicarii faced in a siege that marked the end of the first Jewish-Roman War. For many Jewish people, this highly heroic feat is a proud moment of their history and heritage.
The fastest and easiest way to get there is the cable car. If you remember anything from my most recent cable car ride description (last June, in Alaska), that is the kind of stuff that freaks me out. (I am very, very afraid of heights. Knee-flinching, heart-pumping, head-spinning scared.) Well, good news. This cable car ride was probably the smoothest I have ever experienced. It lasts for about 3 min. and runs on about 900 meters.
Note: the fee for the round trip by cable car (approx. 76 NIS – New Israeli Shekel / 21 USD / 19 € / 17 £) is not included in the price of the tour.
The Masada visit is really interesting. It is impressive to see how they designed such an vast complex in such a harsh, unforgiving place. Of course, considering the place is thousands of years old, there has been restoration and reconstruction done. A black line on the walls indicates how high the original construction was before restoration. If you are not affected by heights like me, I heard that the palace visit – a sheer stair descent on the mountainside – is apparently beautiful. There are lots of great valley and desert pictures to be taken once on site; don't miss that opportunity.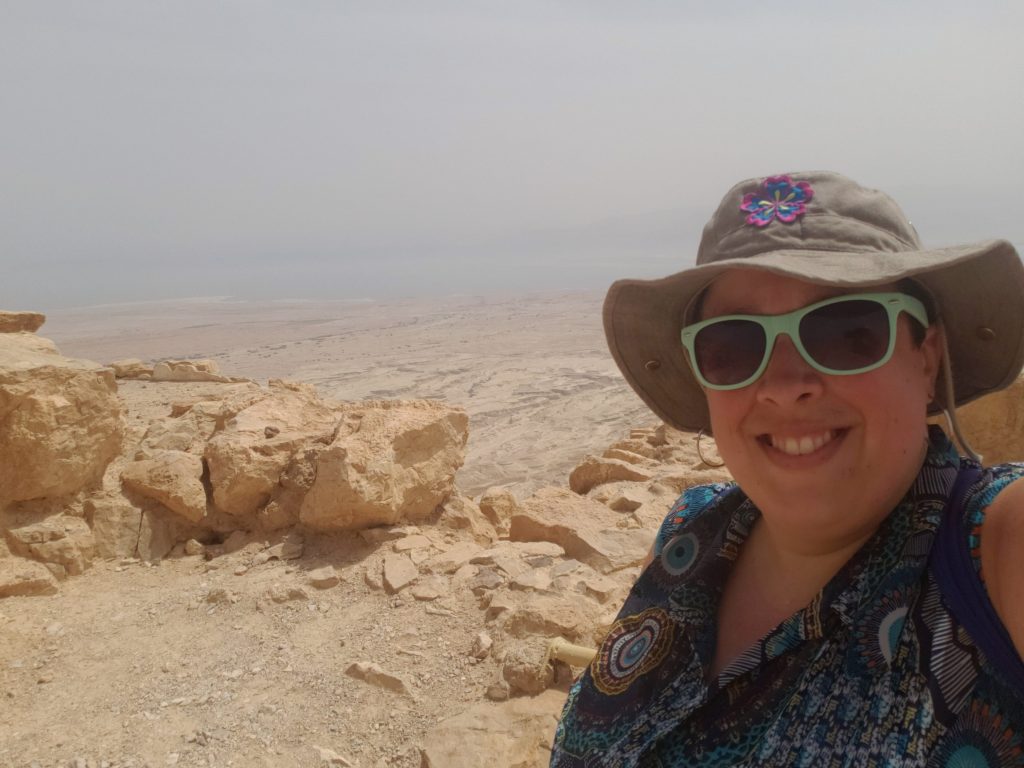 The site, though well-maintained, includes lots of shorts flights of stairs and rock walking. I cannot emphasize how important it is to wear proper walking, running or hiking shoes for this excursion.
---
Ein Gedi Oasis
Depending on how long you and your group will spend at Masada, you might have time to get down to splash around in one of the streams of the oasis. (That is one thing that I appreciated from our visit; our guide, Ofir, actually asked the group what we were interested in doing and did his best to accommodate the majority.)  This oasis is rather refreshing with some spots to hang out in the shade. (Feels great after being so exposed in Masada!)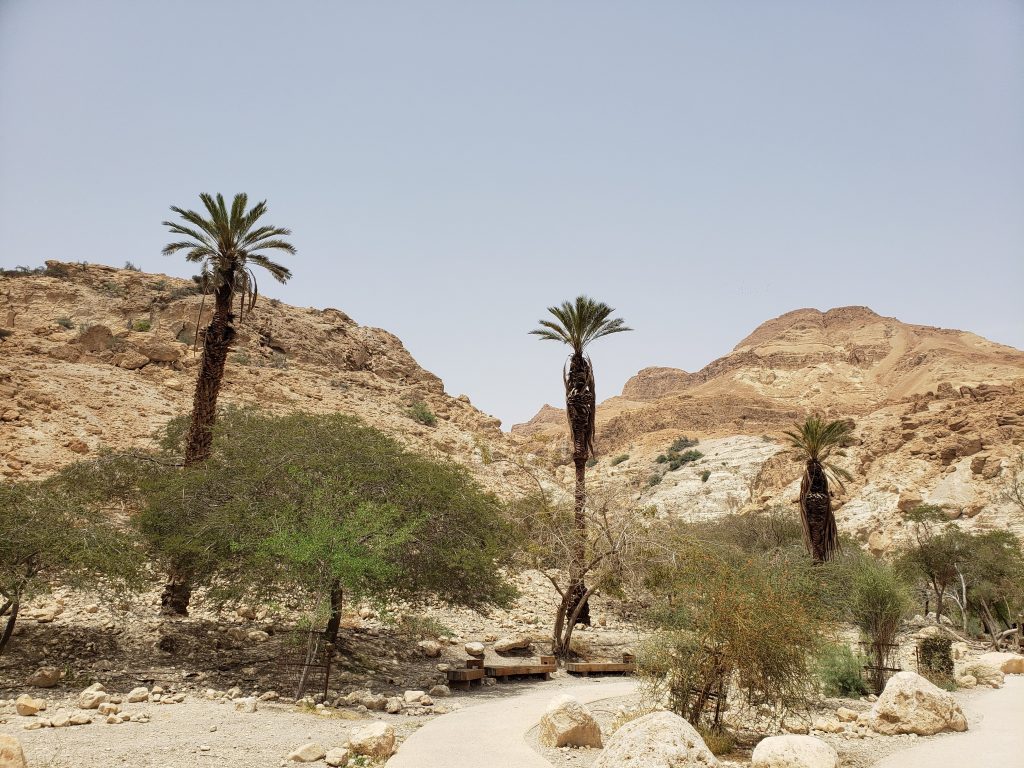 Good to know
If I were to make a few adjustments to the tour description, I would probably emphasize that Ein Gedi hike is not exactly suited for beginners or non-hikers. There are a lot of uneven, rock-carved stairs (and not always handrails) and hiking in narrow passages. This required more than a basic cardio effort and a bit of hiking experience. A completely inexperienced hiker will be challenged, both on the way up and down.
Note: the entrance fee for the access to the Ein Gedi oasis (approx. 28 NIS – New Israeli Shekel / 8 USD / 7 € / 6 £) is not included in the price of the tour.
---
The Dead Sea
Most of you have already heard about the Dead Sea, famous for its water rich in minerals that allow you to float, sitting in the water. You also probably saw the typical "Dead Sea mud selfie" if you follow any travel blogger who's been to this site. (I was no exception.) Fun fact: the Dead Sea is the lowest point on Earth, with an "altitude" of 430 m below sea level. #EndOfGeographyLesson
The fact that the Dead Sea part is at the end of the day is ideal. It's a great opportunity to rest and relax. Float and soak a bit. And, for the most dedicated, rub and cover yourself with its famous mud. (I did. After my mom saw the pic, she said I used to do the exact same thing as a child. Why doesn't this surprise me…) It is the most unusual, outdoor, crowded and "self-operated" (as in "you do the work yourself"!) spa experience you'll ever experience! But it was totally worth it. My skin and hair still felt extra soft for 2-3 days after!
Good to know
If you have some of those "water shoes", I'd highly suggest bringing them. The bottom of the Dead Sea is rather rocky and uneven. I had a hard time even with my barefoot shoes on. (Thanks to my friend Rachel who recommended that I bring some footwear. It really made my experience better!)

It can become very hot by the time you arrive at the Dead Sea and there is not much shade available. The least I can say is that the private beach we visited was very crowded. (They are "private" in the sense that "you have to pay to access it". The tour price includes the entrance fee for the tour participants though.)
---
My Tourist Israel Experience
The bus was a comfortable vehicle with air conditioning (essential after Masada so much fun under the harsh Israeli sun!), decent seating and USB cable plugs. They also have free wifi on the bus.
Unfortunately, we weren't able to stop at the Sea Level mark to snap a few pictures. (But the tour description does mention that it is only possible if time allows it.) We did get the cue from our guide when we passed by it though. We also got the cue when we passed by Qumran (where they found the Dead Sea scrolls) and when the city of Jericho was visible (but no stops were supposed to be scheduled there).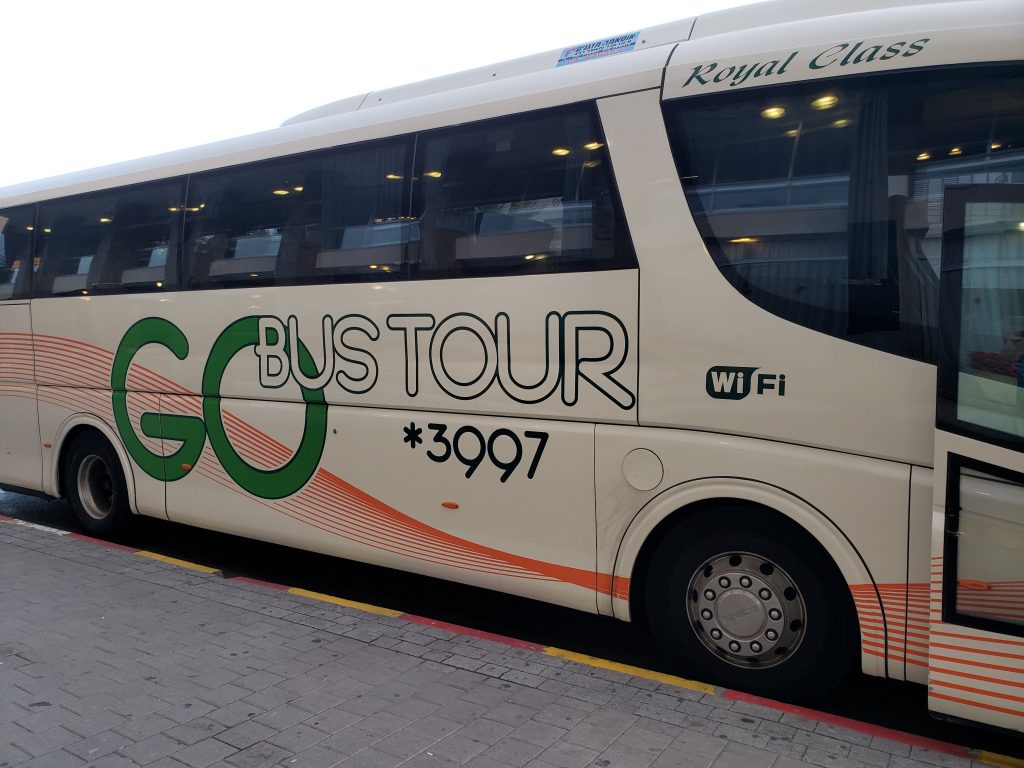 Our guide (Ofir) and bus driver (Jacob) were totally cheerful, resourceful and very fun to discuss with. They both spoke excellent English. Since the bus departs quite early in the morning (around 6:30 am), it was great that the guide kept the microphone chatting to the minimum until arriving in Jerusalem to pick-up more passengers. (It allowed me to catch up on some sleep after a rough night caused by dodgy, not so fresh shawarma…) 
Overall, a good – but fast – experience!
---
Disclaimer: I was invited to join the tour for free in return for a review of my experience. All opinions and thoughts expressed in this post are mine and not influenced by Tourist Israel and/or its affiliates.