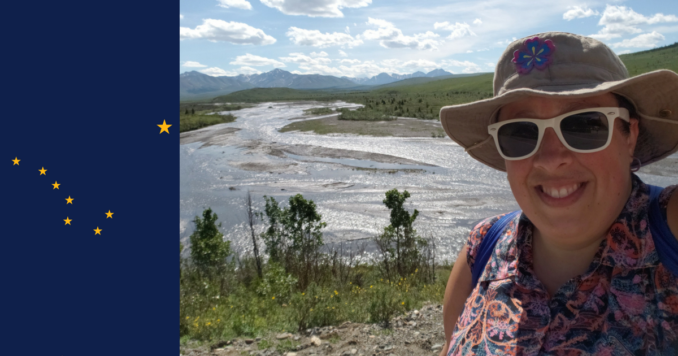 I spent a week in Alaska at the end of June / beginning of July. Though the main goal of my visit was to attend a wedding, I decided to leave ahead and stop by San Francisco for 5 days on my way. (The cheapest flights from Montreal had layovers in San Francisco, so I tried to make the most out of it!) 
I set foot in the Land of the Midnight Sun on June 28, just a week after the summer solstice.
---
I overcame my fear of heights…
Since my friends who were getting married both worked at Alyeska Resort, I got a chance to visit their place of work. We took a ride up Mount Alyeska on the resort's aerial tram. In case you didn't know, I am extremely scared of heights. Really scared. "Head-spinning, knee-failing, heart-pounding" scared. (I still push myself to a somewhat bearable level fright every once in a while when I travel. Because often, there is no view like the one at the top!)
A very special thanks to Spencer who is a great "fear of heights therapist" and who talked me through the ride up and down!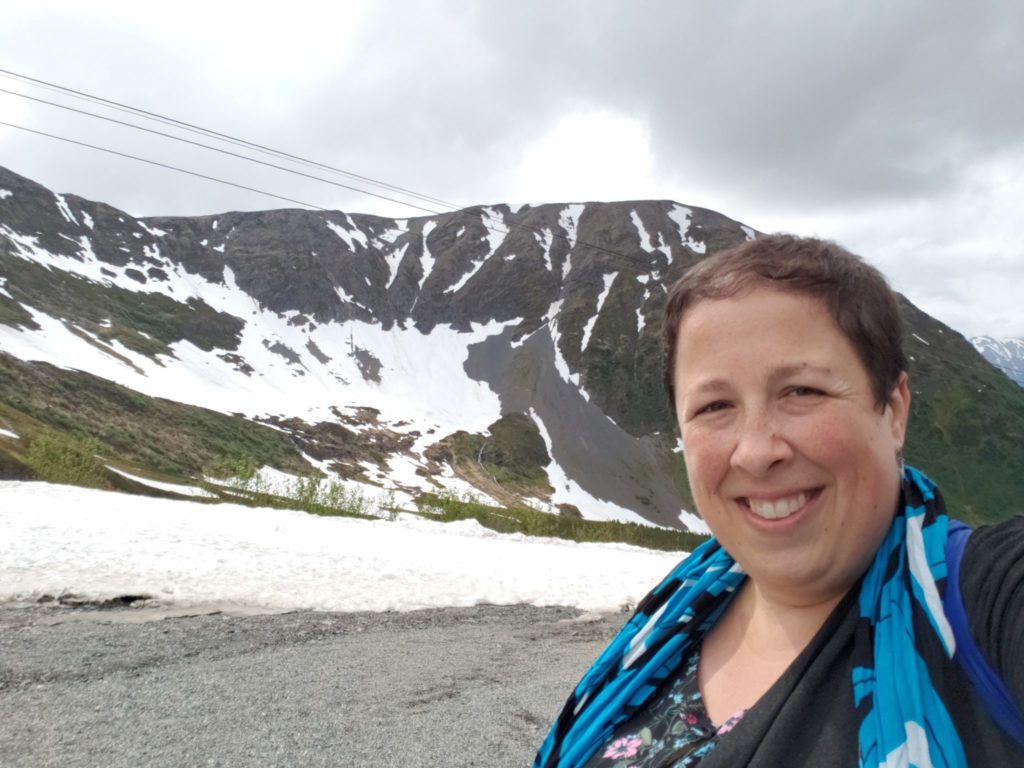 ---
I visited an animal sanctuary…

At the Alaska Wildlife Conservation Center (AWCC), we got to do the "Bear Walk"… Because no visit to Alaska is complete if you don't see bears! The AWCC is the perfect place to get to see some of the most famous Alaskan animals. There, you can see mooses, lynx, bison, musk oxen, reindeer, foxes, wolves and, of course… (black and brown) bears. (Check out their feeding schedule to get a chance to see the animals even better!)
Bears have a lot of influence on the Alaskan life. They are the reason why garbage disposal units have a fancy closing mechanism. And the reason why you should not keep any food in or near your tent when you go camping.
Bears are also why the girl working at my hostel strongly recommended I bring some pepper spray in my purse since there were many recent sightings of bears in the area where the hostel was!
---
I attended a wedding…
Meg & Justin's wedding was the reason that took me to Alaska in the first place. I met them in Guatemala, back in 2013.
Their vintage-retro-flapper-themed wedding took place at Crow Creek Historic Gold Mine, in Girdwood. Established in 1896 during the Gold Rush, the site still produces gold to this day and was once the largest producing gold mine in Alaska!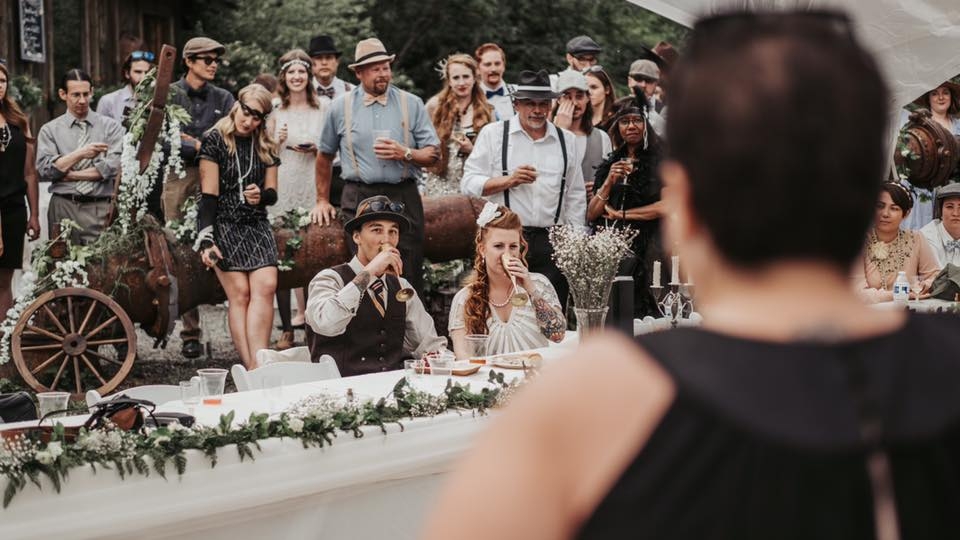 ---
I saw a wild bear…
As we were packing the newlyweds' car to head out camping, I saw a big black thing at the end of the vacant lot next door. Since everyone has a dog in Girdwood and I'd just seen a black dog close by, I didn't really bother. Until I actually saw the dog right up near me… and had a second look. It was a black bear!!! Luckily, (s)he ran back into the woods as soon as I screamed to let the people in the lot know of its presence.
---
I went camping…
The day after the wedding, the Bakers, 4 of their friends, the Bakers' 2 dogs and I left for Healy to spend a few days camping and exploring Denali National Park. We stopped to fill up on provision and water in Anchorage and grabbed a pizza to eat on the road since we had 5 hours of road ahead of us! We were on Parks Highway for most of the way, and the sun setting in the mountains gave us miles and miles of amazing landscapes to enjoy.
If you have a chance, stop by The Moose's Tooth in Anchorage and try their Chicken Ranch pizza! It's absolutely delicious! We didn't expect less from The Moose's Tooth, voted 3rd best pizzeria in all of the USA!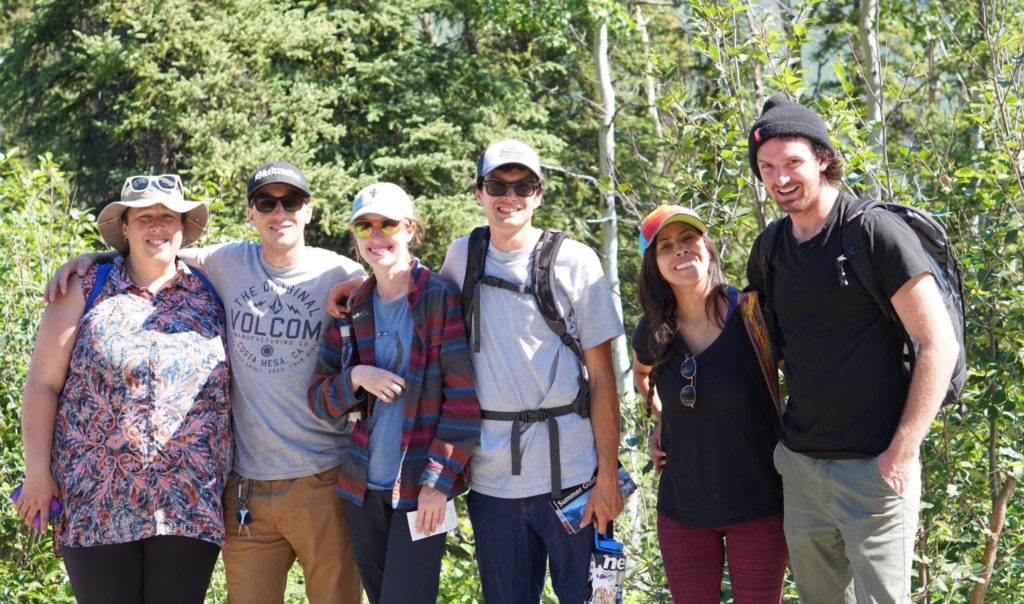 ---
… and experienced the (real) Midnight Sun
What's great about the Midnight Sun? You can set up your tent around midnight without needing extra lighting. The natural, outdoor light is plenty to see what you're doing, even in a partially wooded area.
What's not so great about the Midnight Sun? Trying to sleep in the tent that you just set up. Because enough light to set up a tent also means… a bit too much light to sleep!
---
I went hiking…
After a long drive and a night of relative sleep (thanks to the Midnight Sun – see paragraph above!), it was time for the hiking part of this trip! Lucky for us, the weather in Denali National Park & Preserve was nice and warm, but not too hot. Ideal trail weather. And, as Montreal was melting under record-breaking temperatures, Alaska was also breaking warmth record… with 77°F (25°C).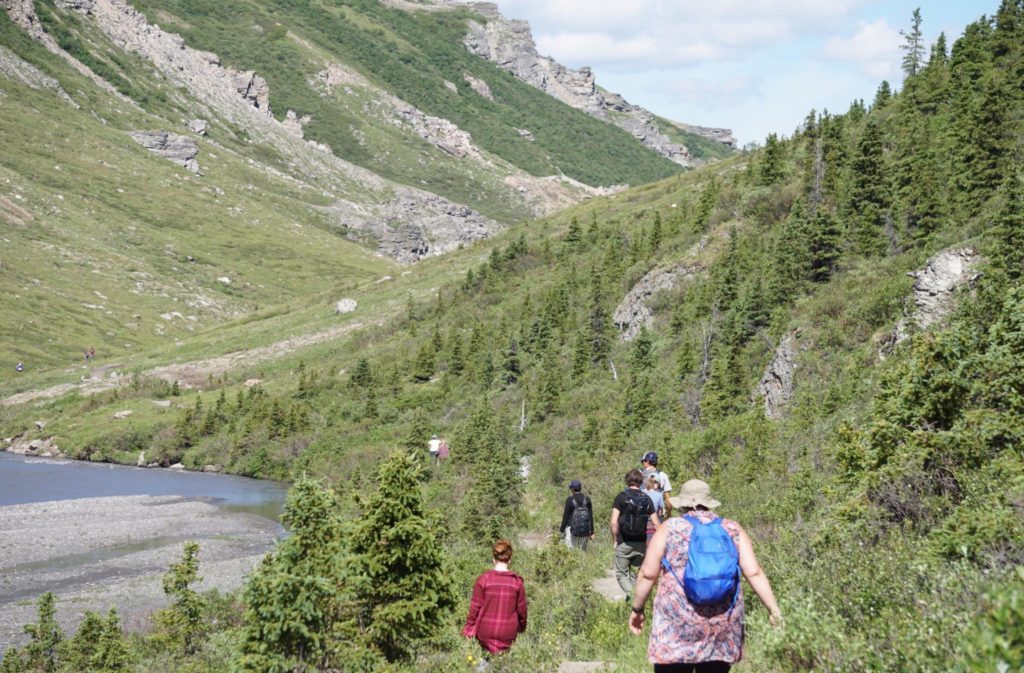 The Savage River Loop Trail
We walked the Savage River Loop, a loop trail that follows the river with a couple of places where you can access the river. Some access to the river might be tricky. Make sure you don't wet your shoes, which would kind of ruin your ride. Oh and don't try to look cool and go all "parkour". One of us did it successfully. But… not me, ha ha! (Luckily, I landed in thick mud rather than water. #ShoesSafe) This 2-mile trail will take a couple of hours to complete. (We stopped many times on the way, for the view, the river…) The Savage River Loop Trail is classified "Beginner-Intermediate"; no serious elevations, but a narrow trail with uneven terrain (rocks, roots, etc.).
The Mountain Vista Trail
We followed up with the Mountain Vista Trail, a 0.6-mile, 30-min. loop. The best place to see many of the mountains from the Alaska Range, including Mount Denali (McKinley), the highest peak in North America. (This trail is classified as a "Beginner" trail; no elevation and easy walking conditions.)

There are many more trails to hike in this park, based on your hiking levels…!
---
I spent the night of the 4th of July in a (very crappy) motel…
Since the Midnight Sun kind of ruins the whole idea of fireworks, I decided to retreat to a hotel room in Anchorage, since I was flying out the next day. But the lack of darkness doesn't seem to stop Alaskan people and I heard firecrackers and fireworks all night! Add to that that the motel where I lived, the Qupqugiaq Inn, was quite dodgy, and you get a rather bad night of sleep!
After I saw the room they assigned me, I literally asked for ANOTHER one. Why?
-The hinges were outside, so anyone could get in the room.
-The room wreaked of cigarette smoke.
-The room was behind the building in a place that could only be dark and totally creepy at night.
I stayed in hostels of all type through the years. And I was coming back from camping… in a tent. So I'll end on this: if a motel remains creepy in spite of all that… better stay away from this place!
---
My adventure in a nutshell…

If you like the great outdoors, camping, hiking and the occasional bear / moose encounter, Alaska is THE place for you. Fill up on provisions in Anchorage and head out into the woods! The air is fresh and crisp and there is plenty of space for you to be alone in the wilderness. Alaska is also an ideal place to run away from the horrible heat of summer. The only downside is that the cost of living can be quite high… make sure to plan accordingly!
---
---
Anchorage / Girdwood / Denali Area Address Book
Alyeska Hostel – Small peaceful hostel surrounded by forest
227 Alta Dr, Girdwood
Alyeska Resort – Alaska's premier year-round resort destination
1000 Arlberg Avenue, Girdwood
Glacier Valley Transit – A shuttle to get around the Girdwood area
This shuttle is financed with donations, so don't forget to drop some money if you ride it! Some drivers might be able to drop you outside of the usual circuit… it's worth asking!
Alaska Wildlife Conservation Center – Sanctuary dedicated to preserving Alaska's wildlife
Mile 79 Seward Highway, Girdwood
Crow Creek Historic Gold Mine – Explore, Escape & Experience the Gold Rush!
601 Crow Creek Road, Girdwood
Denali National Park & Preserve – Six million acres of wild land, bisected by one ribbon of road
Denali Visitor Center – Mile 1.5 Denali Park Road
Midnight Sun RV and Campground – An ideal gateway to explore Denali National Park
248.5 Parks Highway, Healy
Moose's Tooth Pub & Pizzeria – The 3rd best pizzeria in the US!
3300 Old Seward Highway, Anchorage