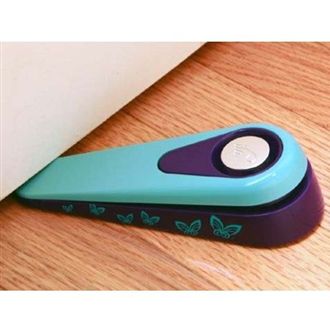 I previously mentioned this gadget in a post about 1 year ago, but I thought this could be worth it to write a bit more about it as this is, by far, one of the smallest, yet most useful gizmo I carry when I'm away…  You know, the good old Traveler's What If Syndrom…
Being a woman who travels alone most of the time in cheap/budget accommodations, sometimes, I experience the feeling that the door doesn't lock so well or could easily be jimmied, and so on… As my days are generally full and intense when away and my sleep reduced to the minimum hours required, I can't afford not to sleep because I'm worried about my security.  There comes ila's wedge door alarm to save the day (or the night?)!  I once spent a few nights in Yucatan, in Southern Mexico.  I was all set up in a cabaña covered with palm tree leaves, right by the Caribbean Sea, about 10 meters away from a deserted, white sand beach and turquoise water… anyway, you see the (heavenly) picture.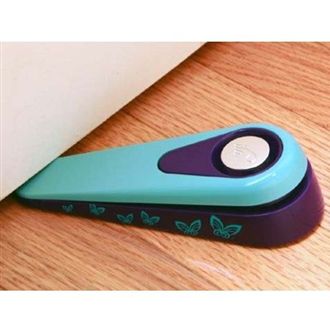 But cabañas comes in all shapes and forms, from very luxurious to super basic.  Mine was the basic type.  This place was a hidden gem… but the door didn't even have a HANDLE! Just a piece of wood that you turn across the frame to make sure (!!!) it doesn't open… but the crack between door and frame was so wide that anyone with a long twig, a pen or a ruler could have flipped the piece of wood and entered.  To summarize, someone could easily make its way in, especially with the sound of the nearby sea and the wind in the palm trees covering their noise.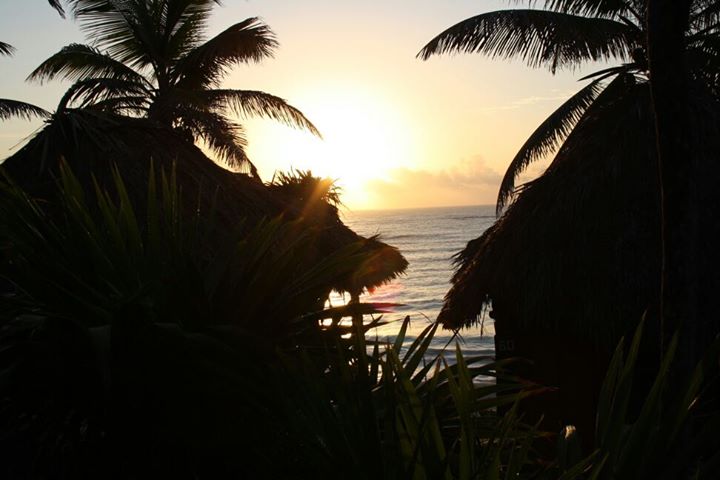 Though the wedge doesn't make it impossible to open the door – most alarms won't anyway -, it screeches a 130 decibels (db) siren once activated. (FYI: a blast of 120 db or extended exposure to 95 db can damage hearing!)  Another nice feature: the rubber base of the wedge creates a bit of resistance and makes it a little harder to open the door that you are blocking with the wedge, adding difficulty to the evil intruder dirty deed.  All that is way enough to wake you up and alarm everyone around… and to give your trespasser a good reason to walk away from your spot.
FAST FACTS:
Price I paid: approximately 15 CAN $  (about US $14 / £ 8 / € 10) – bought from Jet-Setter (Montreal-based luggage and travel store); also available on Amazon
Color I picked: One color available: light blue and purple with butterflies
Material: Rubber (bottom), metal & plastic
Power : 4 x LR43 button-type batteries (goes for less than $1 a piece)
BEST BACKPACKING FEATURES:
-Small and lightweight
-Adaptable to most door types
-Rubber base makes it less slippery and holds the wedge firmly in place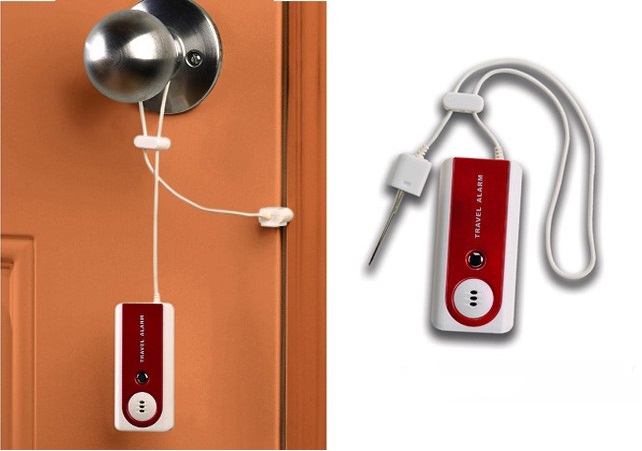 Most portable door alarm available these days work similarly: a plastic head with 2 "springed" metal blades that are inserted in the gap between the door and its frame (see image above). As long as the blades are in contact, no alarm, but when the door opens and the blades separate, the alarm goes off.  That is not a bad system, but as per my experience, when you have very wide gaps or less "traditional" doors, these become completely useless.  On the other hand, the wedge can be placed behind any door, as long as it opens from the outside in (when opened, the door rests inside the room, not outside); whenever the door opens and bumps into the wedge's sensor, the alarm will go off, no matter what (you just have to make sure that you put it at the right place, which you can easily test and figure out in a minute or two).
---
VERDICT:
You might not need it very often (during 6 weeks in India, I haven't used it once, but used it 3 nights on a week in Mexico!), but considering the weight and space it takes versus the stress of a single sleepless night, the ila wedge door alarm becomes quickly a must-pack! 
---
Wedge door alarm by ila Security
Website: http://www.ilasecurity.com/
Twitter: @ilaSecurityUK
YouTube: http://www.youtube.com/user/ilaSecurity