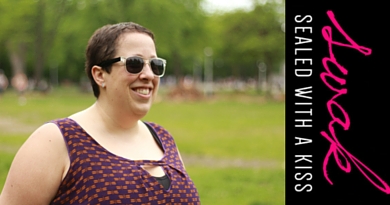 ---
** Wanna know more about SWAK Designs clothes? Check these posts! **
---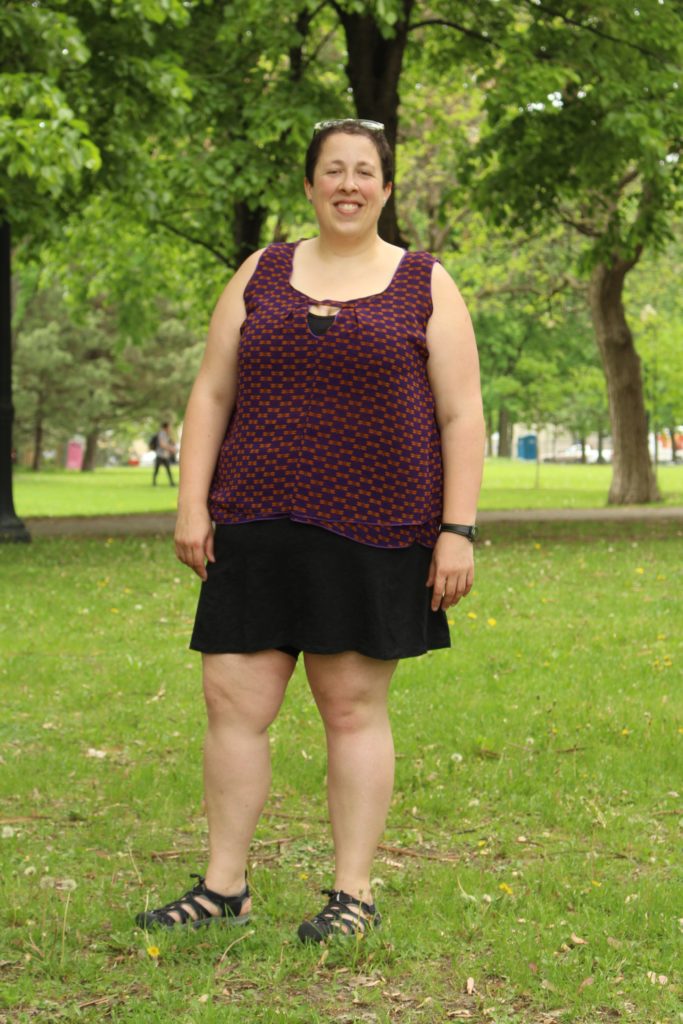 Summer is definitely on in Montreal and so is the festival season!  With the (often) scorching heat and through-the-roof humidity – which, in some places we travel, happens all through the year – I thought this was a great occasion to tell you about the Summer Chiffon Tank by SWAK Designs!
At first sight, you might not perceive it as a traveling-friendly item. But with its cute, summer-y print (in this case, golden dragonfly on a purple background)  and cut from breezy chiffon fabric, the Summer Chiffon Tank will take you from the beach to the city, from festivals to restaurants and clubs!  Ideal for the warmest getaways, all year long.
Have I ever told you that dragonfly is one of my favorite prints? I don't indulge on funky prints much when I pack my luggage considering the challenge prints may represent when it comes to mix & match my clothes, but it's so nice to be able to pack something that is not just a single color!
In spite of its dark color, I wasn't too annoyed by the heat that was going on that day; the fabric is very, very light and compensates in breathability.
I also had my fair share of doubts about the sheerness of the chiffon used in this top.  (I have nothing against see-through, it's just that it's not too practical when backpacking, you know…) Well, good news: the double layer of fabric up front allows a pretty complete opacity. Even though there is only one layer of fabric in the back, you don't get too much see-through effect.  Maybe the contours of your bra, at most. (Because having to pack an extra tank to wear under wouldn't be very backpacker-friendly, wouldn't it?)
Only one little issue…
The only thing I would change a bit in the Summer Chiffon top is the keyhole in the front. Gives the top a cute look, but in my case, it goes a little lower than I like. (That can easily be fixed by wearing a sports bra, and chances are, this minor detail will not even be an issue for you.)  That is probably the ONLY aspect of this top that makes it less practical for some parts of the world that could be very hot but requires a little more modesty from women (like some Middle East or Asian countries, for example).
Also, kudos to SWAK Designs' for making such a cute top without forgetting that there are some taller ladies out there and considering that while deciding on the top length (which goes from 28 to 32 inches in the case of the Summer Chiffon Tank, depending on the size ordered).
Scared of ordering online? SWAK's size chart is quite accurate; I got the right size on the FIRST attempt, quite impressive when it comes to online shopping.  (For a roomier, more ample look, you might want to opt for the next size up.)
FAST FACTS:
Price : $ 39.99  US (regular price – approx. € 35 / £ 27 )
Fabric: 100% Polyester
Color: Purple Dragonfly (in the pictures); also available in Black Print and Yellow
Sizes available: 1X to 6X
Washing & Care: Hand wash in cold water; lay flat to dry
BEST BACKPACKING FEATURES:
-Super compact & lightweight
-Quick to dry
-Ideal for warm weather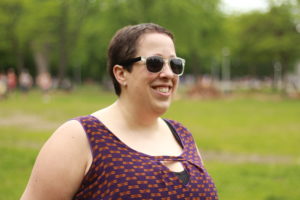 Don't forget to check out more plus-size tops from SWAK Designs; for more SWAK Designs clothes review, check the link at the top of the page!
VERDICT
Perfect for visiting warm areas that won't require "modest" attires (the keyhole on the front adds a touch of sexy to the top).
---


SWAK (Sealed With A Kiss) Designs – www.swakdesigns.com
Los Angeles, California
Phone : 1-866-432-6497
Email : support@swakdesigns.com
Twitter : @SWAKDesigns
Facebook : SWAK Designs
Instagram : @swakdesigns