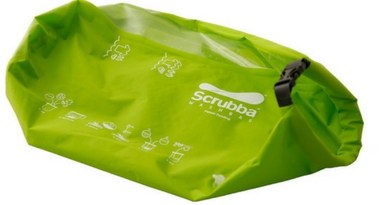 (Photo : thescrubba.com)
I found out about the Scrubba Wash Bag a little over a year ago, and I finally decided to get mine last spring.  I've had it for a while now, and I was so excited at the idea of telling you about it that I couldn't even wait until I try it on my upcoming Peru trip… so I tried it in my bathtub! For most backpackers, washing our clothes on the road is an essential part of traveling light.
As a plus-size traveler, my clothes are bigger, so when I take off with just a carry-on luggage, I have to be quite creative and minimalist when it comes to my outfit choices! (One more challenge for plus-size travelers…)
I don't know for you, but I personally hate hand-washing with a passion! I always feel there are much more interesting things to do than laundry when I travel!
#PSBackpackerConfession
And because nothing is too good for my fellow travelers, I filmed some clips and made them in a little montage for you!
The Scrubba (also nicknamed "the portable washing machine") is an interesting product.  It's quite simple to use and compact enough to justify bringing it on most trips, especially because of the space you will save by bringing a bit less clothes!  It's a great choice for travelers (backpackers or not!), but also for hikers and campers of all sorts.
Probably its best feature – ex-ae quo with its size – is its flexible washboard that will allow to you to scrub even the dirtiest clothes and give them a proper wash. You can wash a decent amount of clothing in a single "load" (you will find suggested water levels on the bag, depending on how many items you want to wash – check the video around 1:08), without all the mess of washing in a sink!
If you're not too strong on wringing your clothes once they went into the soapy water, you might have to repeat the rinsing process a few times.  Because of its compact size, the Scrubba will obviously not rinse as well as a washing machine would on the first rinse. (I didn't capture the rinsing stage as it's quite self-explanatory, even more once you've seen the "washing" part!)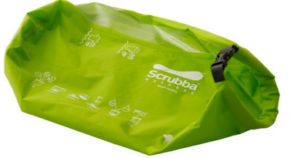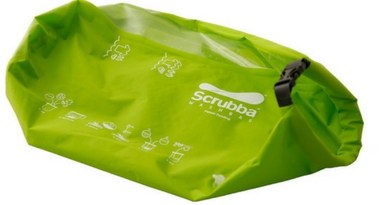 Using the Scrubba to do your laundry won't cut your laundry time by much, but for the same time invested in doing your laundry, you'll probably have much cleaner clothes, especially if you scrub your clothes well on the internal washboard.
FAST FACTS:
Price: approx. 50-55 US $ (depends where you buy it!)
Weight: 142 gr (5 oz)
Color: Apple Green
BEST BACKPACKING FEATURES:
-Ideal when you don't have access to laundry facilities
-Can double as a "dry bag" to transport wet/damp items
On the Scrubba's official website, you will find a series of accessories that you bundle with the wash bag. Though interesting, most are not really necessary, unless you don't already own a travel towel, for example.
VERDICT : 
Considering its small size, this is the kind of gadget I would automatically pack for any trip of 2 weeks or more, when I don't expect to have "regular" access to a washer. The Scrubba and a travel towel combined provides a quite efficient and compact alternative to messy, annoying, and time-consuming hand washing or expensive laundry service! Combined with the right choice of clothes and a portable clothes line, it's an interesting gadget to have, even if the suggested price can be a bit prohibitive.
---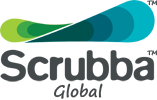 The Scrubba Wash Bag – thescrubba.com
by Calibre8 (Australia)
Email: info@thescrubba.com
Facebook: TheScrubba
Twitter: @theScrubba