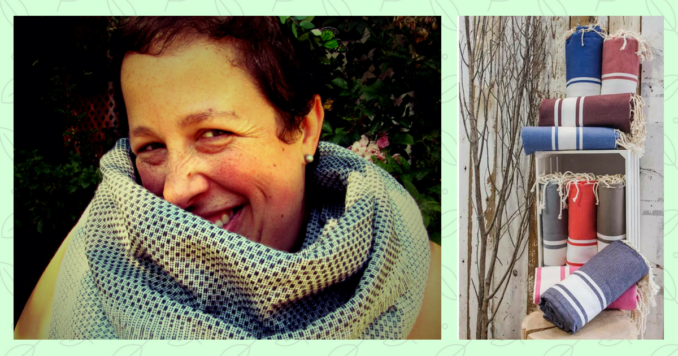 Meet the fouta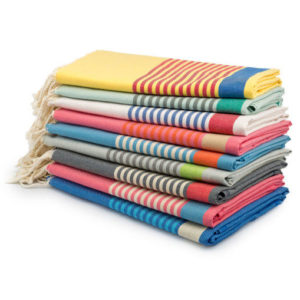 Do you know what a fouta is? Don't worry, I had no clue either. That was until I was face to face with a booth covered with them! And this is how I met and ended up having an awesome chat with François and Laurence Sailly. (They are the co-founders of Allia Design & Cultures, a Montreal-based store that specializes in decoration, gifts and North African crafts and food.) All this happened at the Outdoor Adventure Show, back in April.
François and Laurence were a delight to chat with and they introduced me to this surprising product: the fouta. I have been conducting tests this summer with my fouta and I am so glad I get to share this with you as scarf season arrives… Because your fouta will stick with you all through the year, from beach days to cold winter days, if you only take the time to realize how endless the possibilities are!
---
What the f… fouta?
A fouta (sometimes "foutah") is a woven towel, typically from Mediterranean countries (Tunisia, Turkey, etc.). It is usually made of cotton or linen. Traditionally, it is used in Turkish baths as a towel/body wrap. It is also used as a part of everyday clothing in some countries, or as a "lounging outfit".
(Nothing to do with the region of Senegal called Fouta-Toro or the Fouta-Djallon region of Guinea…)
The foutas available at Allia are made in Tunisia, the original country where this "garment" comes from. The best part? I had NO CLUE this was usable as a towel! It looked more like a huge shawl or scarf, or even a sarong. (Their website – see details below – has a whole section dedicated to foutas…)
---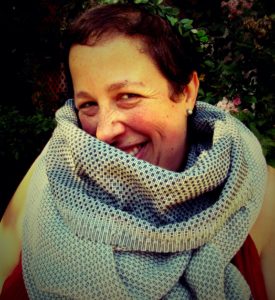 Now… why should I drop the travel towel for a fouta? Well… Because you can do many things with it! So much more than just drying yourself at the beach or after a shower! It can double up as a scarf or shawl. Better: you can even roll it and use it as a pillow on the plane/train, or any long commutes.
The Fouta used for the test has a texture that is really soft to the touch. Soft enough to be worn around your neck and brush against the delicate skin of your face and neck. On the other hand, its thick weaving makes it a tough cloth that can sustain the tough backpacker lifestyle.
Size does matter
At 37½ x 77″ (95 x 195 cm), the largest size was large enough to cover me appropriately without leaving a large side on the gap or being too short. (In a nutshell, it's big enough for a proper wrapping around AND long enough too!) That is one MAJOR argument in favor of the fouta (vs. the traditional compact travel towel, often too small for our plus-size bodies).
Sadly, the weather got so cold rapidly in Montreal that I didn't get to give my fouta a proper summer, beach photo shoot. I will try to fix that once I hit the Black Sea, in Bulgaria… (More to come on Instagram!)
---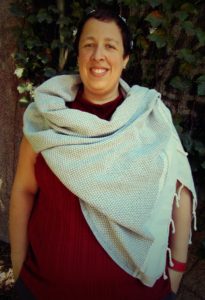 THE FOUTA – FAST FACTS:
Price: $ 40-50 CAD ($ 32 US / € 27)
Fabric: 100 % Cotton (for this specific model)
Color: Cream & Black on the picture – many different prints and color available
Sizes available: 37½ x 77″(95 x 195 cm) for the one I tested, which seems to be the largest model available
Cleaning & Care: Delicate machine wash (or hand wash) with lukewarm water; line-dry (no dryer)
BEST BACKPACKING FEATURES:
-Compact item
-Versatile (it's not just a towel; it's a blanket, shawl/scarf, sarong/skirt, headscarf, and the list goes on…)
-The flat weaving contributes to a quick drying, which reduces the risk of a foul, moldy-moist smell building up
---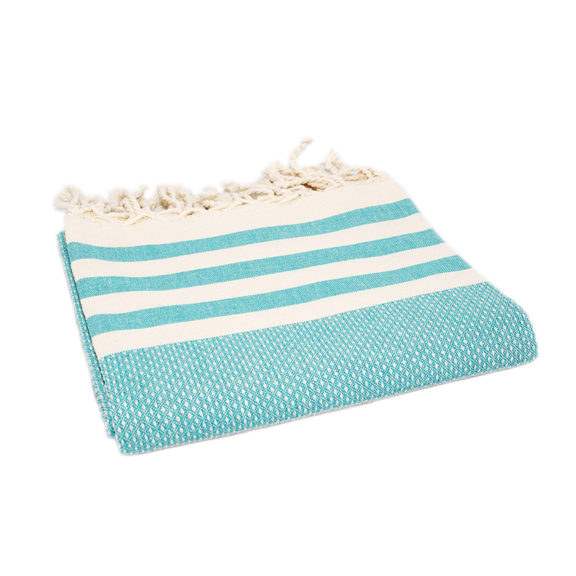 MY VERDICT ON THE FOUTA
Yes please! I'm even considering ditching my travel towel now (since it's not "performing" better than a fouta and is clearly not as multi-purpose)! For equal features, I vote for versatility! It will be a great addition to my Bulgaria luggage… Especially since I have some beach time on the schedule! So, yes, the fouta has the Plus-Size Backpacker's full approval!
(And a big thank you to François & Laurence who made that post possible and introduced me to such an interesting new product!)
---
Allia Designs & Cultures
http://alliadesignetcultures.com/

1987 Wellington, Montreal, QC
Tel.: 438-382-1635
Facebook : @souvenirsdevoyage