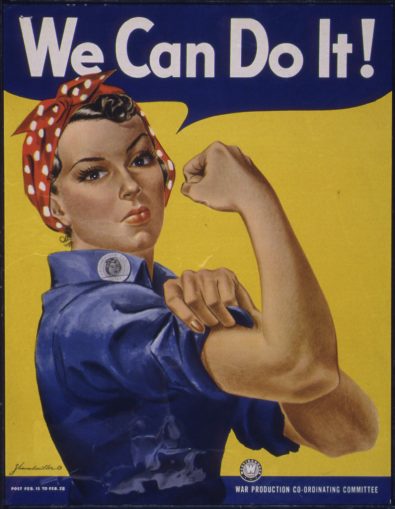 A post fully dedicated to this often-seen-but-always-underestimated accessory: the good old bandana.  A neutral colored version (grey, beige, black) will take you a long way but considering the necessary space, treat yourself a bring many different!
Cheap, light, compact, easily replaceable…  The bandana is that thing that you'll put in your backpack and forget about it. Until you need it.  At which point you'll be amazed by all the possibilities that this tiny piece of cloth carries between its folds…
1. The Slim/Rolled Fold :
Can be used as a wrist or ankle bandage in case of sprains.  Useful to apply pressure on bleeding injuries (which hopefully won't be necessary!).  You can also dip it in cold water, wring it a little, than tie it around your head or neck to get a little bit of freshness in warm weather.  Can also be used to tie things to your backpack or your belt.  On a more fashionable level, you can wear it as a headband (tie it on your forehead for a 2Pac look!), attached to your favorite sun hat or around your neck.  You can even use it to tie a pony tail, should you run out of elastics.  (A similar result, but more cylindrical, can be achieve by rolling the bandana instead of folding it.)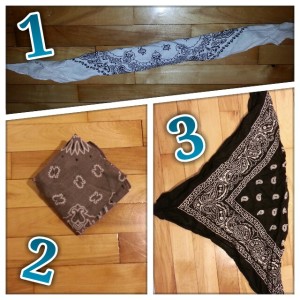 2. The Pocket Square Fold :
Can be used a handkerchief if you're sweating your life away (like I do in hot weather).  Or as a napkin.  Can also give you a good grip for opening bottle caps (water or beer, for example).  In its original unfolded square shape, it can be used as a placemat
3. The Triangle Fold :
Very commonly used as a headscarf for bad hair days, it can also protect you from sun heat (and scalp sunburn!) if the color is not too dark.  In very smoggy cities, will protect you by sparing you the smell, but also some nasty air particles.  (If you don't cover your mouth and nose, make sure you only breath by the mouth otherwise it's pointless!)  For a more trendy look, just tight the short ends at the back of your neck and leave it hanging on the front, pointing downwards.

NOTE

:

 
When you buy a brand new bandana, you will sometimes find it very rough and/or sturdy.  To achieve desired "softness" and flexibility, tie it into as many knots as you can (not too tight, you'll have to undo those knots).  Plunge it in warm water with a good dose of liquid softener and let stand for a while (1-2 hrs); make sure it really soaked.  Rinse thoroughly after soaking (softener can be irritating for sensitive skin), hang to dry, and see if the texture is good enough for you.  Repeat until it's just perfect.