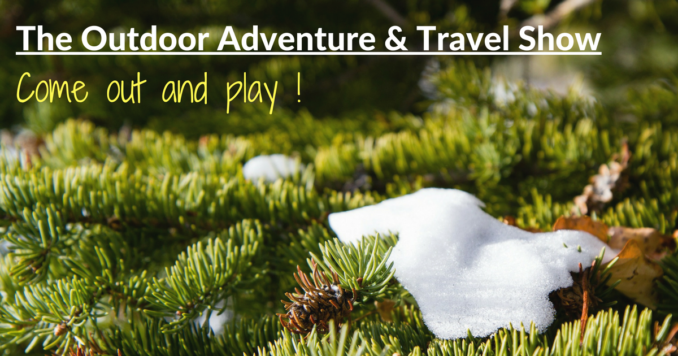 So I spent last weekend at the Montreal Outdoor Adventure & Travel Show, thanks to the organization who invited me to be an official blogger for the event!
I had a GREAT time. From the numerous (over 200 !) exhibitors to the Paddlers' Paradise pool, there was so much to see! Now I want to start all sorts of new activities and hike all over…
Nearly every time I stopped by a booth, I was greeted by a friendly and energetic person/team. Most exhibitors seemed genuinely happy to be there and to meet people and talk about their products/services.
As a plus-size adventurer, I was rather curious on how the organizations and businesses present would react to my "plus-size backpacker" blog and perspective… Glad to let you know that people's response was incredibly positive! The "size" aspect really didn't seem to bug them and most times,  I felt a true desire to open up to the plus-size clientele and to make their product or service accessible to as many people possible, including us! Yay !
That was also the first time in my that people recognized me in public… it felt very special! After 4 years of blogging, this felt like a confirmation that the word is FINALLY getting out there that plus-sized people being active and able!
As an advocate of that message, I felt so proud of what the bloggers and influencers community have accomplished over the past years in that regard. There is still a lot to do to change the way plus-size people are perceived by others and by the industry, but it sure felt like we are going in the right direction.
I wanted to share a "top 5" list of my favorite exhibitors, with you…  but I just couldn't reduce the list more (hence the special acknowledgments!)… so here is my "top 6" of the 2017 Montreal Outdoor Adventure & Travel Show!
**click the images to open them full size in a new window!**
---
HIKSTER
Hikster is an app documenting and mapping over 850 hiking spots, all over Quebec, in French. (I know some francophones read this blog in English, that's why I'm mentioning it!) I have rarely seen a team so cheerful… these were no ordinary reps! They seemed so passionate about hiking and their product, you couldn't help but feel it too! This awesome app guides you from your home to the trail you picked, based on distance, difficulty level, etc. They also included a "dog-friendly" filter, should you want to bring your faithful canine friend! Clearly an app worth keeping an eye on as it promised to a great future…
---
GUEPE
I started chatting with the GUEPE team as I was staring at the guy who was scuba diving in a tank… The guy being very friendly, I decided I would bring up the cruel reality of kayaking not being a "plus-size friendly" activity because of how narrow kayak's opening are.  Well apparently, there is hope! Geneviève, who was part of the team present at the event, told me that some models can accommodate fuller hips/thighs, and even extended an invitation so I can go and see for myself once their kayak season begins next June! #ToBeContinued
---
SPORT DINACO &  VAUDE BACKPACKS
I challenged Miguel, who greeted me on Saturday as I dropped by Sport Dinaco's booth, a store based in Lachine, with a single question:
"Do you have plus-size friendly backpacks? Because that's a major issue for people with my shape!"
I tried two backpacks from his display – a day pack and a bigger one, around 40-50 L – both made by the German brand Vaude. BOOM! THEY BOTH FIT! Victory ! I sure didn't expect that! So here is another brand to consider when you shop for your next backpack. I plan on looking further into that brand to get back to you with more models and details in the coming months… #MoreToCome
---
THULE
Everybody knows about Thule's roof racks… but did you know that they started making backpacks in the past few years? What makes these backpacks unique, is that the straps come in 3 settings – Small, Medium and Large – to accommodate the different silhouettes. Another awesome detail of Thule's backpack line is that the shoulder straps can be adjusted in height (like most brands) and in width, a special feature that will surely please people with wider backs and shoulders! Another luggage innovation signed Thule: the Subterra, a carry-on suitcase with an internal compression panel that squeezes the content to a maximum to save a maximum of space!
---
RANDO QUÉBEC
I've been in touch with this organization previously since I'm looking into partners to support a plus-size hiking introduction event. One of the reasons I'm drawn to collaborate with Rando Québec is the values they support, particularly the respect and care they encourage between adepts of the sport. That makes hiking with them very interesting for people who, in spite of being bigger than "standard", are looking into a low impact, outdoorsy new hobby !
---
ALLIA DESIGNS & CULTURES
I met the couple – Laurence & François – behind this business at the end of the day on Sunday. I had previously read about their Fouta towels (which you will hear about soon!), traditionally waived in Morocco, but it's their warm welcome and personalities that kept me staying in their booth for quite a while! I'm planning on writing more on their boutique, based in the Verdun neighborhood of Montreal, in the coming weeks… get ready to fall for these two nice people!
---
* Special Acknowledgements *
ApneaCity & his president François Leduc who agreed to pose for an apnea selfie!
Concept GeeBee – electrical mobipeds (with no weight limit!)
Matika and their inflatable hammocks