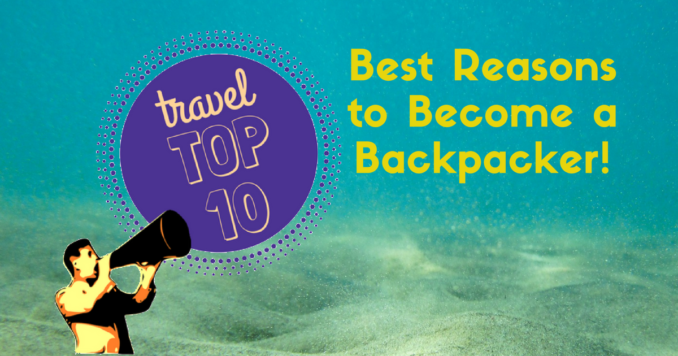 Surprisingly, it's the first time I get into details on the reasons to become a backpacker…!
Posting a new Travel Top 10 is always so exciting for me! In these posts, I feel like I'm getting to the core of what made me a backpacker, and every time, I sincerely hope I get to convince at least one of you to come to the (travel) light side.
As I wrote this brand new top 10, I realized that many of the reasons described in this top 10 also apply to choosing to travel solo…
---
10) Justify your passport!
Renewing your passport is SO EXPENSIVE… use it for other reason than needing "a picture ID"  for Buddha's sake!
---
9) Cut yourself some slack
It's OK if you don't feel like putting on makeup. Or if you don't want to spend hours on your hair. (Though I never really have that problem, ha!) Guys, you don't have to shave. And it's completely acceptable to wear the same jeans 2-3 days in a row… that's even part of the look!
---
8) Break away from the routine and realize how awesome home is when you come back…

Nothing like a few weeks away in another country to appreciate home more – especially your washing machine after weeks of hand washing!
---
7) Develop skills and traits that will pay back, even when you're NOT traveling

I did a one-hour public speaking on that precise topic at the last Montreal + Fashion Week… if I can talk about it for an hour without having some tomatoes thrown at me, there has to be some truth to this sh*t!
---
6) Learning a new language, a new culture
This one is especially true when you travel on your own: the success of your trip – and sometimes your own safety! – relies heavily on your capacity to communicate and interact with locals. Learning a few words is also very useful when it comes to shopping and haggling! (Ever noticed how we always learn the bad words first?)
---
5) Letting go!
The least you carry, the least you have to worry about! You might not rest your body much if you spend a lot of time going around, see and visiting places, but at least, your brain is going to get some rest from stress.
---
4) Money
It can be so much cheaper… you can travel more often and longer! That's good news when you caught the travel bug, also if you travel alone.
---
3)  Freedom & mobility
Is a place more interesting than planned? Stay longer. Is a place less exciting than expected? Move on to the next! The less you have, the easier you can pack up and go!
---
2)  Challenge yourself & spice up your life!
If you like to test your capacity to get out of your comfort zone, backpacking can be a heck of a way to test yourself! New languages, new food, new activities… the possible thrills are legions! Why not try a new sport? Worst case, if it's a failure, no one will know at home! #PrideSafe
---
1) The new acquaintances
In fancy hotels, it's not that common to ask around for a cell phone charger, toothpaste or a travel guide. Or if someone wants to go out for a beer. In hostels, that is a common thing to do. So if you are eager to meet new people, hostels and similar shared accommodations are THE places to hang out and meet other travelers.
From my personal experience, the people I have met on the road are by far one of the things I cherish the most when I come back from my trips. I have built new, unique friendships over the years with people met around the world. (Yes, I mean you, Franziska,  Julie, Maggie, Anna, Elif, Renato, Nadesha, Elliot, Mauro, Romina, Guillaume, Anthony, Sébastien, Jonathan, Fernando, Sandra, Armando, Mayita, Meg, Baker, Francesca, Luis, Push, Sergio, Seema, Stefan, Sarah, Filippo, and all the awesome people I met since 2011 ! )
---
Extra credit if you travel with just a carry-on!