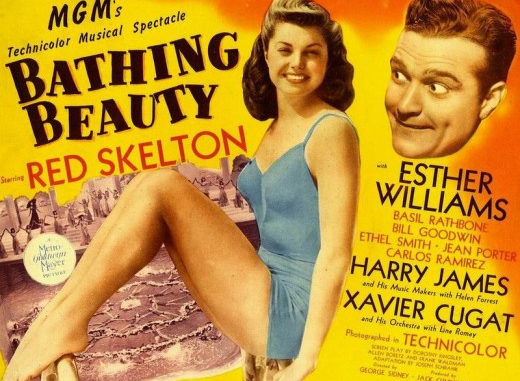 Back in August 2012, I was shopping for a 1-piece swimsuit to bring with me to India (I already have two 2-piece with tankini tops).  Almost at the same time, I started following Toutounes Atomiques, a plus-size store that opened in Montreal in February 2012 and whose motto is "to elevate the young plus size woman's self-esteem by allowing her to find her own trendy and unique style of clothing" on Facebook.  The sweet surprise I had when I stumbled across their pictures of really nice, vintage-styled, swimsuits.  After a quick phone call to know which size and color they had left, I remembered I had a 25% off coupon for that same store. Needless to say that I ran to the store to give these suits a try.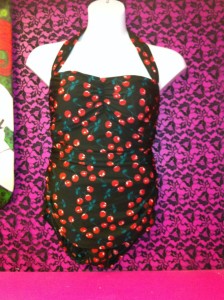 *angel choir and heavenly trumpet sound* IT WAS A REVELATION.
I looked in the mirror while in the changing room and felt like a million bucks!  The ruched "independent" front panel flatters the silhouette, the low-cut leg and the halter straps give it an incredibly pretty retro look and focus on the "right curves" for those who have a more rectangular body-shape (my case).  Then I looked at the label: Esther Williams.  (I bought the Classic Sheath, in the Black Cherries Delight fabric.) The fabric is also really thick and of a good quality.  Didn't even know they made swimsuits, even less in plus sizes!
[youtube http://www.youtube.com/watch?v=akQiZTlXn0M] Esther Williams in Bathing Beauty – 1944
It will accommodate bustier women (again, my case); normally, the halter-strap can put weight – and eventually pain – on the neck, but this swimsuit has discrete yet efficient side-boning that compensates and gives your neck and upper shoulder a break.  Halter-style generally increases cleavage for those who want that (this time, not my case!), but will suit also those who, like me, are still dreaming of turtle-neck swimsuit-that-keeps-it-all-in!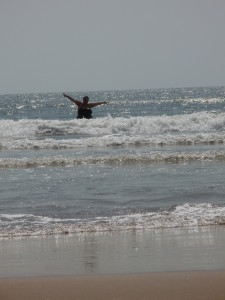 Ranging around 80 $, some might find it expensive.  Considering that swimsuits from other quality brands (Speedo, TYR, …) in both regular sizes and plus sizes (which are not that easy to find!) are ranging in the same price, I say: Treat yourself, go for both style and comfort.
ESTHER WILLIAMS' SWIMSUITS
Size Chart
---
** UPDATE: This store is now closed **
TOUTOUNES ATOMIQUES
6764, Saint-Hubert Montreal, Quebec Canada H2S 2M6
Tel : (514) 903-7669
info@toutounesatomiques.net