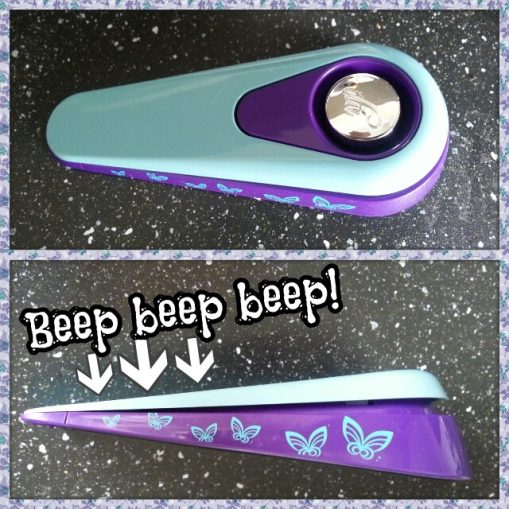 Lots of people think it's not safe to be a female solo traveler.  I disagree.  It can be just as safe if you use your brain and you develop basic security habits…  What I call my "3 Musketeers" are the three gadgets that keep me and my belongings safe when I backpack my way across a new city or a whole new country…
---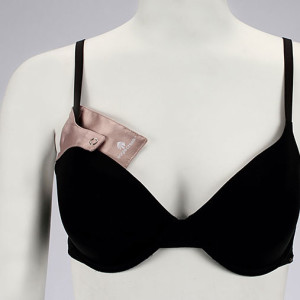 The Bra Stash (approx. 12-15 CAN $):
That first gadget, designed by Eagle Creek, will make you feel so much safer.  Not only will you use it abroad, but you might also find it pretty useful while at home (especially when going out in bars or clubs).  It's a small silk pocket that you snap on your bra.  That's it!  Needless to say, it meets the "compact" criteria to fit in my backpack!
There are many ways to stash it, as you can see on the Eagle Creek's page dedicated to that product.  The Silk Undercover Bra Stash is big enough to content 2-3 credit cards and a good stack of bills (I don't recommend it for spare change).  It's much more discreet than the often-seen neck wallet and, should the worst happen and you get mugged, you have a better chance of getting out of it with some money to get back to your hotel and credit cards.
---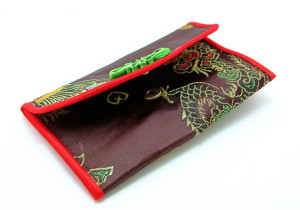 The use of a "fake wallet" can also help you get out of these unfortunate events: buy a cheap wallet, leave few cheap bills and receipts in it, something that could look like a credit card (I use an empty prepaid credit card or an extra Airmiles reward card)… I even put a picture of my husband and I in mine!  Make it so it will look real enough to convince the thieves in case they have a glance at the content before running away.  I never had to use mine up to now, but who knows… maybe one day, a thief will earn some Airmiles for me!
---
The Door Alarm Wedge (approx. 20 CAN $):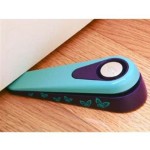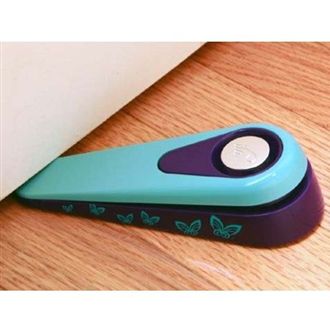 There are a few different types of door alarms, but this one is by far the best one as it'll fit practically any type of door (as long as they open towards the inside of the room, which is pretty standard!).  The ila Wedge Door Alarm is compact, easy to use and efficient.  Just turn it on, put it in the way of any opening door and as soon as the door hits the sensitive "latch" part, it will start ringing with 130 decibels of eardrum-piercing fury and won't stop until it is switched off..  The rubbery base of the wedge makes it slippery-resistant and will momentarily block the door from opening and will give you some more time to come to your senses and react.  Works with 4 x LR 43 button cells batteries.  Size is 14 cm x 5.7 cm x 3.4 cm (LxWxH).  Weight (with batteries): approx. 67 g.
---

The Metal Net (approx. 85 CAN $):
I own a Pacsafe Backpack and Bag Protection (Medium) to go along with my backpack.  Though I used it only once, I always have it with me, as we never really know when it can make a crucial difference… until it happens!  This will allow you to secure the content of your bag and/or attach it to anything solid enough to discourage a thief.  It's a bit bulkier and pricier than the other "Musketeers" but worth the expense and room.
Available in different sizes that will accommodate bags from 25 to 140 liters.  Size (medium size – when packaged in the provided pouch): approx. 15 cm x 10 cm x 8 cm (LxWxH).  Weight: 580 gr (for the medium).
All these items can be found online or at your favorite travel gear or outdoor sports retailers, like Jet-Setter or MEC.
---
Eagle Creek – Inspired By Travel
http://www.eaglecreek.com
Ila Security – Safety With Style
http://www.ilasecurity.com
Pacsafe – Smart Travel Gear
http://www.pacsafe.com
Retailers:
Jet-Setter – Canada's Luggage & Travel Gear Experts
http://www.jet-setter.ca/