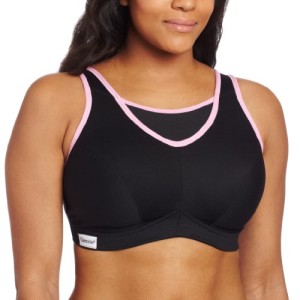 I packed the Wirefree No-Bounce Camisole Bra from Glamorise Sport (back hook), another great design by the people at Glamorise, for my 2-week backpacking trip across Guatemala.
I needed a quick-dry, comfortable and medium support bra for everyday activities, to alternate with a good sports bra.  As I was expecting hot weather, it was important for me to have "breathable" underwear that won't stink up at the first drop of sweat.
FAST FACTS:
Price I paid: CAN $28.03 (about US $26 / £16.50 / €20 – bought on OneStopPlus.com) PLUS shipping, customs, etc.
Size I picked: 46 D (34-50, C-G cup size available on Glamorise website)
Color I picked: White (2 of them – also available in Black/Pink, Blue and Café)
Fabric: 70% Polyester, 25% Nylon/Polyamide, 5% Elastane (Lycra)
Washing & Care: Hand wash warm, line dry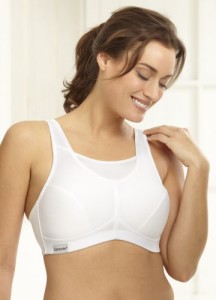 BEST BACKPACKING FEATURES:
-Incredibly packing efficient due to the absence of wire
-Air-dry time is about 4-6 hours
-Allows complete freedom of movement yet provides great support
-Doesn't feel too warm, even in hot climates
Again, this is a sports bra.  You won't find it super sexy and it is very covering (on the other hand, it provides some lift and, from above, some cleavage!) but it does what it's meant to do: support the girls.  It even reminds me a bit of those "vintage" bras of the 50's… without the "pointy nuclear warhead" look!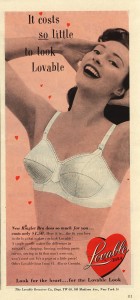 This particular bra is perfect for low/medium intensity activities, but also for everyday use, should you be restricted (like I am) to the number of clothes you carry in your luggage, in a desire to travel as light as possible.  I used it for the gym and even if I'm when jogging on a treadmill or giving all I have on the elliptical machine, it keeps the bouncing to a decent minimum without being too warm or restraining my movements (and we all know that you need complete freedom of movement on an elliptical!).
In comparison to the Glamorise Sport Double Layer Custom Control Bra (that keeps everything together even more efficiently but may feel a bit "corset-ish" at first), the Wirefree No-Bounce Camisole Bra feels looser yet does the job.  (It wouldn't be my first choice for jogging or horseback riding, but definitely enough for a hike, some gym or biking…)

FINAL WORD:
This one gets a big YES. It is comfortable enough to wear all day long when I plan on hitting the gym after work, and even after being worn for 8-10 hours, it won't over-stretch and loosen up when I step on the treadmill when I need it the most!