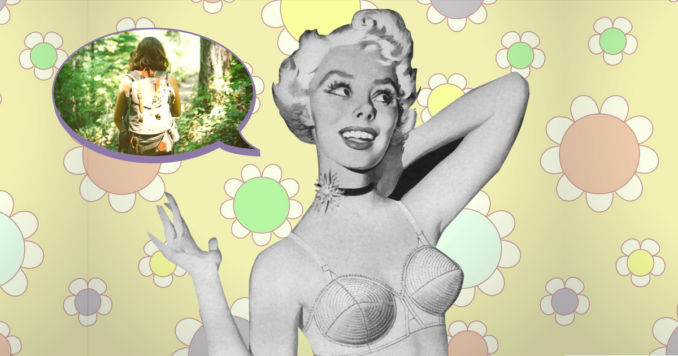 I recently spent some time with Debbie Donelle and her team to identify some bras that would make great travel bras for plus-size travelers and backpackers! (Debbie is the owner of Lingerie DEBra, a Montreal store specialized in bras for fuller busts.)
I first met Debbie in 2016. Like me, she did a presentation at the first edition of the Montreal + Fashion Week. Hers was on bra fitting. (Mine was on plus-size travel. Obviously.) As soon as I saw the model come out from behind a screen to model a bra, I WAS SHOCKED. I had never seen someone who looked so comfortable in a bra! And I knew right away I had to have a chat with Debbie to discuss plus-size travel bras!
Fun fact: Have you ever walked into a bra shop, hoping you won't look completely silly to the eyes of a bra-fitting queen? I'll admit, I was kind of proud when Debbie told me that my fitting looked OK… after which I confessed that I wore my best bra for the occasion!
Here are the models we picked that should fit most plus-size ladies needs… (Click pictures for full size!)
---
Energise J-Hook (by Elomi)
Maximum support; underwire.
Moisture-wicking; J-Hook option (see details below).
Materials: 94% Nylon, 6% Elastane
Style # : EL8041
Size range (British sizing): 32GG-J, 34G-JJ, 36FF-36JJ, 38F-JJ, 40DD-J, 42-44D-HH, 46DD-HH
---
Extreme Contour (by Anita)
Maximum support; wireless.
Cups lined with cotton terry.
Moisture-wicking; ideal for sweaty activities / weather.
Materials: 75% Polyester, 15% Nylon, 5% Elastane, 5% Cotton
Style # : 5227
Size range (American sizing): 32D-44H
---
Sugar Candy Everyday (by Cake Maternity)
Light support; wireless.
Very soft. Comfortable enough to sleep in; perfect for long flights! Straps can be worn regular or crossed in the back.
Materials: 90% Nylon, 10% Elastane
Style # : 28-8005
Size range (British sizing): XS through XL (fits 32F-34HH, 36F-H, 38F-GG, 40F-G)
---
Matilda (by Elomi)
Impressive support for its very light weight; underwire.
J-Hook option (more details below).
The cutest, fanciest selection of this list!
Materials: 57% Nylon, 24% Polyester, 19% Elastane
Style # : EL8900
Size range (British sizing): 32 GG-JJ, 34G-JJ, 36DD-40JJ, 42DD-HH, 44DD-G, 46D
---
Clara (by Anita)
Medium support; wireless.
Perfect as an everyday bra.
Wide straps for improved comfort.
Materials: 85% Nylon, 15% Elastane
Style # : 5459
Size range (American sizing): 34D-44H
---
Isis Bikini Swim Bra (by Elomi)
Medium support; underwire.
Made with swimwear material, can be worn as a bikini top (or with a tankini) or as an everyday bra… or both!
Materials: 80% Nylon, 20% Elastane
Style # : ES7500
Size range (British sizing): 36E-HH
---
A Few Words On (These) Travel Bras…
All these models were carefully selected to fit most cup sizes, silhouette and support need. Another important feature in the narrowing of these models as ideal plus-size travel bras was the (short) air-drying time. I also went for a mix of wireless and underwire bras (3 of each).
Sizing:
British sizing (i.e. Elomi, Cake Maternity) is different (usually smaller) than American / US sizing (i.e. Anita).(The size ranges mentioned for each model are based on the ranges available in stores. More sizes could be available for some models / brands depending on where you shop.)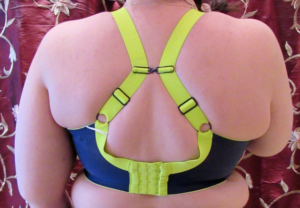 Price range:
About $80 to $115 per bra
Yes, a quality bra is expensive. But with proper care (hand / delicate wash with proper laundry soap, air drying) a good bra will last for years. (I got my Glamorise bras in 2013, and they are still in great condition after 5 years.)
J-Hook straps:
Ideal to join your straps so they are not as apparent with a racerback top.
---
A Few Words on Bra Fitting…
Traveler or not, a proper bra-fitting is something that every woman should treat herself to! And not just once! We grow up, some will have kids, our shape changes… Our bodies – and breasts – will change a lot in our lifetime. To avoid unnecessary back / neck / shoulder pain, it's essential to wear the right bra. I'll add that it's even more important when you travel because you don't want your adventures to be ruined by bust-related pain that could be avoided!
---
Thank you…
… to Debbie, Amanda (model) and the team of Lingerie DEBra for their warm welcome and hard work to help me come up with these great plus-size travel bras recommendations!
Interested in a bra-fitting? Schedule an appointment through Lingerie DEBra's website!