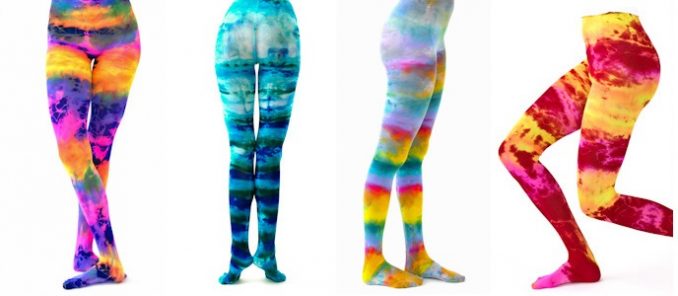 I found out about We Love Colors as I was compiling my Plus Size, Travel Friendly Retailers list, last fall.  I was incredibly excited at the idea of colorful, no cotton (which takes forever to dry and is therefore a backpacker's no-no), leggings.  So I got some Splash Plus Sized Nylon/Lycra Footless Tight and Plus Sized Nylon/Lycra Footless Tight to try and review.
The Florida-based company is proud to offer products (leggings, mini dresses, head bands, fish net stocking, leotards, and more!) dyed on site.  Their website is complete with a lot of care instructions, a detailed color guide and complete size charts with every style.

First, the choice of color is absolutely fantastic, in both "splash" (tie-dye inspired) and solid colors.  As most of the choice in store is limited to grey, black, tan and navy (they offer 51 solid colors and 11 "splash" styles), you understand my excitement as I found this alternative!
PLUS SIZE CHART
| | | | | |
| --- | --- | --- | --- | --- |
| SIZE | A/B | C/D | E | EE |
| HEIGHT | 4'11"-5'5″ (1m50-1m65) | 5'5″-6'0″ (1m65-1m83) | 5'5″-6'0″ (1m65-1m83) | 5'5″-6'0″ (1m65-1m83) |
| WEIGHT | 160-220 lbs (72-100 kgs) | 215-275 lbs (97-147 kgs) | 215-275 lbs (97-147 kgs) | 215-275 lbs (97-147 kgs) |
STANDARD SIZE CHART
| | | | |
| --- | --- | --- | --- |
| SIZE | HIP | SIZE | HIP |
| Small | 35.5 inches (90 cm) | X-Large | 40.0 inches (101.6 cm) |
| Medium | 37.0 inches (94 cm) | XX-Large | 43.0 inches (109.2 cm) |
| Large | 38.5 inches (97.8 cm) | XXX-Large | 45.0 inches (114.3 cm) |
I am personally a big fan of footless tights as I suffer from having very long feet (size 12 for women/10.5 in men size or 44 in European size).  I always ruin the foot part of nylons and other hosiery items I have with my rough heel skin and my gigantic, flat feet.  I also find the seam that goes across the toes incredibly annoying and uncomfortable!
FAST FACTS:
Price : 20 CAN $ (about US $ 19 / £ 11 / € 13 )
Size I picked:  E (size available: A/B, C/D, E & EE – see full size chart above)
Color I picked: #7306 (also available in an amazing variety of solid colors and "splash" colors)
Fabric: Thin Nylon & Lycra blend
Washing & Care: Hand wash, air dry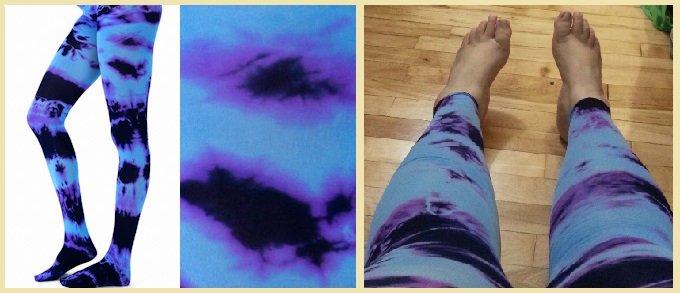 Sadly, in that case, I probably should have trusted the fact that they're called "tights" and not "leggings" as they are thin and a bit see-through, as you can normally expect from tights.  My bad, I guess.  They do have some leggings, in many different styles and colors, but they are not advertised in the "Plus Size" section as the sizes are a bit smaller.  Those leggings are described as "stretchy, and completely opaque" and are made of a 90% nylon supplex/10% lycra blend which I think is great, as experienced with MioWear's Kriss Kross Pants.  The nylon supplex/lycra blend is generally resistant and quick dry, essential qualities to any traveler's outfit.
The XX and XXX-Large from the Standard Size Chart might do it for those wearing the smallest sizes of the plus-size chart…
VERDICT:
I love the colors and style of it, but unfortunately, I cannot recommend this one for minimalistic luggage packing.  Those are tights, though they may seem thicker and less "see-through" than expected on the picture.  On the other hand, I definitely plan on trying their Splash Color Leggings or their Splash Color Matte Leggings (hopefully, they will fit!) which appears to be a better match for backpacking needs.  More to come!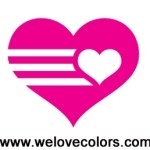 We Love Colors
Florida, USA
http://www.welovecolors.com/