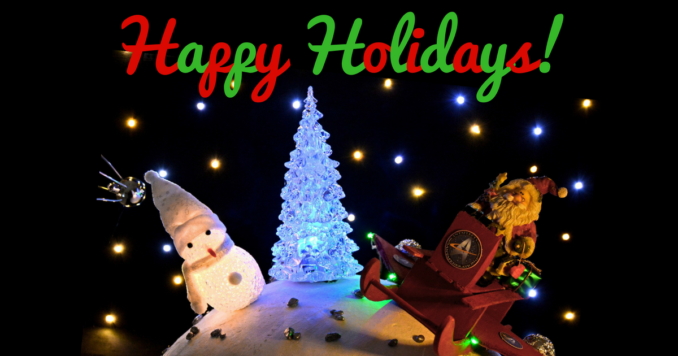 So before I plunge head first in the holiday season (and well-deserved vacation from work!), I wanted to drop you a few lines and send you my best wishes for Christmas and the beginning of year 2017!
My wishes for you?
I wish you to be kind to yourself. It's enough struggle to go through life as an overweight person without being the harshest judges toward ourselves. #GoEasyOnYourself
I wish you to be proud of who you are and to be able to own every single inch of hips, thighs, butt and belly you have. When confronted to a confident person, people find it harder to bully, judge or crack snarky comments (which probably explains why I've never been bullied about my size by fellow plane passengers I guess… I'm always so happy and proud and "representing", nobody even dares!) Try it… you'll see for yourselves! (I can't guarantee it will work all the time, but hey, every small victory cuts you some slack!) #PlusSizeRepresent
I wish that you remember to focus on all the GOOD stuff coming your way, whether it's on vacation or at home. Don't let the bad experiences ruin everything. Spend your energy living and reminiscing happy times. Bad sh*t is too much of burden to carry into the New Year so…#DropTheCrap
I wish that you keep on supporting the body positive fight, by your own actions, but also by supporting fellow "bopo" bloggers and activists. Though we all try to get our place in the sun, whenever we do get to the coveted spot, we got a duty to use our visibility to drag our fellow advocates by the sleeves and into the light. #WinWin
I wish you to get out of your comfort zone and challenge yourself as often as you can. That could mean doing a first trip by yourself if you're scared of doing so. Or trying new food that scares you, if you are a picky eater. Trying a new hobby, learning a new language or finding out about a new culture. There are a million ways, big or small, to test yourself. You don't need to go climb Everest. Sometimes, it's just changing the road you usually use to come back home after work. #ChallengeYourself
I wish you to never lose your ability to be amazed. Though everything is more accessible than ever through Internet and globalization, don't forget to look at things with your own eyes and absorb the beauty of what takes your breath away. Don't look at things only through a camera lens; take your pics, then shove your camera or phone in a bag and enjoy for yourself, through your own eyes. See, feel, smell, hear what is around you, for traveling's sake! #StayWideEyed
No matter how long, no matter how far, I finally want to wish you resourcing, energizing, breath-taking travels in the year 2017. #Obviously
M

e

r

r

y

C

h

r

i

s

t

m

a

s


&


H

a

p

p

y

N

e

w

Y

e

a

r

!
P.S. I don't expect to be completely radio silent during the holidays, but I might still take a little break so I can come back next year with a renewed inspiration and red, hot travel topics!