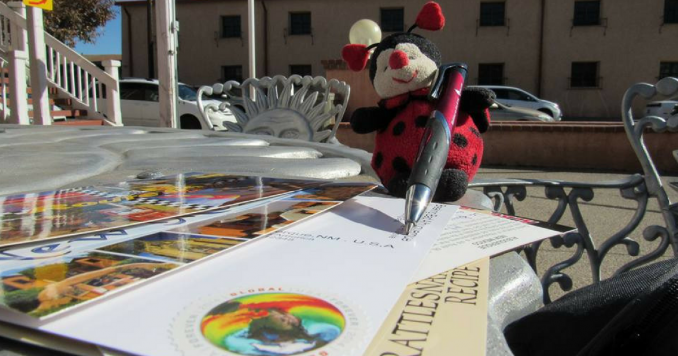 For 6 years now, Picotine the ladybug has been my travel buddy.
(Since summer is raging on right now, I thought it was a good time share with you some light reading before I jump head first in a summer review-fest of gear, clothes and shoes!)
You probably saw that little creature in my travel pictures.
---
The birth of Picotine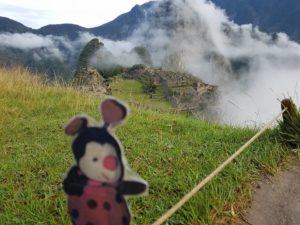 I received Picotine as a gift for my 18th birthday from my nephew (the same nephew who worked on the backpack illustrations in "The Ultimate Guide to Plus-Size Backpacking"). Now that I'm 36, well… that means she's now 18!
Guess who will join me in Bulgaria next September to celebrate her becoming an adult traveler…?
So, who is the tiny lady bug who visited over 10 countries this far?
Did you know that she recently got herself a stunt double, a.k.a. "Flat Picotine"? Flat Picotine replaced the original Picotine in Peru in 2016. (I swear I cried my heart out in the middle of Toronto's Pearson Airport when I realized she wasn't with me for that adventure!) With a little creativity, some cardboard and clear tape (and thanks to my husband who snapped some pictures of her), I built Flat Picotine on the corner of a counter in an Internet café in the Miraflores neighborhood of Lima. At that point, my Peruvian adventure could go on. (Thanks to Sergio from Dragonfly Hostel, whose help and directions made Flat Picotine possible for a couple of dollars…)
---
She made many friends through the years…

From Belfast to Istanbul, from Tombstone, Arizona to Vienna, across the Loch Ness and Poland…
---
She likes to eat…

(In no particular order) Traditional Guatemala Fiambre on the Dia de los Muertos (Day of the Dead), churros, Sachen torte and cakes of all kinds, Peruvian ceviche, Southern Poland cheese and real fisn'n'chips!
---
… and appreciates a good drink!

(Quite self explanatory…It's a good thing she's 18 now!) 
---
She likes statues…

Lenin, Freud, Jan Karski, Jan Heweliusz…
---
… and lives dangerously!


And has a special affection for… cannons.
---
But most of all…
She's a reminder that we shouldn't take ourselves too seriously when we travel, but also in life in general.
When my friend Julie and I crashed a press conference of US Secretary of Interior Sally Jewell, in Saguaro National Park (Arizona – 2015), we went to ask if we could take a picture with her. When she saw Picotine, she said "Oh, you don't even have to explain…!" with a big smile.
That little critter is an amazing ice breaker and brought smiles to many travelers, myself included.
In the rush of visiting tourists attractions, under the pressure of line-ups and budgeting and safety, we sometimes forget that traveling is supposed to be a fun, mind-broadening adventure.
Picotine is there to remind me, to remind us, of what backpacking is all about… having fun and letting go!