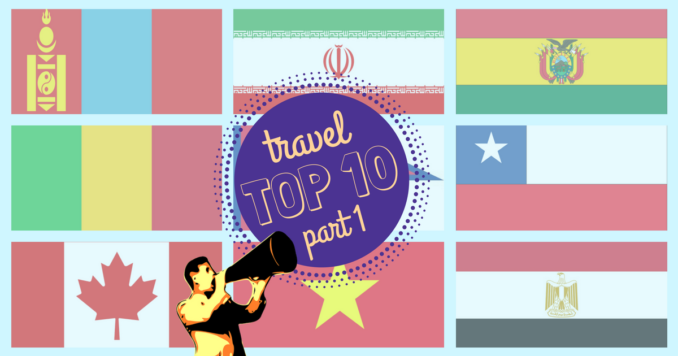 To this day, I have visited 16 countries, but there are still so many countries to visit on my travel checklist! I have compiled this – very personal – top 10 list… Who knows, this could inspire you!
I have chosen not to put numbers to this top 10, since there I am rushed to visit all these places… in no particular order!
---
NEPAL
This is one of the countries that's been on my mind the longest and that I haven't visited… yet. (I was supposed to, back in 2012, after spending time in India, but a bug forced me to come home.) As I watched a TV show featuring young video reporters, I first saw a glimpse of Kathmandu.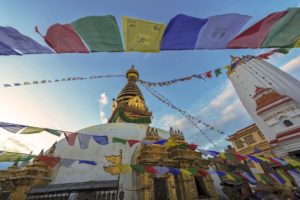 A loud place, but so vibrant and colorful! Buddhist monks and prayer flags everywhere. And this overall impression of happiness, in spite of a very hard life. And the mountain landscapes! Probably the most incredible of the whole world! Nepal is the home to a good part of the Himalayas, including Mount Everest, after all!
---
BOLIVIA
Again: mountains! But also the numerous indigenous cultures. (This is the main reason why I went to Peru, in 2016!) Bolivia has a significant indigenous population: the Aymara people alone counts for 1.5 million inhabitants! The Aymaras have been living in the Bolivian altiplano (high plains) for anywhere between 800 and… 5000 years! (This shows how little we know about the fascinating and complex cultures of indigenous communities…)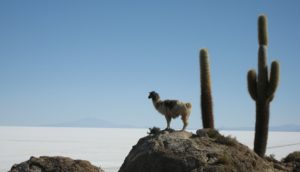 The constant state of breathlessness (blame altitude sickness and beauty!) and amazement of the peaks of the Andes contribute to the mystery and "power" of the Andes call. And who wouldn't want to hang out at the Salar de Uyuni salt flat, at least to take a few silly pictures?
---
EGYPT
Not very original, I know. But can someone be indifferent to the pyramids and the Sphinx? Weren't we all tempted to drop everything to become an Archaeologist / Egyptologist after watching a documentary about Egypt… no? It's also the land who saw the life – and often tragic death – of unique female leaders (Nefertiti, Cleopatra), still very well known, thousands of years after their reigns! In the heart of a desert, the walls of historical buildings are covered with intricate and fascinating hieroglyphs… I stop here, or I will never finish that post…
Add to that that that one of the episodes of the Asterix cartoon was featuring Cleopatra (along with doubtful, racist representation though)…
---
ISLAND COUNTRIES OF THE SOUTH PACIFIC
For the pristine beaches and the fact that, due to their locations, these island-countries are still relatively untouched by tourism. And then there is always the chance to – literally – be the first one to see the sun rises. A new day on Earth starts with the sun rising on Kiribati after all! (Sadly, Kiribati is threatened and most likely to disappear because of global warming…)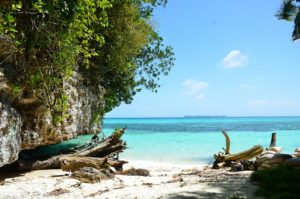 But there is also a curiosity factor.
It is well-known that the population in many of these countries are mostly plus-size. This may seem unusual for many, but that aspect adds to the appeal of Tonga, Palau, Tuvalu, Nauru, Samoa (to name just a few)! Imagine not always being the biggest person everywhere you go (which happens A LOT when you're a plus-size backpacker).
---
IRAN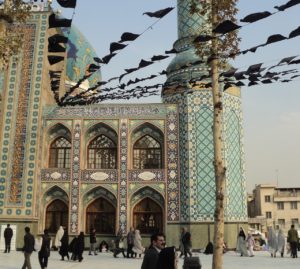 Iran is in the news a lot, but not exactly to praise its touristic potential. We mostly hear about the traditional / conservative way of life that takes places in the country. Or about politic / diplomatic relations with Western countries. But the country formerly known as Persia is a modern, exciting and incredibly exotic nation. Beyond the amazing architecture and fascinating history of the nation, its gastronomy has a great reputation. But most of all, its inhabitants. I have heard nothing but the kindest and nicest things about the Iranian people! Rumor has it that their patience, generosity and welcoming nature are legendary and an essential part of the Iranian experience.
Oh, and the bazaars… I love myself a good bazaar. And Iran is a great spot for shopping and haggling I have heard. #ShoppingTime
---