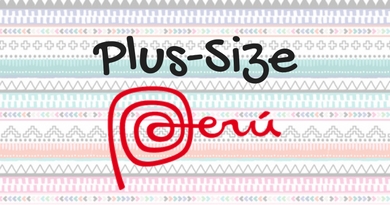 After 30 years of waiting, I finally went to Peru.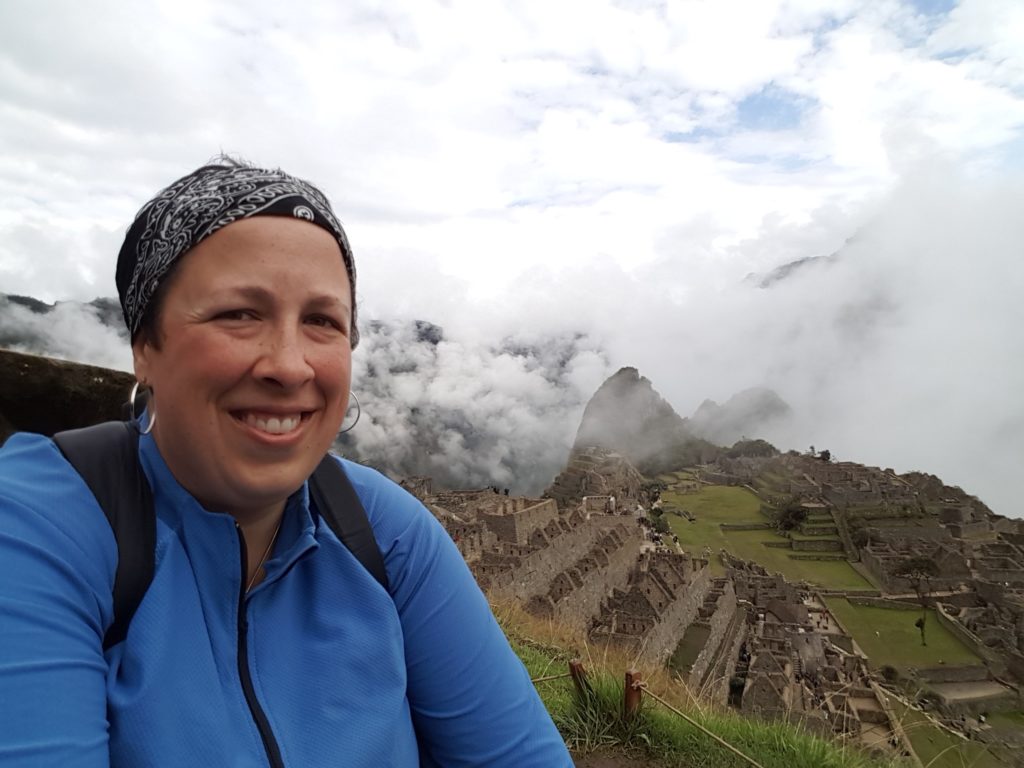 First time I have heard of this country was through what became my favorite cartoon to this day, a French-Japan co-production titled "The Mysterious Cities of Gold"  that was inspired by Scott O'Dell's children historical novel "The King's Fifth".
It is the 16th century. From all over Europe, great ships sail west to conquer the New World, the Americas. The men, eager to seek their fortune, to find new adventures in new lands. They long to cross uncharted seas and discover unknown countries, to find secret gold on a mountain trail high in the Andes. They dream of following the path of the setting sun that leads to El Dorado and the Mysterious Cities of Gold. 
("Mysterious Cities of Gold" opening credits)
(The golden age of cartoons…)
---
To add to the excitation, in the days before I left, there was even a rumor that "legendary rock musician Kurt Cobain faked his death and is living in South America". Is that a sign that I ALREADY packed a comfy purple and black plaid shirt, the plaid shirt being the official "grunge uniform"… #IwasGrunge
---
But is Peru a plus-size friendly country?
Overall, and based on the experiences I had there… I'm glad to say that YES, Peru is a plus-size friendly country… (just not that much, clothes-wise).  After passed experiences in El Salvador, Guatemala, India & Mexico, countries that have various levels of development and in which I faced overcrowded transport and not adapted infrastructures (from restaurant chairs to bus seats), I admit I was  expecting similar difficulties in the land of the Incas.  To my great surprise, most installations are well adapted for overweight – but also for relatively tall – travelers. And not only around Machu Picchu (probably the country's most important attraction) and/or in big cities. "Plus-size wise", Peru can easily be compared to Montreal or most major North American city, without suffering from the comparison.
It is essential to be a bit in shape though. A city like Lima spreads over a quite vast area. Unless you take local transportation (an interesting and affordable experience in itself), cabs fares can quickly become expensive. (Public transportation doesn't cover much of the touristy neighborhoods of Barranco and Miraflores.)
Altitude is also something to consider, when you visit Peru. Altitude sickness strikes people of all size/age/fitness level. Mate de coca (coca leaves infused in hot water) will help fight the symptoms while your body gets used to the lower oxygen level…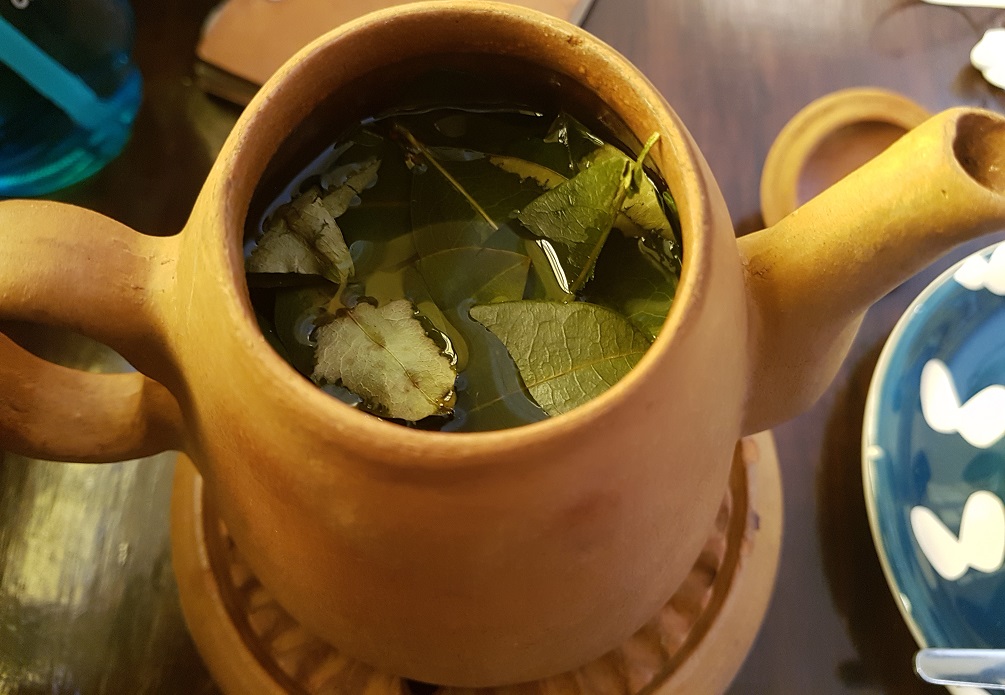 Other cities, like Arequipa (nicknamed "The White City" because of the prevalence of white sillar in its architecture), Aguas Calientes or Nazca, are quite compact and most accommodations and attractions gravitate around the Plaza de Armas, generally the core of the municipality and a place where you can find almost everything, from tour agencies to restaurants and street food along with the occasional, impromptu musical performances; basically a place to chill out and get the pulse of the town.
---
… or not?
On the other hand, before I even left home, I had already experienced the frustration of being a plus-size person trying to book a flight in one of those 6-12 passengers planes over the Nazca Lines… which I finally gave up on.  It's already crazy expensive – because, you know, tourist-trap! – and with pretty much all companies, I would have to pay for 2 people because of my weight so… I skipped. (I understand the security reasons. But they make a crazy profit on each flight, why can't they just book one less passenger?) I would have agreed to a surcharge, which demonstrates a certain care for security from the different flight operators. But just doubling the bill? I'll skip. But thanks to that, I had the chance to visit the Cahuachi ruins and a few other attractions, among other desert-y activities…
I was a bit fearful of my Cusco-Lima flight with StarPerú, towards the end of my trip, as very often, national/short distance airlines don't have the same standard of service than international/long distances companies; to my surprise, the airplane setting was similar to many major airlines and the seats weren't too small.
---
On Local Transportation…
Over 3 weeks, I crossed Peru from West to East, from the Pacific Coast to the Andes foothills and through the desert, from sea level (Lima) to about 4000 m of altitude (Puno & Lake Titikaka), and I rolled these 1 700 + km in the (very affordable) deluxe buses of Cruz Del Sur. (How much does it cost to cross this country by bus, all in VIP class? About $150 CAN (a little over 100 € /approx. 94 £). Exception made of the Cusco-Aguas Calientes train (an essential stop if you plan on visiting Machu Picchu), along with most things surrounding the city in the clouds, the country in itself is a quite affordable one.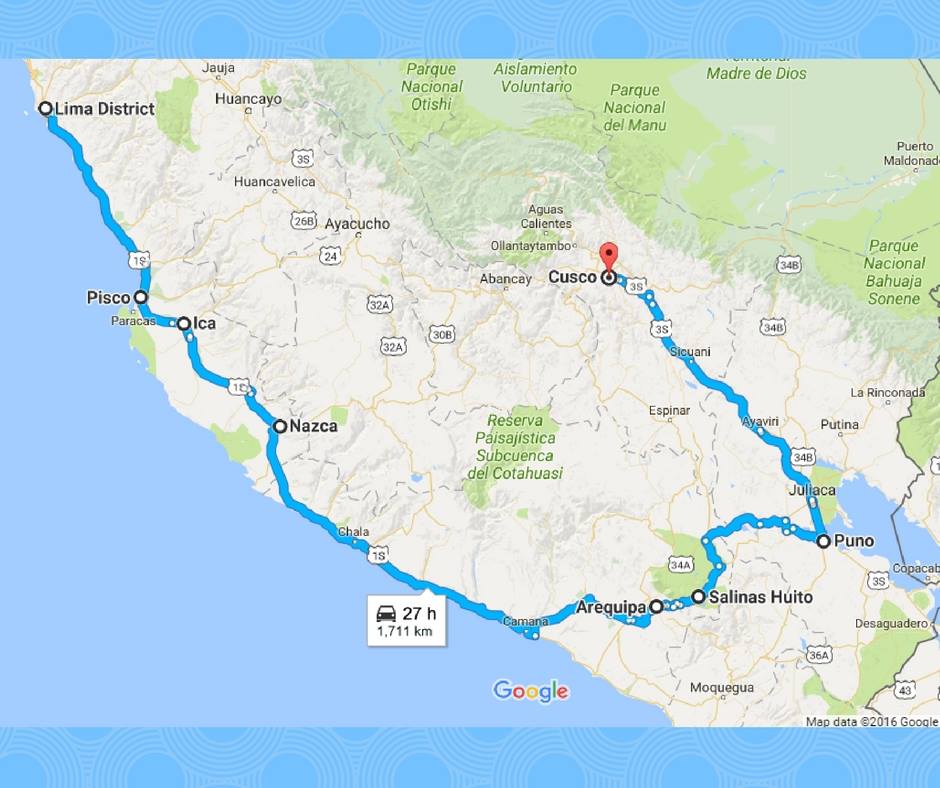 I met numerous people – locals and tourists -, ate amazing food and tasted local wines and liquors.  I became friend with a bunch of happy Arequipeños and we got to celebrate the Dia del turismo (Tourism Day). Or was it the beginning of Spring? Or the last concert of a local singer heading to Lima? Who knows…
In Arequipa, there is always a good reason to celebrate and make new friends…! #WhiteCityPartyPeople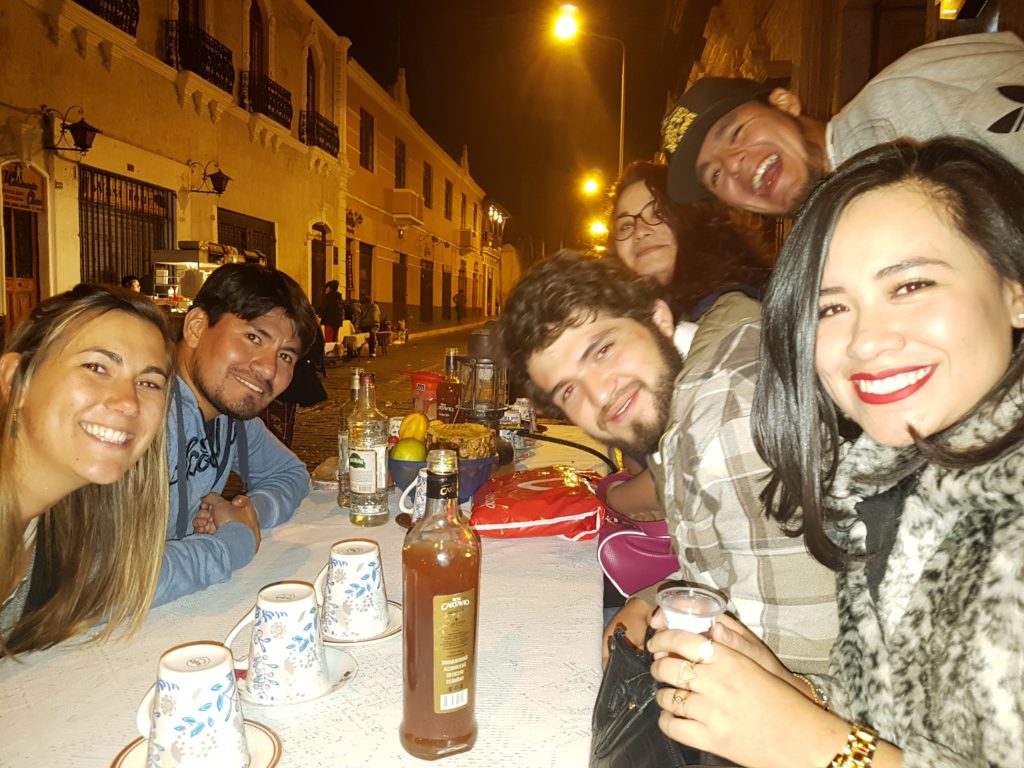 While I was away, I had the chance to put to the test some clothing from a Saguenay brand (Collection C-Straight), so I could provide you with reviews in the coming weeks… stay tuned!
Traveling as a plus-size backpacker can be quite demanding.  So many little, unsuspected annoyances, from which "regular" size travelers are spared, can clutter your trip. I guess being the country where one of the new world wonders is located forces the tourism industry to adapt.  And that is great news!