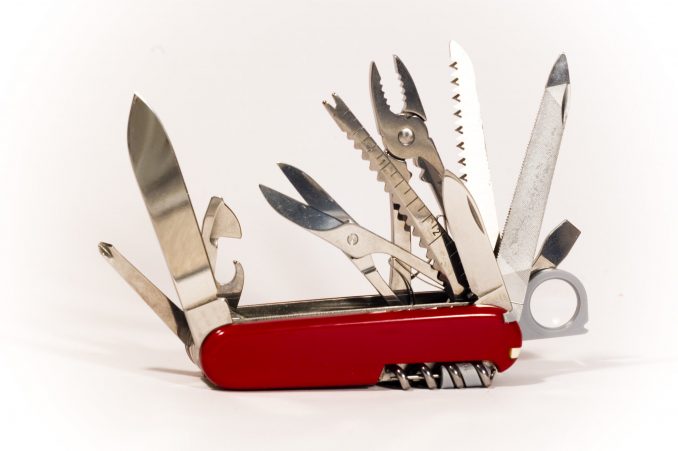 Since September 11, 2001, these little guys made themselves scarcer in passenger's luggage (especially carry-on as they were fully banned from hand luggage since).  The US Transport Security Administration (TSA) recently reviewed their approach on these indispensable backpacker tools and say that there could be changes in the carry-on regulations.  (No official implementation date has been set and the recent bombings at the Boston Marathon might have an influence on the final decision.)
But what should you look for in a pocket knife or (folding) multi-tool?  Considering the wide range of products and price, the weight and the different tools available, it can be a tough decision!  Classic brand Victorinox Swiss Army has (my personal rough calculation) about 54 models and prices starting around 15 CAN $ and going all the way up to over 150 CAN $.
Multi-tools are also within the same (vast) price range, but bears a different look (often a little bulkier but include pliers that are rarely found in the "pocket knife" version).
Things to consider while shopping:
-Size and weight:

If you plan on carrying your knife/tool all the time, in your pockets, then the smaller models are probably a better fit (unless you have a lot of pockets or you don't mind carrying the weight of a bigger choice).  The smaller, the fewer the options, so choose carefully.  If you plan on bringing it with you only on specific occasions, then you can probably handle a more complete, heavier and chubbier model.
[youtube http://www.youtube.com/watch?v=wgYgl4OodeY]
-Main use:
I used my pocket knife in my "daily routine" when I'm away: from peeling and cutting fruits and vegetables to tightening a loose screw on my sunglasses and doing what I call my "pocket knife manicure" (clean and cut).  For that kind of usage, you don't need a knife as heavy-duty as you would need for gutting fish, fixing a bike or building a shelter.  Some knives/tools are built with specific activity in mind, don't neglect that.  Some even include built-in USB keys for the more techno-oriented travelers!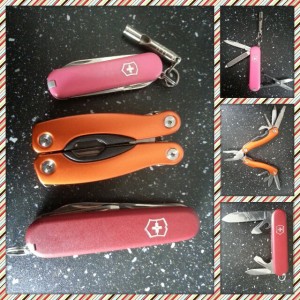 When I travel, I use a combination of 3 instruments – 2 Swiss Army and 1 multi-tool:
–Swiss Army Pink Classic SD as an everyday attachment to my key-chain (very light and not too big)
-Swiss Army Red Driver most of the time (perfect size for peeling and eating)
-Yukon Gear Small Multi-tool for rare and more complex use
Up to now, I never regretted having too much or too little and never needed a tool I didn't have, but I'm not the most hardcore-camper-climbing hills backpacker, so it could be insufficient for more rugged-off-the-beaten-path-survivalist travelers.