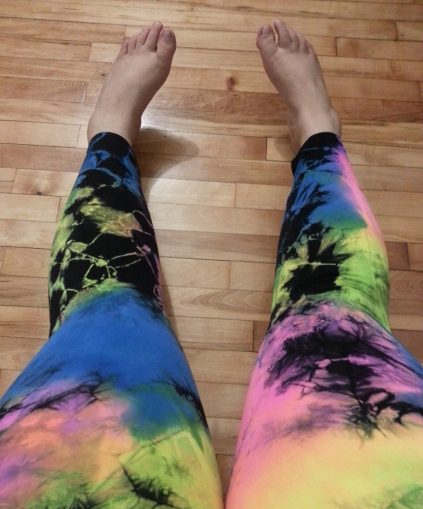 I tested We Love Colors leggings, in all their colorful glory… Even though it goes a bit against my backpacker "instincts" to pack very flashy things to wear! (It's not that easy to mix & match all (or nearly all!) my items of clothing.  (I also hate being "too visible" while away to avoid drawing unwanted attention.) But this one comes as a complete surprise!
My rule of thumb (it's probably the same rule for most travelers) is to pack my clothes with a special focus on neutral, single colored clothes, to make sure I can wear all items together or almost.  (Black pants/leggings will match with everything, which is a lifesaver when you're aiming at packing small and light.)
At first glance, it may seem like the "Splash Color Matte" We Love Colors leggings are way too intense to match with everything, as they're so bold and colorful… but that's what also makes them so versatile: most certainly, you packed something neutral (black or beige for example) to wear as a top… and I feel it is best paired with something that will tone it down… (I don't think I can pull the "human rainbow look", to be honest!)
For those who aren't too familiar with the Supplex fabric: you can read about the MioWear Kriss Kross Pant here, a review of yoga pants made of that same fabric.  The level of stretch is great and allows the fabric to cling well to the leg. Bye bye, ugly loosening around the ankle! (Those are full length but can be folded to turn in to a capri length).  Those leggings are thick and even stretched, they don't become "see through" as it often happens with cotton or polyester.


---
STANDARD SIZE CHART

(Note: Supplex stretches in all direction and the measurements appearing here don't include the stretching capacity of the fabric; my hips are bigger than 45″, yet the XXX-Large fit me.)
| | | | |
| --- | --- | --- | --- |
| SIZE | HIP | SIZE | HIP |
| Small | 35.5 inches (90 cm) |   X-Large | 40.0 inches (101.6 cm) |
| Medium | 37.0 inches (94 cm) |   XX-Large | 43.0 inches (109.2 cm) |
| Large | 38.5 inches (97.8 cm) |  XXX-Large | 45.0 inches (114.3 cm) |
Another thing that I do appreciate (but some might not though) is the fact that, thanks to the fabric used and its thickness. I feel well wrapped and "kept together"!  Not only does it makes my calf look great, but it also keeps my buttocks, belly, and thighs from jiggling, even when I run or exercise with an elliptical machine.  Supplex moist-wicking properties add to those leggings greatness; staying dry is important when it's really hot to stay comfortable, but also when it's cold as it helps you stay warm.
It can be a great alternative to use as both a "light" item to wear for warm weather and a good base under more layers when it's colder.  (The gym I go to changes, within an hour, from hot and humid to relatively cold due to the air-conditioning, and I navigate through that changes without feeling like I'm wearing too much/not enough, when I workout in my We Love Colors leggings.)
---
We Love Colors Leggings – FAST FACTS:

Price I paid: CAN $ 32 (about US $ 29 / £ 17 / € 21) bought from We Love Colors
Shipping: US $5 for deliveries in the US, US $12 for Canada & Mexico, US $15 for the rest of the world and potential customs fees
Size I picked: XXX-Large (available sizes: Small to XXX-Large – full chart above)
Color I picked: 7001 – Matte (available in Regular/ Non-matte and in many Splash Colors or Solid Colors)
Fabric: 90% Nylon-Supplex, 10% spandex
Washing & Care: Delicate/Hand wash with the inside out, line/air dry
BEST BACKPACKING FEATURES:
-High-efficiency packing features: thin, light & compact
-Great in both warmer and cooler climates (great moisture-wicking which helps to stay dry, a crucial thing, whatever the weather!)
-Air-dry time is about 4-5 hours
-Perfect to give an edge to all your travel outfit
---
VERDICT:
We Love Colors leggings are definitely a keeper. So I will say A BIG YES to it! I really love this product and I'm glad I took the risk ordering it.  If you want to add an edge to your travel outfits, here's a great opportunity to do so!

---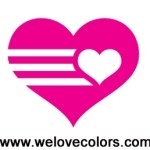 We Love Colors – http://www.welovecolors.com/
Florida, USA
Facebook : facebook.com/welovecolors
Twitter : @WeLoveColors