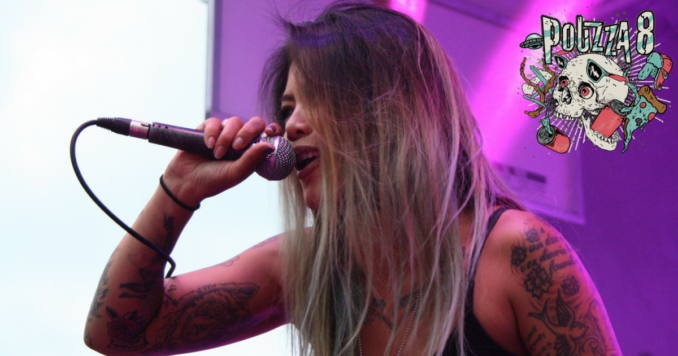 On the Victoria / Patriots Day long weekend (May 18-20), Montreal was in Pouzza Fest mode! Over 175 bands from all over Canada and the US,  but also bands from the UK, Belgium, Austria, Germany, Northern Ireland and Sweden gathered downtown Montreal for a weekend of punk – and ska, and punk rock, and more! – music.
---
Montreal's Pouzza Fest: Pou… What?
The event takes its name from a mashup of "poutine" and "pizza", creating the word… Pouzza! The 2018 Pouzza Fest was actually the 8th edition of the event. Since the headliners of this year's event (GrimSkunk, Reel Big Fish, Face to Face) were an essential part of my teenage years, I couldn't help but be excited to go!
It is worth mentioning that the outside sight of the Pouzza Fest is a family-friendly gathering. (I recommend bringing ear protection for your mini-punks though!)  On Saturday, Rock Camp for Girls (and Gender Nonconforming Youth) Montreal was showcased early on Saturday afternoon to entertain punks of all ages. The overall ambiance, though loud and party-like (that's we want and expect!), was respectful and in full-on cheering mode. (The organization doesn't play with security and wants to provide a safe, respectful, harassment-free environment for all attending the event.)
All outdoor shows were held at the Beer Garden (roughly, the corner of St-Urbain and Maisonneuve, downtown Montreal) and were free. The indoor shows take place in bars and require a ticket (or a weekend pass); they are restricted to an 18+ crowd, because, you know… alcohol.
---
Impeccable Timing (Rain Or Shine)
We all have experienced this kind of festivals… You know, the ones with crazy, nearly non-stop line-ups of bands. And it usually ends up with the headliners… and with severe delays. (From my experience, over an hour of delay is not a rare thing.) But that doesn't happen at the Pouzza Fest (at least, not this year) and I have to command the organization of this year's event! Their "machine" is an incredibly well-oiled one and their technical crew sure does a great job.
The longest delay on the schedule – both Saturday and Sunday – was around 10-15 minutes. In both cases, the delay occurred before the last band of each day, and following a 6-8 hour non-stop line-up of 8-10 bands. (And in spite of nearly non-stop rain on Saturday.) Everything ran incredibly smoothly and on time. The Pouzza people could probably teach a lesson or two to some events organizers! Kudos on being one of the best-timed festivals I have been too, Pouzza Fest!
---
Major Headliners
The presence of Reel Big Fish (ska punk – Saturday), Face to Face (punk rock – Sunday) and GrimkSunk (punk-world-progressive – Sunday) was clearly meant to bring up crowds of 35-45'ers "nostalgics". (Like me, for example! As I mentioned before, both bands were essential parts of my teenage / young adults years.) I have mostly focused on the outdoor concerts since that is where most of the crowd gathered… most likely because this year's headliners produced themselves there.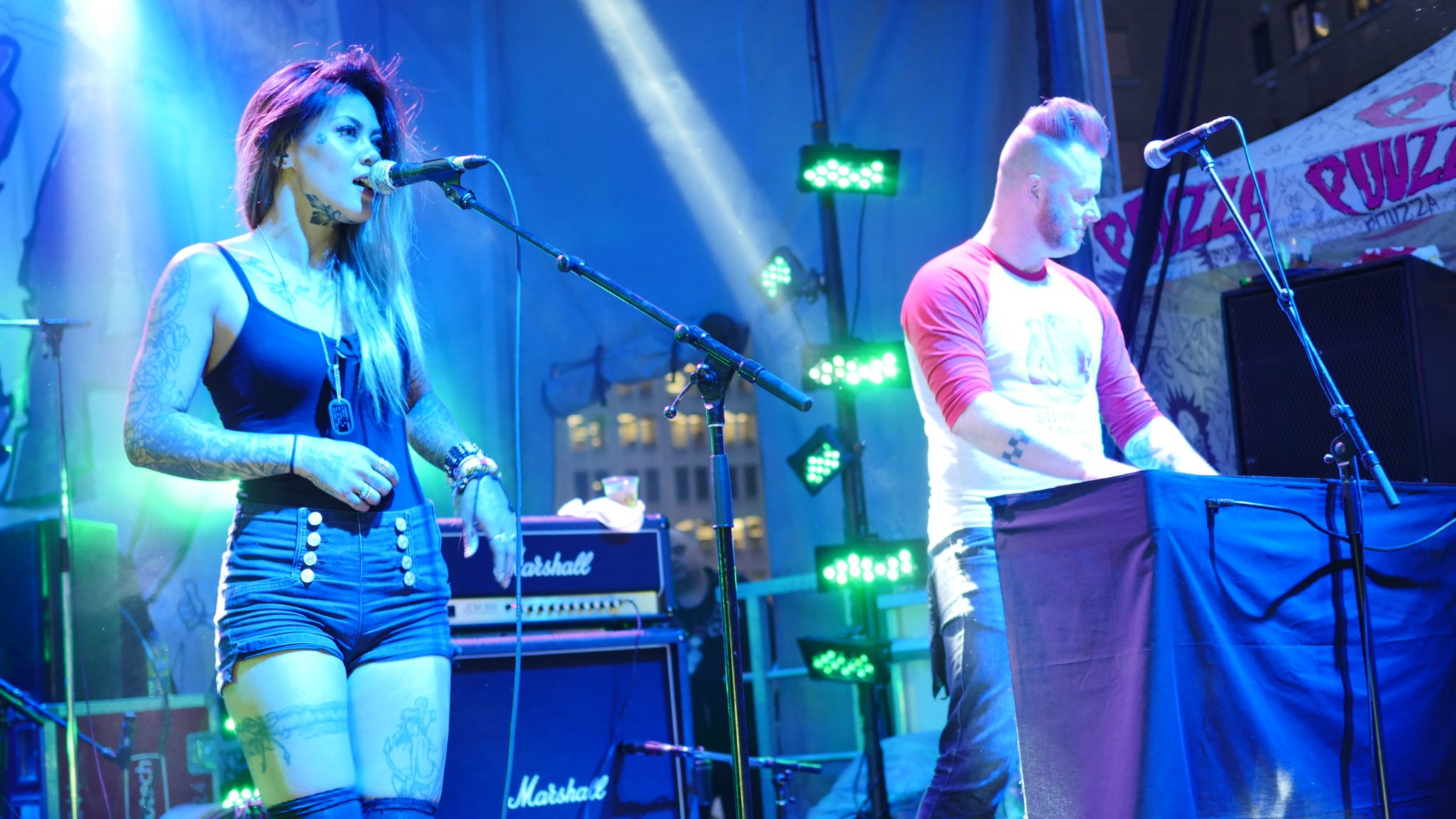 ---
Friday, May 18: War On Women & Anti-Flag (at the outdoor Beer Garden)
Sadly, due to work and prior engagements, I wasn't able to attend the shows on that day. #snif
That is the day the "Women in the Scene: A Discussion on the Success, Struggle and Future of Women in the Music Industry" round-table discussion took place at the Club Soda. (Though I couldn't attend, I thought it was important to mention this round-table to underline the Pouzza's contribution to encourage women in music.)
Saturday, May 19: The Creepshow & Reel Big Fish (at the outdoor Beer Garden)
Kenda "Twisted" Legaspi from The Creepshow might be tiny and cute… but she's as explosive as dynamite on stage! Body surfing, head banging, Legaspi – and the whole band – made up for bad weather in front of people who really needed it… to forget how drenched they were!
Because, unfortunately, rain poured most of Saturday, and Aaron Barrett, Reel Big Fish's singer, didn't miss a chance to thank everyone for staying in spite of the rain. (It ended up being some kind of a running joke after a while.) The band gave a spotless performance, including a bunch of "their big 90's hits" (again, mostly jokes referring to other major 90's bands, like Nirvana, to name just one). I came back home drenched with rain… but as happy as the 18 year old me would have been!  I shoved my cameras in bags or rice to absorb any residual moisture from the rain, hoping they would be ready for the next day!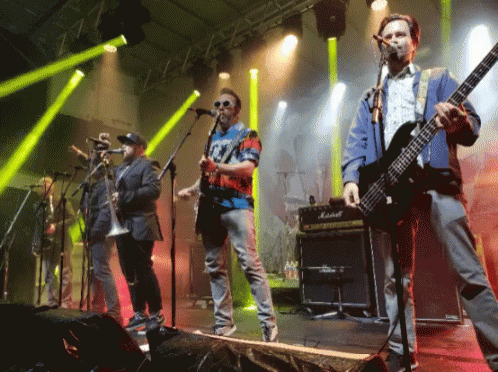 Sunday, May 20: We Are Wolves, GrimSkunk & Face to Face (at the outdoor Beer Garden)
Good news… both my cameras survived !
In other good news: the weather was on our side! And so was everything else. I attended the last 3 performances of the night, on the outdoor site. We Are Wolves, a Montreal band, warmed up the crowd with their "post-punk landscape with analogue trees". GrimSkunk, veterans of the Montreal scene, followed.
The band just launched their 8th album ("Set Fire!") earlier this year, which also coincides with the 30th anniversary of the band's creation. Though Franz's bummed knee forced him to sit through the show, GrimSkunk gave a performance that didn't disappoint… (I know what I'm talking about… I have seen them perform live for the first time over 20 years ago and many, many more times since!) Sadly, since they were not the main (last) band of the night, we had to say goodbye to the band after a mere 45 min. set, so they could leave the stage to Face to Face… who didn't disappoint either!
The California band has been around for 20+ years and they sure know how to get a crowd going. They haven't aged a bit… and for an hour or so, most of us felt like we were teenagers again! Face to Face ended the night with their big hit from the 90's, "Disconnected", on a stage stormed by friends. That ended the outdoor segment of the Pouzza Fest on a joyful, friendly note. But that wasn't the end for me…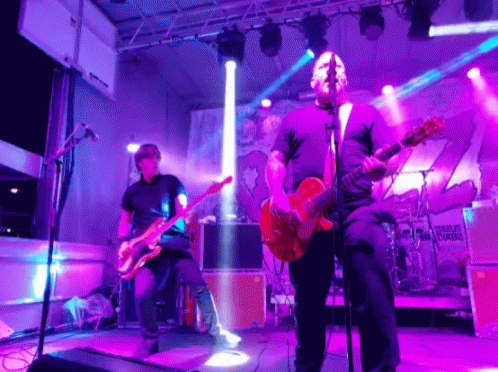 Bonus: A Late Night With The Jukebox Romantics (at Théâtre Sainte-Catherine)
At one of the mixers organized for bands and media / bloggers to meet, I met the guys of The Jukebox Romantics, a punk trio from New York. (The Jukebox Romantics just ended a tour as the opening act for Face to Face. They were among the friends that jumped on stage for the Face to Face's grand finale, a few hours before.) I was invited to attend The Jukebox Romantic's performance later on that night. They were the penultimate band to perform at the festival, at 1 am, at the Théâtre Sainte-Catherine. A late-night, high energy, 45-min. set that ended my presence at Pouzza Fest on a high note… with lots of paper garlands thrown all around! And it made me forget how painful my feet were… at least for a while.
---
Last Thoughts…?
My overall impression? BRA-VO Pouzza Fest. Honestly, as I mentioned before, I have been to many festivals, some that have been running for (much) longer, and I don't remember seeing such impeccably timed and smoothly operated machine.
Through the variety of bands present, the Pouzza Fest had something to offer to most fans of music styles gravitating around punk. I think it's safe to say that most people who attended, including the young ones, got their share of good times.
One thing is for sure… I can't wait to know more about the 2019 edition and to find out who will headline next year's edition! Now that the event has proven itself a must in the "punkosphere", the upcoming edition can only be promising!
All animated gifs: (C) Edith Bernier – 2018