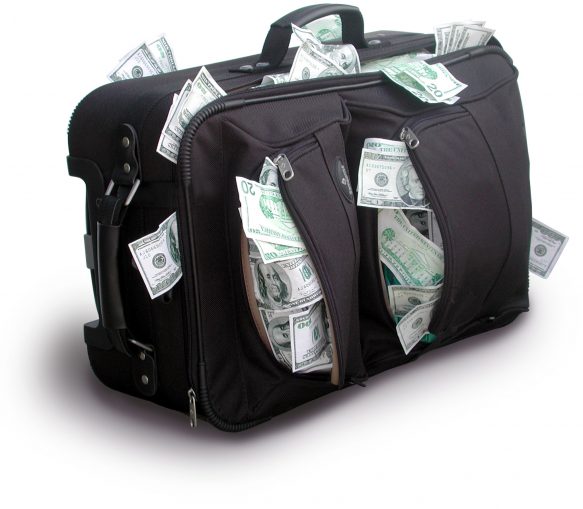 ALSO CHECK
The "Strictly Carry-On" Challenge… The Numbers
for detailed stats for numerous airlines!
---
In order to comply – and hopefully, be successful – in your "Strictly Carry-On" Challenge, you will have to make sacrifices…
---
Tools, Blades & other sharp stuff:
-No pocket knife/Swiss Army/other knife is allowed on board, including multi-tools that have blade(s)
-Scissors are allowed only if 4 inches (10 cm) or less measured from the middle screw/axis
-Seems that disposable razors are now allowed (always worth double-checking; can change by the time you read this post!)
-Tools (screwdriver, pliers, etc.) over 7 inches (17.7 cm) aren't allowed: if you have a multitool, make sure it's small enough to comply AND that it has no blade
NOTE: Regulations are unclear regarding metal nail files so be careful if your multi-tool includes a file
---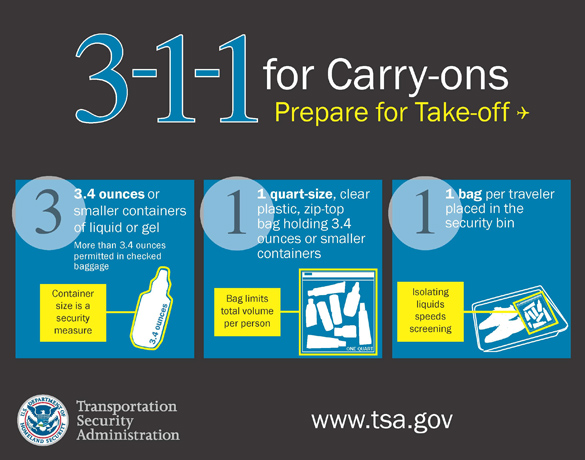 ---
Liquids, gels, creams, pastes, aerosols, lotions, slimes, snow globes… you get the point:
–3-1-1 is the golden rule: 3 oz (100 ml) max per container, everything must fit in 1 bag of 1 quart/liter
-All medication, even if part of the exceptions (check boxed note below), should be packed together and ready for an eventual manual inspection.  It's often better to bring many small items (discarding empty containers along the way) than bulky format (which will take the same room, full or half empty), especially for contact lenses solution. 
-Some substitutions can make your life easier and help you lower significantly how much restricted liquids you carry: changing your shower gel for a bar of soap, "sheet style" laundry detergent/shampoo/conditioner (check that past post to know a bit more about those!), or solid shampoo & conditioner (LUSH has an impressive collection).  You can also switch sunscreen lotion for solid sticks, use a massage bar instead of body lotion (be careful, they have a tendency to melt in warmer weather!), take solid perfume (should you REALLY need some!) and face wipes instead of liquid face soap.  If like me, you won't budge on your antiperspirant (I need the hardcore stuff!) and toothpaste, by doing these changes, you'll have plenty of room in your 1-quart-bag to carry a sufficient amount of those items you won't go without… as long as they comply with the 3-1-1 rule!  The best thing about solids is that they require less space the more your trip advances, leaving you with more room in your luggage to bring home stuff! If you plan wisely, you will have a nonsignificant amount left at the end of your trip which you can discard before boarding the plane home.  Solid soaps and shampoos are also easier to pack; no bulky bottles, no leak risk, just throw it in a zip-top bag and go.
NOTE: There are exceptions that usually includes contact lenses solutions (my nemesis!), some medical creams and most meds.
---
Gadgets & Gizmos:
-Stick to basics. Nothing too bulky, nothing too heavy, nothing sharp/pointed.  Use your brain.  Every cubic inch occupied by gear won't be available for clothes… or souvenirs!  -If you plan on bringing an item that you've always carried, without using it or barely using it and that is more of a luxury than a necessity: LEAVE. IT. HOME.
---
Clothes & Shoes
-Stick to mostly neutral, monochrome items (I use black or gray pants/leggings/capris and more colorful tops; everything can be mixed and matched)
-If you travel to cooler weather: think layers (I bring a warm, neutral colored, fleece/hoodie and a separate windbreaker/raincoat. I can wear one, the other OR both if it's even colder)
-Synthetic fabric is your friend: cotton & linen takes forever to dry… and are always super wrinkled, no matter how hard you try.  On top of it, those fabrics will take more space in your luggage and are heavier. Spandex/Lycra, Nylon, Polyester and other blend meant for sports are made to be quick to dry and lighter, along with a nearly 0% wrinkling potential.  That also applies to underwear.  Socks wise, bamboo rayon is cheap and a great investment. Thin, quick to dry, comfortable with anti-bacterial properties to avoid nasty smells
-Limit your shoes: 1 pair of comfy, quality, Birkenstock-like sandals (to pack) + 1 pair of hiking shoes/boots (to be worn on the plane), and only if necessary, 1 pair of cheap flip flops/thong style sandals (for less clean showers and chilling at the hostels or the beach); just get rid of these sandals to make room in your bag when you return
---
Accessories
-Sunglasses: you can easily find great shades for cheap that will protect you against UV rays (ask an optician with on-sight glasses laboratory to test them for you!); I have pseudo-Ray Bans that I paid less than 10 $ that I carry in a sturdy case that fulfill their duty (see picture below)
-Jewelry: to be avoided.  I bring cheap, stainless steel hoops earrings (see picture below) and a basic chain with a pendant, all things with no sentimental or actual value (other than being my travel jewelry).  I also wear a very basic (fake wedding) ring, leaving my real wedding band at home.  Silver-colored steel jewelry is more low-key than gold-colored one and will match everything you can possibly wear
-Scarf: a good idea, but pick it wisely so it fits with everything (or nothing; I'm a big fan of the rainbow scarf I got in Guatemala – see picture below), that it won't seem dirty easily (no white/pastel other than grey) and large enough to double up as a blanket/shawl/head scarf/other uses (useful to visit holy sites), colder days or to add some style to your outfits.
---
Now all I gotta do is try and see if I can be successful at the "Strictly Carry-On" challenge!