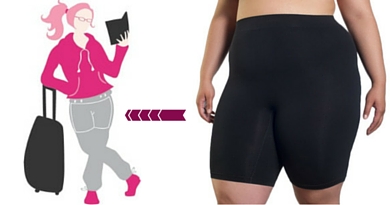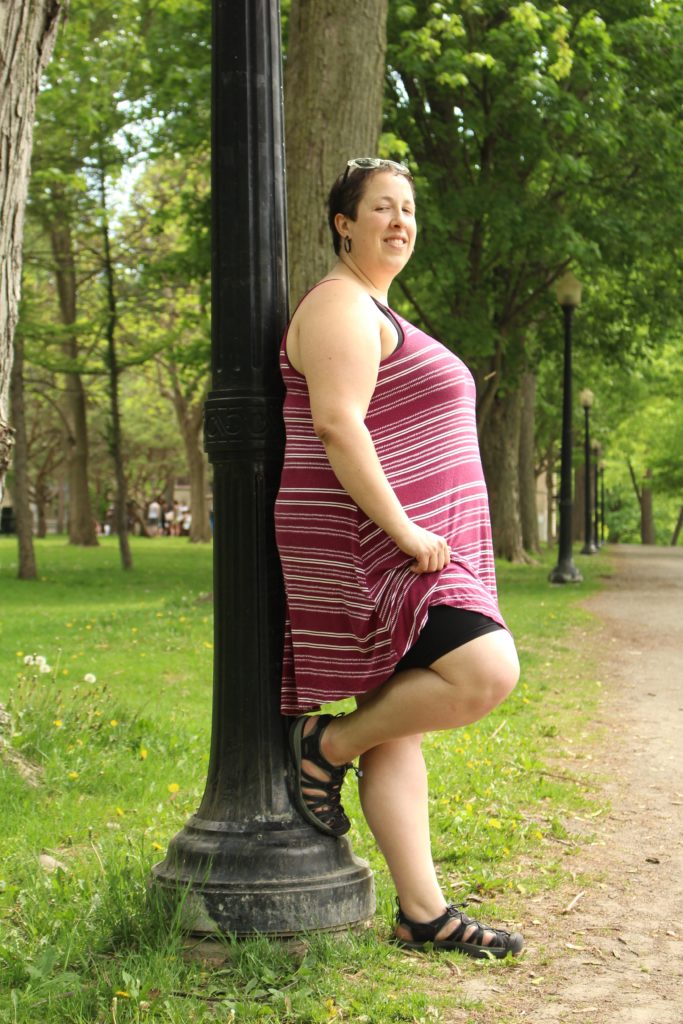 Is inner thigh chafing (a.k.a. "kissing thighs") your worst nightmare? Tired of automatically having to wear leggings of bike shorts every time you wear a skirt or a dress, even in the scorching summer heat?  It's personally driving me a little crazy, especially when it comes to travel, as I'm usually very active and I walk around a lot to get the maximum out of every trip abroad!
I previously wrote about chafing (check out "Chafing, The Burning Nightmare"), back in 2013. That was before I found out about Thigh Society's Anti-Chafing panty shorts. Back then, the best I had to offer as a solution was leggings/bike shorts and using antiperspirant.  Both of these options are far from ideal.  I did try the antiperspirant trick, it helps for quick outings, but I wouldn't dare push my luck any further than I already did.   And I hate how my thigh fat bulges out at the bottom of bike shorts when I wear something that is about the same length as the shorts in question.
Good news: I think the gods of chub rub relief must have heard our prayers ladies… because here comes the Anti-chafing panty short! Less warm than leggings or bike shorts, those are NOT meant to be used as shapewear (but they do contribute to smooth out the silhouette a bit).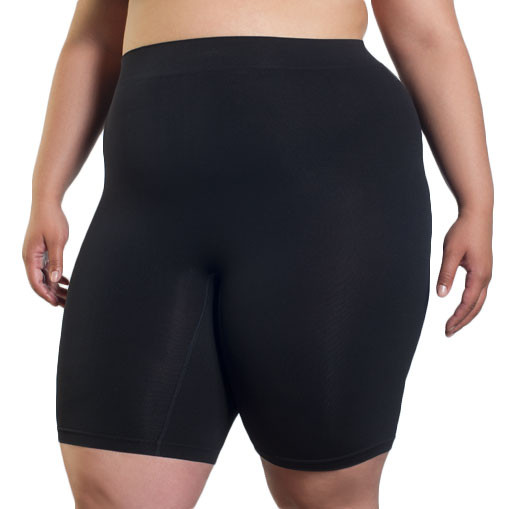 I took my Anti-chafing short for "test drives" a few times already since the summer has started in Montreal.  I have worn it with dresses mostly, in quite warm weather, for picnics and various outings.  Here are my thoughts about the product…
---
They don't roll/ride up or down:
These shorts stays pretty much in its place.  That matters, because otherwise, it looks weird or you spend all your time trying to place them right (and that looks even weirder)!
The fabric's gliiiiiiiides perfectly…
… and most importantly… it glides without that "frouch frouch" noise! (Also, though it's a synthetic fabric, it doesn't seem to "interfere" with other fabrics and I haven't experienced any static electricity issue.)  The seams and stitches were also carefully designed in a way that they won't contribute to chafing of the skin.
Increased "breathability"… bye bye dampness!
Any leggings or bike shorts, especially cotton, once damp, will stay that way as long as you wear it.  The inner thigh part of this garment is made of Sorbtek, that wicks away moisture from the skin, bringing it to the surface of the short to help it evaporates.  I was surprised to see how opaque the shorts are, yet, they allow a great air circulation… much better than cotton/spandex or spandex/polyester blends!

---
FAST FACTS:
Price: $ 34  US
Fabric: 95% Polyester / 5% Spandex — inner thighs : 86% Polyester / 10% Spandex / 4% Sorbtek
Color: Black & Beige
Sizes available: S/M (6-8) to 3XL/4XL (22-24) — in mid-rise (7.5 inches inseam) and high-rise (9 inches inseam)
Washing & Care: Machine wash in cold water; tumble dry low temperature
BEST BACKPACKING FEATURES:
-Easy to pair with most skirts/dresses because of its neutral color (it can also be used underpants without visible panty lines)
-Allows to go the extra mile without fearing the fire of chafing
-Compact and lightweight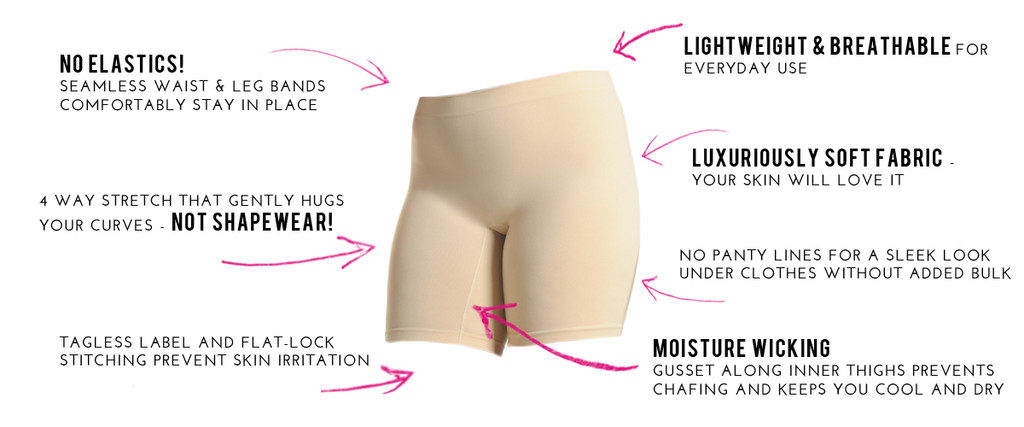 One of the reasons why these shorts are interesting is that they can be worn with a dress or skirt, but also with pants! And because they don't roll up, you shouldn't experiment ugly "panty lines"…   They adapt well to pretty much any weather…  and are way more comfortable than bike shorts or leggings, especially on hot days!
---
VERDICT:
So far, so (very) good.  Up to now, I'm quite happy with the comfort – and relief! – provided by Thigh Society's high rise anti-chafing panty shorts.  They do a fantastic job and I can't wait to take mine on the roads of Peru!  I definitely need a few more which will become an essential part of my backpacking clothes list…  and a must in my summer wardrobe!
---

THIGH SOCIETY – www.thighsociety.ca
Email:  info@thighsociety.ca
Facebook: facebook.com/thighsociety
Twitter : @thighsociety
Instagram : @thighsociety