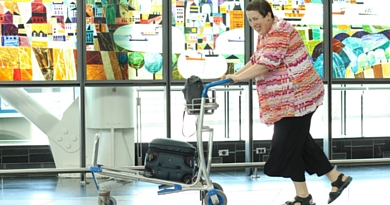 ---
** Wanna know more about SWAK Designs clothes? Check these posts! **
---
So here I am again, with another awesome item, straight from the shelves of SWAK Designs: the Essential Gaucho Pants. If you have been following this blog for a while now, you know about one of my latest brand crush, Sealed With A Kiss (SWAK) Designs.  (If you don't then, check out the link above to see past reviews of some of their awesome, backpacker friendly, plus-size clothing!)
These pants fall mid-calf, so if you like to have a certain coverage of your legs, they fit perfect.  If you are worried about the coverage and the chance of being too warm in those pants, don't worry. The ample cut allows a good air circulation and the fabric breathes well too. The fabric is really stretchy too so those pants everything but stiff!
Gaucho is a word with several meanings. In its historical sense a gaucho was "A mestizo who, in the 18th and 19th centuries, inhabited Argentina, Uruguay and Rio Grande do Sul in Brazil". Today, in Argentina and Uruguay, a gaucho is simply "A country person, experienced in traditional cattle ranching work". […] Gaucho is an equivalent of the North American "cowboy".
Source : Wikipedia
These gaucho pants can adapt to plenty of tops, from a loose tunic to a more "fitted", cinched top.  (I have worn them a few times at work, when I wanted to be comfortable, yet, presentable… what you wear with it changes everything!) The slight shine of the fabric gives it a more sophisticated look than an equivalent model would, if it was made of cotton jersey for example. (Don't get me wrong: there's nothing wrong with jersey pants, but they tend to give a more casual vibe. The fabric also doesn't keep its shape like a polyester-spandex blend does.)  Another great thing about the polyester-spandex blend used in those pants: the fabric, when stretched, doesn't become see-through (though those are meant to be worn as wide leg pants, so the stretch in the fabric isn't solicited as much as it would be in leggings, for example).
These pants have a wide waistband that can either be fold-over (for a lower rise style) or kept up (for a little extra tummy control).  What I enjoy the most about SWAK's pants fold-over waist, when compared to similar models, their waist actually stays in its place.  SWAK's Gauchos stay put, even when worn over silkier/synthetic underpants. With previous, similar models that I bought in the past from other companies, I almost always ended up having to pull my pants up constantly because they would slowly slide down… and nobody likes the risk of such wardrobe malfunction, especially while traveling! (By the way, this tends to happen A LOT with cotton jersey pants that stretch after wearing it for an hour or so.)
(Want to see more pictures of these gaucho pants? Make sure to check out my previous post about the Emmylou Printed Tunic, also by SWAK Designs!)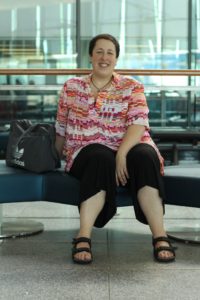 FAST FACTS:
Price: $ 39.90  US (regular price – approx. € 35 / £ 27 )
Fabric: 95% Polyester / 5% Spandex
Color: Black (in the pictures); also available in Brown and Grey
Sizes available: 1X to 6X
Washing & Care: Hand wash in cold water; lay flat to dry
BEST BACKPACKING FEATURES:

-Lightweight & very compact
-Hardly wrinkles
-Dries quickly
-Highly versatile
Those gaucho pants are just one model in a wide variety of plus-size bottoms by SWAK.  Don't forget to check out their website for more items, you will almost certainly find something to fit your needs!
VERDICT:
I am asking you: is there anything more versatile than a mid-length black pants that will work for most weather and will match most outfits, on top of offering a certain "modesty", if the place you travel to require women to cover up a bit.  Every way you look at those pants, they win! Definitely an all-purpose – I would even add ALL-STAR! – clothes to add to your packing list!
---


SWAK (Sealed With A Kiss) Designs – www.swakdesigns.com
Los Angeles, California
Phone: 1-866-432-6497
Email: support@swakdesigns.com
Twitter: @SWAKDesigns
Facebook: SWAK Designs
Instagram : @swakdesigns