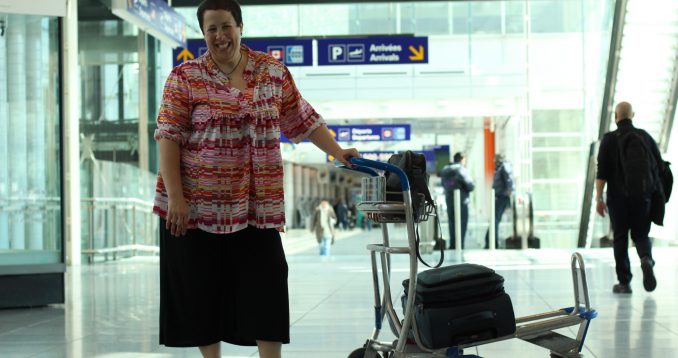 ---
** Wanna know more about SWAK Designs clothes? Check these posts! **
---
The Emmylou tunic… or the proof that a same item of clothing can be both feminine AND super practical to pack!
For those of you who were curious about the clothes featured in my latest look (check out It's a Free World, Baby), here's more info about the pink tunic…  The Emmylou Printed Tunic by SWAK Designs is definitely a plus-size backpacking must-have, as it meets all the essential criteria of ideal backpacker's clothing (which I will explore in details below)!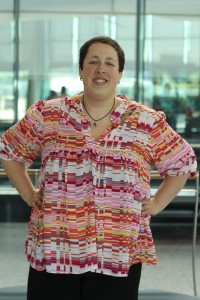 Introduction to SWAK Designs
The company that made that tunic!  Sealed With A Kiss Designs (also known as "SWAK Designs") is a plus-size clothing company based in Los Angeles, California.  Since 2006, the company sells affordable and young looking clothing.  As a plus-size backpacker, I was able to say with a quick glance on their website that numerous items of their extensive collection are definitely backpacker friendly, based on the choice of fabric for the different type of tops, bottoms and dresses.
The Emmylou Printed Tunic is only one top from the company's wide variety of plus-size tops; many items in their collections could be great addition to your luggage next time you pack!
The Emmylou Tunic in details
Now more about the actual tunic…  Made of very light chiffon, the Emmylou Printed Tunic is a loose fitting top that can be paired with numerous items, from loose fitting pants (as seen in this post) to skinny jeans or leggings.  (Note: though SWAK's website writes that it's sheer, I didn't find it sheer much to have to wear something under, at least, for this color.)  Because of its cut and colors, the tunic can be easily dressed up or dressed down to accommodate different needs you may have while away, from a comfortable air travel outfit to a bit more fancier dinner on the town.
Comfy enough to sleep…
This tunic is very, and I mean VERY, comfortable.  It is very loose fitting, so it's a good match for most silhouettes, whether you are more of an "apple", "pear" or any other body shape possible.  Though chiffon is not a stretchy fabric, the loose-fitting cut keeps this top comfortable, whatever you may do.  (Yes, that includes sleeping in an airport or on a train or wherever you may end up stranded!)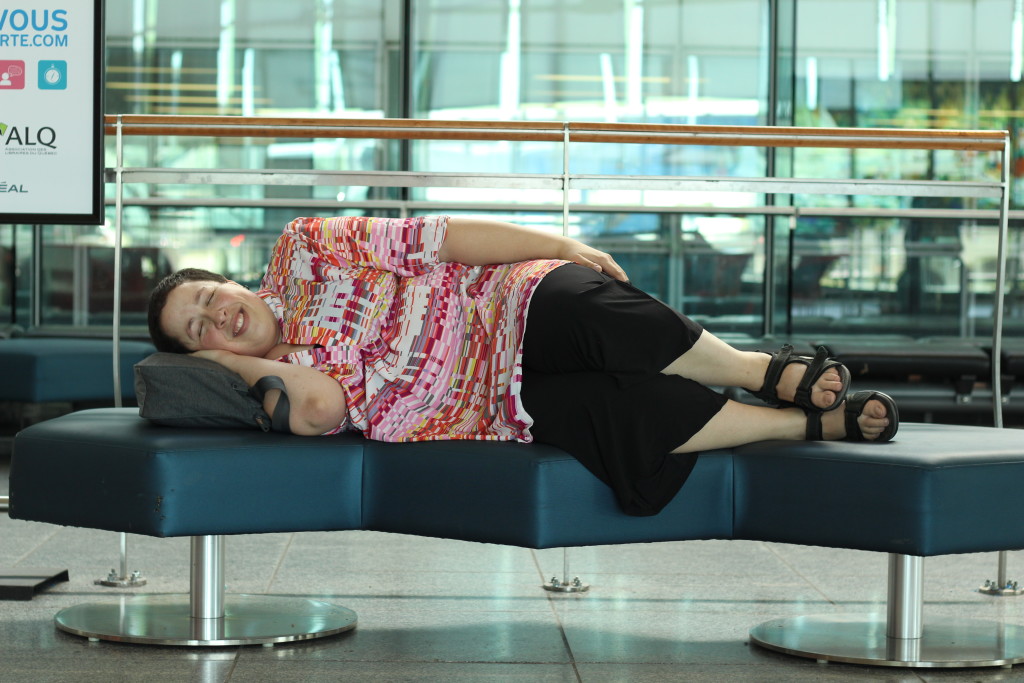 When I first tried my Emmylou tunic, it felt as the neckline was a bit more low-cut than what I usually opt for, but it's not showing too much cleavage (in case you are self-conscious about that like I am!).  The elastic a the end of the sleeve could have been replace with regular cuffs for a more "dressed" look, but in no way does this affect the potential of this tunic.  Note : ladies with more generous upper arms might have an issue with the elastic…
Colourful, compact and lightweight
This is much more colorful than what I generally pack as backpacking clothes, but because it packs so small and light, it's definitely worth taking.  One of the reason why this tunic made its way to my backpacker heart – and luggage! – is its drying time, which is next to nothing.  It's literally wash'n'wear and that is by far one of the most interesting characteristics of chiffon over other fabric.  (Chiffon also gives a more feminine and "dressed" look to garments, in general…)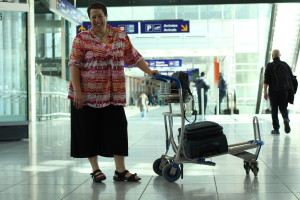 BEST BACKPACKING FEATURES
-Extremely compact
-Extremely lightweight
-Versatile and very comfortable
-Virtually wrinkle-free
-Air-drying time very short
QUICK FACTS
Color: I went for Multiprint, but it's also available in "Floral" and "Black and White"
Fabric: 100% polyester chiffon
Size available: 1X to 6X
VERDICT
I think you already understood that this one's definitely a keeper.  I can't wait to pack it for my next trip!
---


SWAK (Sealed With A Kiss) Designs – www.swakdesigns.com
Los Angeles, California
Phone : 1-866-432-6497
Email : support@swakdesigns.com
Twitter : @SWAKDesigns
Facebook : SWAK Designs
Instagram : @swakdesigns