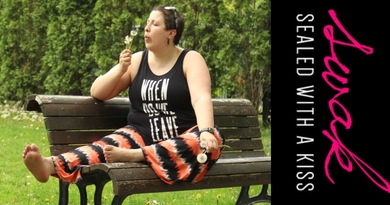 ---
** Wanna know more about SWAK Designs clothes? Check these posts! **
---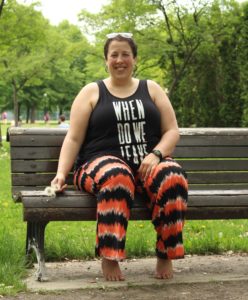 When I travel, whether it's on the transport to get there (ESPECIALLY in that case) or once I reach my final destination and wander around, I like to be constantly dressed in soft and comfortable fabric and clothes.  I think it's an essential part of me staying sane while exploring new surroundings, which can be quite intense when you are a solo female traveler, because not only do you have to learn how to deal and not be scammed at the first occasion (like it's the case for every traveler), but you also always have the notion of safety at the back of your head. So for me, there's no time to worry about uncomfortable, "am-I-decent-enough-for-this-place clothing""!
#FemaleBackpackersStruggle
I'm not going to teach you anything new by saying that it's not always easy to combine comfort and style. #MoreFemaleBackpackerStruggle
And that's when these pants comes into play: let me introduce you to the Printed Palazzo Pants, the funky twin to SWAK Design's Perfect Palazzo Pants!
But first, comfort…
With fall coming soon with its occasional warm days but cold evenings and nights, I thought this is the perfect moment to tell you more about yet another cool item from the shelves of SWAK Designs… Just as comfortable as the Perfect Palazzo (it's made of pretty much the same, slinky-like, fabric), it also shares its roomy, flowy, ample cut along with its fold-over waistband… but has a touch of extra groove, thanks to the funky color palette!
It's not a secret: I am a devoted "apostle" of wearing neutral colored pants/bottoms when I travel and, if I really crave some color and style, I generally focus on wearing colorful tops.  But see, coral being one of "THE" colors since last year, and because I'm not exactly a person whose face looks great next to that color (it makes my face look incredibly pale and sickly!), I saw the Printed Palazzo as "THE" opportunity to be able to wear that color without feeling too self-conscious about my (very) light complexion! (Judge by the pictures, I think it's a good compromise!)
The Printed Palazzos reunites all the same winning conditions than the Perfect Palazzo, in a more flamboyant style. If you prefer to keep a low profile when you backpack, you might want to keep these pants to wear during long commutes or to lounge at the airport… Chances are, in some warmer parts of the world, the bright colors are quite likely to blend right into the local palette! (Many, many African, South American and Caribbean countries come to mind as I write this!)
pa·laz·zo / pəˈlätsō/ noun
noun: palazzo; plural noun: palazzi; plural noun: palazzos
        a palatial building, especially in Italy.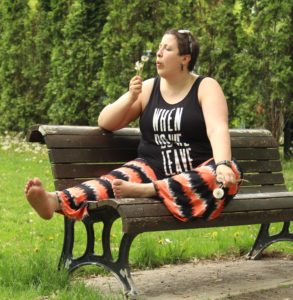 FAST FACTS:
Regular price: $ 49.90 US (approx.  $ 60 CAN / € 45 / £ 37)
Fabric : 95% Polyester, 5% Spandex
Size Available: 1X to 6X
Colors Available: I wear Black and Coral on the pictures; also available in Blue Printed
Washing & Care: Hand wash cold; lay flat to dry
BEST BACKPACKING FEATURES:
-Light weight and very compact (especially considering the size!)
-Very comfortable and ideal for commuting
Care for more? Drop by SWAK Designs' plus-size pants section to find more palazzos and other great travel-friendly pants!
---
VERDICT
If you plan on packing a few neutral colored tops (gray, white or black for example), then these pants should definitely be part or your suitcase. Perfect for countries requiring women to wear more modest/covering clothing… as long as there is no counter indication to wearing bold colors! 
---


SWAK (Sealed With A Kiss) Designs – www.swakdesigns.com
Los Angeles, California
Phone : 1-866-432-6497
Email : support@swakdesigns.com
Twitter : @SWAKDesigns
Facebook : SWAK Designs
Instagram : @swakdesigns