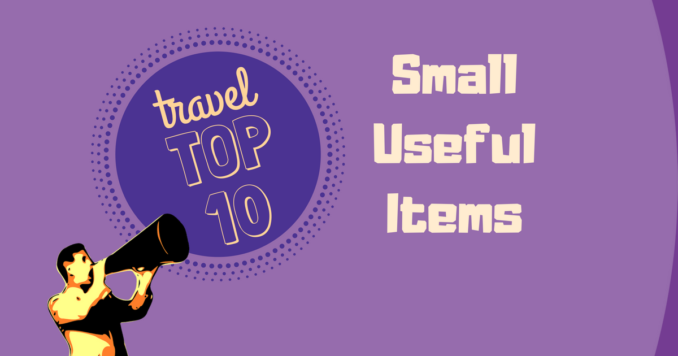 ---
The following items are small… but also incredibly versatile and useful! In their own way, they will save you so much time, trouble and backpack space. So you can stop worrying and fully enjoy your time away from home!
---
10) Dental Floss
Can be used as emergency thread/rope,  replacement laces, among other uses.
---
9) Cable/Zip Ties (Ty-Rap)
Great to secure your luggage zippers (when a padlock is not allowed/available), to replace a broken zipper pull, for emergency binding or securing needs of all sorts (make temporary splint, back up shoelaces), temporarily fix a broken strap on your backpack or use to hang stuff on your bag (combined with biners) are just a few examples!
---
8) Tiger Balm
Sore or pulled muscle? Stuffed nose or congested chest? Need to change the smell because it wreaks? A tiny jar of good old Tiger Balm will soon become your best friend…
---
7) Compression/Packing Cubes
… because vacuum bags become all crooked and bulky, but also because packing cubes allow a better organization of your luggage (especially true if you use a backpack that can get disorganized so quickly!) Beware of not over-using these organizers though, at the risk of wasting space; some corners of your luggage just can't be filled with these cubes. That's where you shove all the small items that don't require neat folding, like your pj's !
Vacuum bags tend to get bulky and weirdly shaped…
---
6) Zip-top Bags

(various sizes)
Not only will you need the 1-quart sized zip top if you travel by plane anywhere (and get more than one, because they tear and break relatively easily!), but these bags will also allow isolating particularly dirty/wet/smelly clothes from the rest. You can also put some fragile items in those bags, fill with air and seal for a relative protection in your luggage!
---
5) Duck Tape
Because… Duct Tape.
Here's a quick list of use I compiled, on the top of my head…
Emergency splint

Fix stuff (torn clothes or luggage/straps,)

Seal stuff (from cold air, water, leaky bottles, etc.)

Remove lint

Use as a tag (yes, you can use a BIC style pen to write on it!)
Temporary sink plug (for a quick handwash laundry)
Secure things on your body (feels like you need to urgently stash your passport or money? Tape it to your body, under your clothes!)
To avoid packing a big roll and lose space, you can roll some Duct Tape on a pen, a drinking straw or an old credit card.
---
4) Swiss Army Knife/Multi-Tool
I don't think I need to say more. One tip though: avoid if you travel with just a carry-on luggage, chances are, they will cease it at the airport security.
---
3) Headlamp
Hands-free light? YES PLEASE! To avoid the need to pack batteries (though they can last quite a while with a normal lamp use), some headlamps are even USB/electricity-rechargeable!
---
2) Small Tablet / Cell Phone
For all your techno needs, from photo backup to hostel booking to emailing your mom, it can also provide entertainment (reading, playing, watching TV & movies during a long commute, etc.) when needed! Also, tablets or phones are a great way to travel with a great number of travel guides without actually suffering from the weight of real books!
---
1) Solid Toiletries
Not only will you save on your liquid allowance on an airplane (crucial when you travel with just a carry-on!), you will also lower significantly the risk of a leak in your luggage! Solid toiletries, like shampoo, soap, etc. will decrease in size with time, creating (a little) extra space over time!
---
I hope these will help!
Feel free to share your must-have, underestimated tiny objects list in the comments!