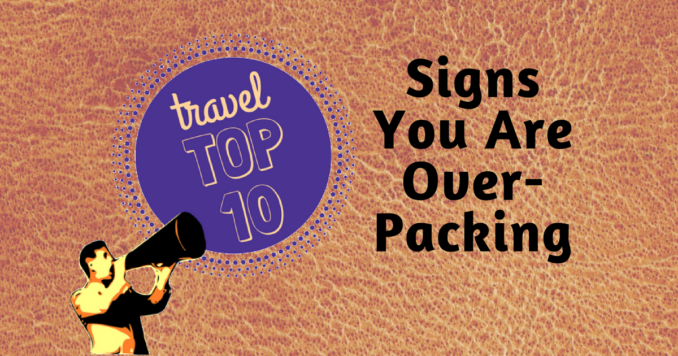 Over-packing. We are all guilty of doing it at least once in our traveler's life. Here are 10 tips that will help you know if you are going down the slippery slope of over-packing…
---
10) Your suitcase/backpack doesn't close (variant: you have to sit on it to close it)

If you can't close your neatly packed luggage, it's only going to get worse when you are rushed or lazy and it's time to move around or come home.
---
9) You bring stuff that you are ashamed of packing
Like a blow dryer. Even the travel version. Please don't. If you can't assume the whole content of your luggage, then maybe you should reconsider some of it!
---
8) You keep changing for a bigger size suitcase/backpack
The point is not to be on the fringe of the checked luggage size allowance… It's to be on the fringe of the carry-on luggage allowance! If you persist on this item, then you will most certainly end up dealing with a big case of #7.
---
7) You can't carry your own luggage
If you can't take your stuff downstairs from your own apartment or shove it in the cab without help, how are you going to bring it around hostels with no elevators and uneven terrains? Stuff it in the overhead compartment of the plane (if you have just a carry-on) ?
---
6) A big part of your luggage is made of stuff you bring "just in case" (a.k.a. "End of the World Packing")
You have the "Traveler's What If Syndrome". You should consider trying to self-heal! Here's my personal cure: put all these items in a single pile. Realize how much space they take in your luggage. Remove some items. Repeat until you feel the "just in case" pile is of an acceptable size.
---
5) You need vacuum bags to fit everything
Vacuum bags are not your friends. Especially if you plan on coming back with them. You think you will easily find a vacuum to remove the air from it? No, you won't. If packing cubes don't do it, you have too much stuff.
---
4) All your toiletries are full-size
A bottle of shampoo, conditioner or shower gel takes the same space, full or half-empty. And they won't be allowed in a carry-on luggage. Use tiny reusable bottles, if you can't live without your product. Or go for travel-size and recycle the empty containers on the way.
---
3) You are too close to the luggage allowance and you know you couldn't afford to bring back souvenirs or even just wet clothes.
Or even worse: you are already considering buying a cheap suitcase to bring back some of your luggage… and you're not even gone yet.
---
2) Too. Many. Shoes.
You wear your bulkiest pair on the plane. You pack a pair of sandals/minimalist shoes. That's 2. And that's way enough!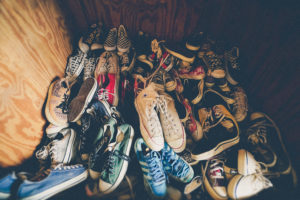 ---
1) You got clothes for every day… and you're leaving for more than 2 weeks.
When you leave for a week, you have limited time, which means you can't afford to waste any on doing laundry. But if you leave for 2 weeks or more, you have a bit more wiggle room. The money you will save by not checking any luggage (or by not having to pay the overweight luggage surcharge) will cover more than what a couple of laundry loads would cost you.