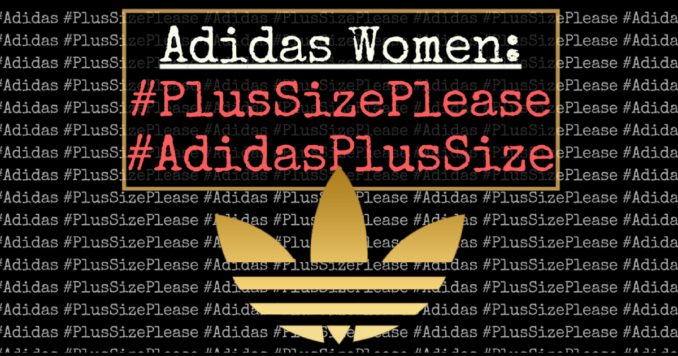 In the spirit of my recent posts about plus-size representation – or lack thereof – among some activewear brands (find part 1 HERE and part 2 HERE), I decided to contact my favorite activewear brand for a supreme plus-size plea.
I shall name…
Adidas.
---
If at first, you don't succeed…
(The plus-size plea part)
Following Nike's recent plus-size effort, and a slight opening of major brands to the "plus" market, I have commented numerous times on LinkedIn about how innovative it would be for them to open up to this segment.
I tweeted this, many times…
Dear @adidasoriginals & @GamePlan_A
Hear #plussize active women's call.
We want clothes for women like us!#AdidasPlusSize #PlusSizePlease pic.twitter.com/4zRDzzDHf1

— Plus-Size Backpacker (@PS_Backpacker) March 30, 2017
---
… dust yourself off, and try again, try again.
I have sent this message (in "private") to the Adidas Originals Facebook page on March 24, and a similar version (due to the maximum number of characters allowed) to Adidas' Consumer Relations, on April 7.
Dear Adidas,
I've been a fan of your brand for over 30 years since I first saw my dad's old, red Adidas leather gym bag that probably dates back to the 70's before I was even born.

Being an active woman is something important for me; so is being appropriately dressed for my activities, whether I hike, attend a spin class, weight lift. From the age I started using purses and I could afford one, I bought an Adidas. I bought probably 12 since. As soon as I found a model that fit me, I got Adidas shoes (long wide feet, poor me!). 
I've been wearing Adidas vests for as long as I could buy one, but mostly, since I could get one that fit my size.
Because I'm a plus-size woman, I have to wear MEN'S clothes to be able to rock my favorite brand, at the gym and in the city.
I'm the most faithful ambassador you will ever find if you decide to get on board of the plus-size active women's wear.
Because we exist too. And we want to look the part.
And nothing's more fierce than an Adidas-wearing sporty girl, whatever size she may be!
So I am asking you, as a woman, as a plus-size athlete, as the teenager I was who grew up dreaming of my first Firebird track vest, as an active backpacker who knows what she wants and especially, what she likes to wear…
Make a plus-size line for women!
I remain available to discuss, brainstorm, comment or answer any question you may have.
You can reach me by email at edith(at)psbackpacker(dot)com
Thank you for caring!
In a last attempt, I have also copy-pasted this previous message on the Adidas Originals Facebook timeline, no later than this morning.
No response on Facebook. No reaction on Twitter.
All I got in return, after all these contact attempts, was a lousy, pre-formatted, possibly automated response to my email (received on April 11):
Thank you for your email! We appreciate people taking the time to express their opinions about adidas, both positive and negative. Customer feedback like yours is the only way to provide you with a better experience, so we have passed this along to the appropriate department. Please be assured that your comments will be heard.
Kind Regards
Your adidas online shop team
I did take the time to fill the feedback form; I have mentioned my complete lack of satisfaction. No follow-up whatsoever.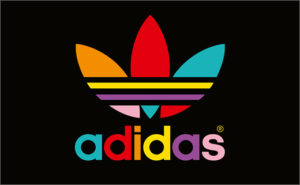 ---
(Now the "statement" part…)
Should I stay or should I go…?
One, sometimes two months after starting my "campaign" (it was a small scale campaign, I'll give you that!). With no results.
Nada. Zippo.
When I fell in love with Adidas, in the mid-90's, I wasn't very conscious of "size issues".
About 20 years ago, when I first started dreaming of my first three-stripes pants, I was a teenager who didn't realize it wasn't normal to be ignored by the clothing industry.
At 16, I didn't realize that my mom had to buy me men's pants because my size didn't exist in women's. Because she wanted me to be happy and she knew I wanted those pants so bad. Because all the other kids had them. And already, some friends called me "Adidas Woman".
At 16, I didn't realize that my mom had to buy me men's pants because my size didn't exist in women's. Because she wanted me to be happy and she knew I wanted those pants so bad. Because all the other kids had them. And already, some friends called me "Adidas Woman".
Here I am, now, at 36 years old.
Four full years into an incredible fitness journey, meant to better my hiking possibilities and increase my capacity for my travel adventures. If it wasn't for Old Navy Plus activewear and Sportive Plus (the 2 most accessible brands available in Canada when I started), this journey wouldn't have had the same success.
Over the past 5-6 years or so, I spent a lot of money on Adidas stuff. First, it was the handbags. More recently, men's track vests, which became part an essential part of my look. (And you know, because they don't do my size in women's.) I also own a couple of backpacks. Some shoes too. Let's say it's not a rare sight to see me on the street with an Adidas vest, backpack, handbag AND shoes.
All at the same time. #NotKidding
The past couple of years forced me to me realize the quasi-ignorance of some of the longest-running sports brands (i.e. Adidas, Puma, even Nike until very recently) towards the plus-size community.
I love every single Adidas item I own. They all serve(d) me well. I'm not doubting the quality of that brand who gave us so many iconic, versatile, timeless pieces.
BUT…
I now realize that I invested in accessories and clothes from a brand who is (knowingly?) unaware of active women that comes in my size… and that aren't Olympic female weightlifters. (And we all know there is a lot of money to be made from Olympic visibility, which explains a lot…)
And that REALLY annoys me.
Since I can't get rid of all my handbags and 3/4 of my long-sleeves clothes / vests, at the risk of not having a thing to wear – #AgainNotKidding – I am making a very big decision.
I have decided to put on hold any Adidas purchase.
And I invite you to do so.
I'm not usually much of a "boycott" person. This time though, I feel it that I must acknowledge the complete disregard this company is showing toward a legitimate claim. Not doing so would be worse than turning a blind eye.
It would be willful blindness.
So here it is. The downfall of Adidas Woman.
Dear Adidas and other long-running brands,
Don't take your customers for granted. Because after 20 years of loyalty, I am letting go of my FAVORITE BRAND. Because when I reached out, they weren't there.
(Also, Adidas, your French Canadian website is absolutely horrendous. In spite of a complaint filed on that matter over 4 years ago.)