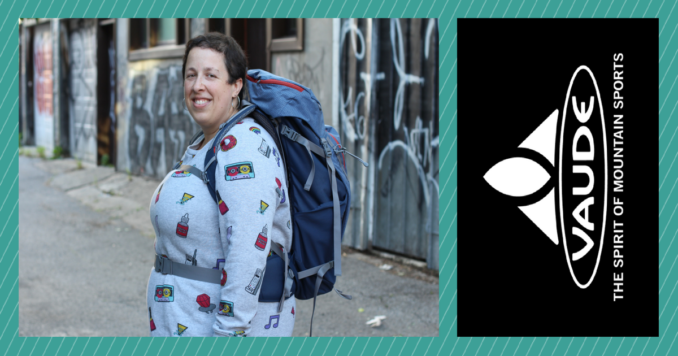 I recently found out about the Vaude Asymmetric 42+8 Backpack when I visited the Montreal Outdoor Adventure Show, last April. I just stopped by Sport Dinaco's booth (full details at the end of this post) and told Mr. St-Hilaire, who was representing the store at their booth. "I bet your backpacks don't fit plus-size people. Can you prove me wrong?" I said. He pulled out this backpack so I could try it. It fit. First attempt, first model.
Well, he sure proved me wrong! (And I couldn't be happier about it!)
For my last few trips, I have used a slightly smaller model than Vaude's Asymmetric; I left with a 48 liters  Eagle Creek Gear Hauler. I was so excited to find out about a new alternative!
The quest for plus-size friendly backpacks is not even close to an end… This issue has been a cornerstone on which I have built this blog's content for over 4 years now. I do feel I have reached quite an interesting turning point in my "mission" though! But don't worry, there is still SO MUCH to talk about in regards to plus-size travel that even a good backpack won't be able to shut me up, haha!
---
All about the Vaude Asymmetric 42+8 Backpack
Feather-Weight
Weighing a little less than 1.5 kg (3.25 lbs), this bag is incredibly light compared to similar models from other brands. (It's even lighter than most 40 liters models!) Right from the start, this bag promises to be impressive!
The built-in, reversed-U shape aluminum frame (part of the Tergolight Suspension System – see below), allows better torsion of the body than a "closed bottom" regular frame would. The open-bottom frame is one of the features that allows a better adjustment to plus-size bodies, even though the bag wasn't designed for big people, per say.
Belt & straps that fit… with INCHES to spare!
Can you believe this? Probably what impressed me the most in this backpack. Especially the belt, which is generally where the most important fitting issues lie when plus-size travelers try to get a backpack.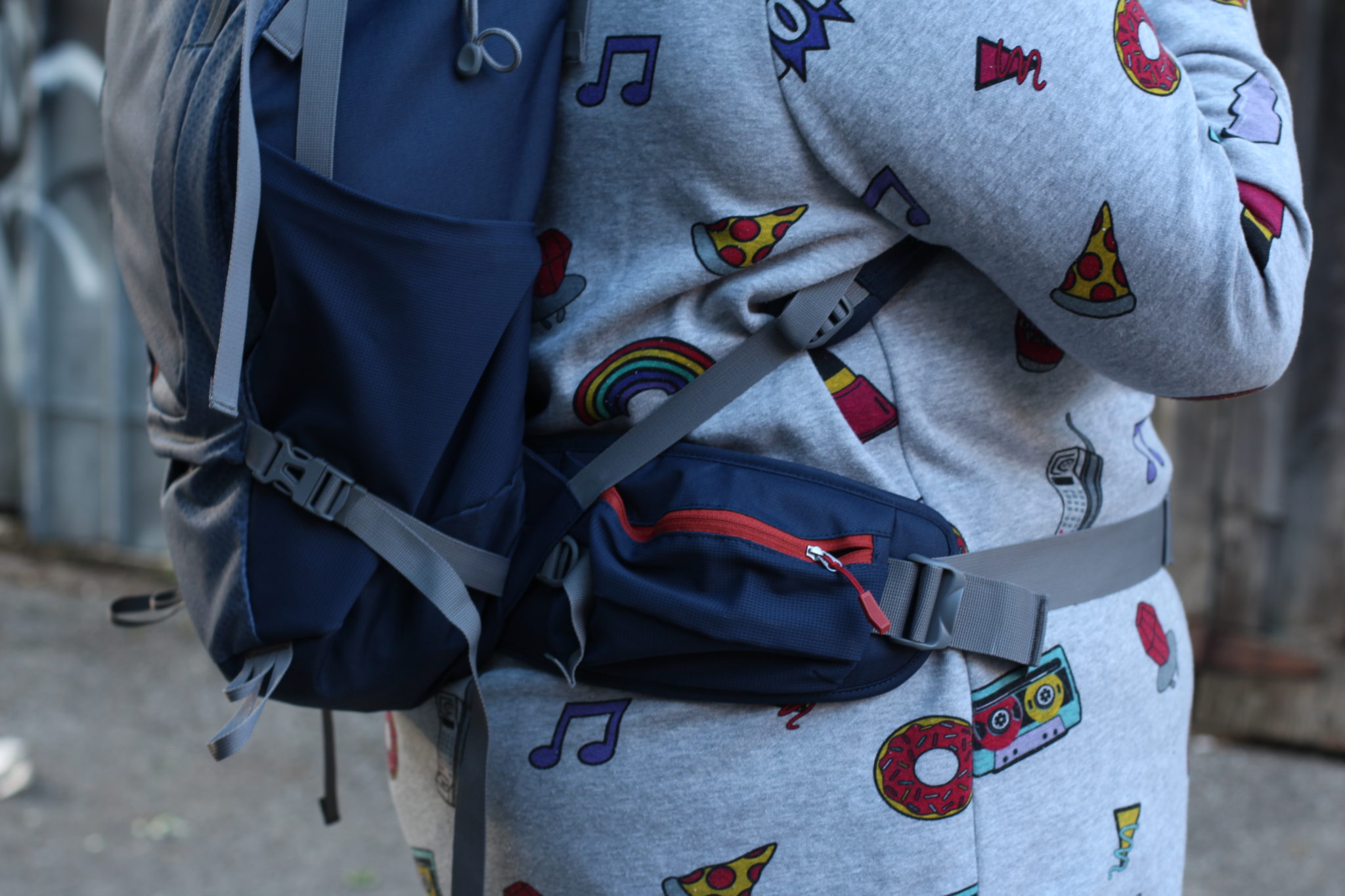 Bonus: a small zipped pouch, on the belt's right-hand side. You know, so you don't have to take off your backpack every time you need your lip balm or your keys.
No extension was needed for me to get a proper fit. No need to suck your belly in. Even the sternum strap, which has some elasticity to it, provides a relatively comfortable fit. (Any female backpacker with even the smallest bust will confirm how much of a nightmare of awkwardness that strap can be!) #Relief #Miracle
---
Tergolight Suspension System
Probably the most exciting feature of the Vaude Asymmetric 42+8 Backpack! Rather than having to deal with a million straps and Velcros, the Tergolight Suspension System is quite simple. It relies on a single adjustment strap and a movable aluminum frame. Loosen the size strap (the one with S-M-L-XL written on it), slide the padded area (onto which the shoulders straps are attached) along the frame (in black in the picture), and there you go. Tighten the size strap if needed.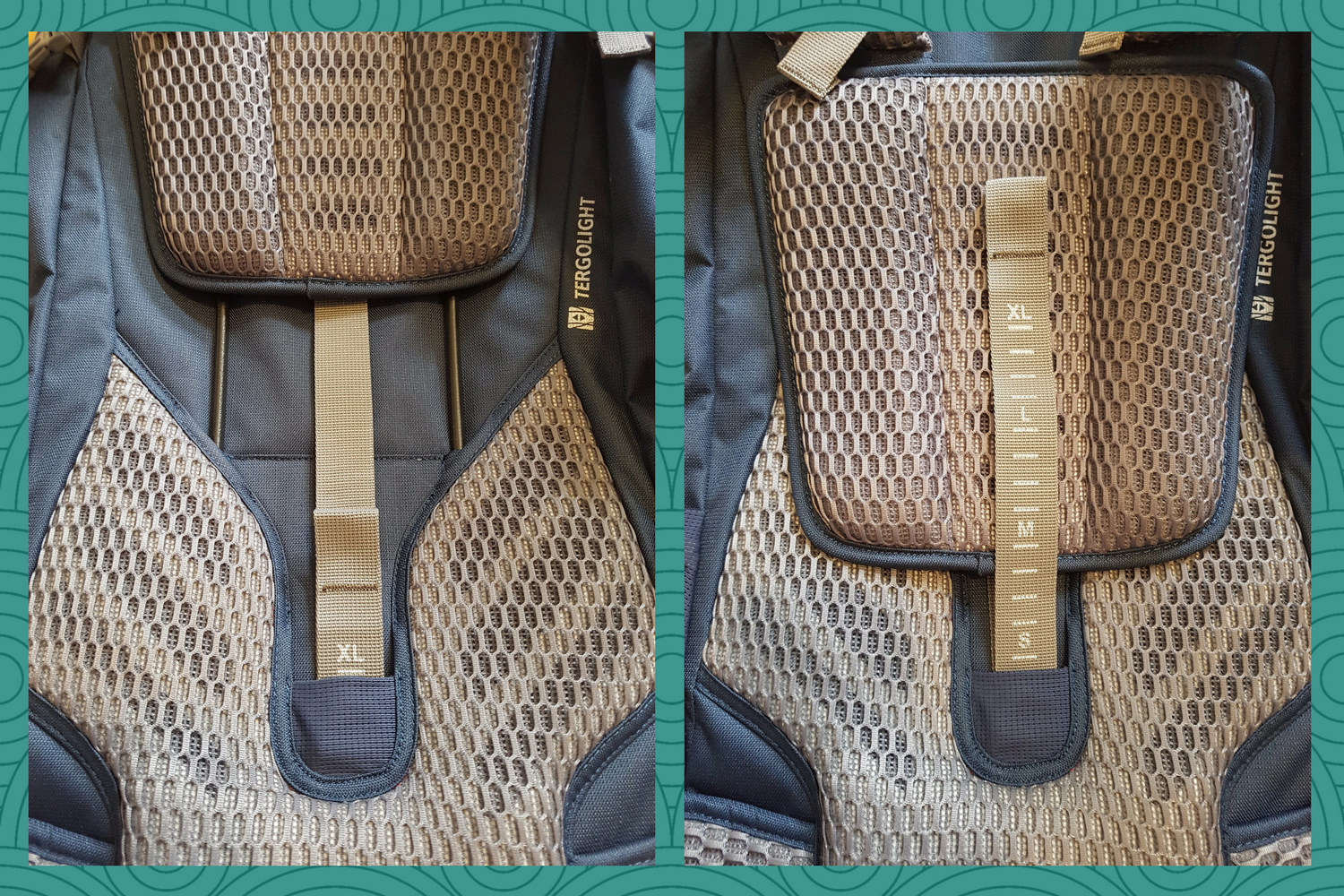 Need to shorten the whole thing? Place the padded area so the shoulder strap hit the right spot, tighten the size strap, voilà. This is the easiest, most efficient adjustment system I have seen to this day!
Up to now, I always felt that my backpack, once the straps are set up for my body height and size, was a quite customized fit object that I could not easily lend to someone else, at the risk of having to readjust everything afterward. This era is now O-V-E-R, thanks to the Tergolight Suspension System!
Will fit most torso…
There is no "horizontal" adjustment (to increase the space between the shoulder straps), unlike other types of suspension systems. Still, the Tergolight System should accommodate people with wider torso/chest/shoulders. (As you can see on the pictures, I have quite broad shoulders and I'm more of an apple-ish shape.) Unless you have an exceptionally wide chest/torso/back (and I mean wide even for a plus-size person!), you should be just fine.
In addition, here's a quick video from Vaude that demonstrates how to properly setup your backpack and that introduces and explains the Tergolight Suspension System:
---
VAUDE ASYMMETRIC 42+8 BACKPACK – FAST FACTS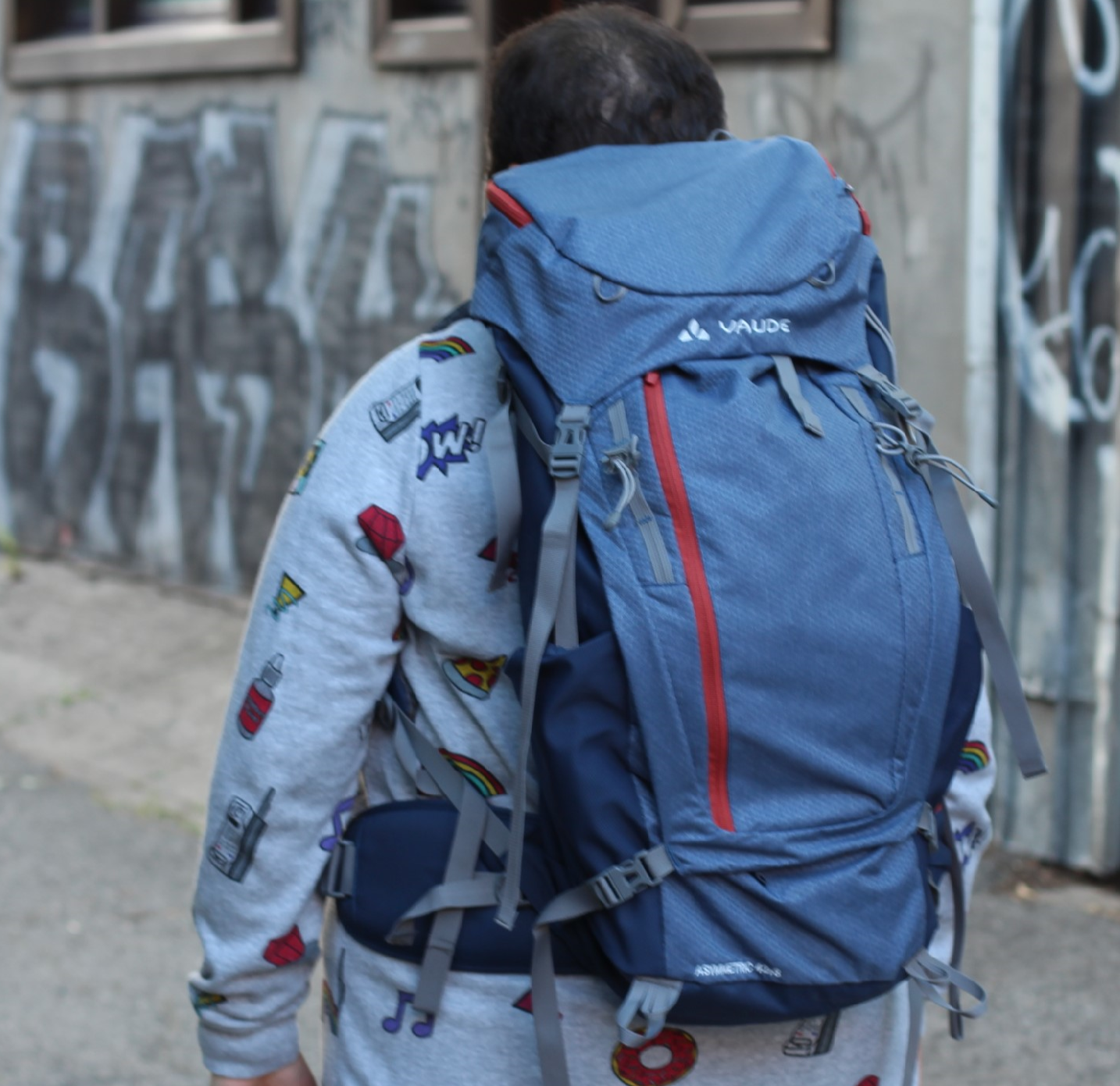 Weight: 3.25 lbs (1475 gr)
Volume: 50 liters
(42 liters main compartment + 8 liters lid compartment)
Loading: hybrid (lateral & top loading)
Dimensions: 27.5 x 13 x 11 in (70 x 33 x 28 cm)
Price (suggested): 240 CAD (180 USD / € 150 / £ 135 )
Fabric: 79% Polyamide, 21% Polyester; 400 D Diamond Ripstop Polyurethane coated (outside); lining: 100% Polyamide; 200 D Polyurethane coated
Color: Fjord Blue (also available in Black)
Sizes available: "One size fits most" as the torso length is adjustable from Small (S) to X-Large (XL)
Cleaning & Care: Clean with damp rag/sponge & mild soap
(Vaude's website states that it can be cleaned in a bathtub or a shower if it's really dirty!)
(For an even more complete list of features, click here to visit Vaude's product page!)
BEST BACKPACKING FEATURES
-Fully adapted to plus-size bodies, including women's
-Easily adjustable (see Tergolight Suspension System above)
-Usable as a carry-on luggage (if filled carefully not to go over authorized carry-on dimensions!)
-One of the lightest backpack of its category
---
MY VERDICT ON THE VAUDE ASYMMETRIC 42+8 BACKPACK
This is most likely the backpack I will use when I leave for Bulgaria, next September! I am convinced that, with careful packing, I can pull off using it as a carry-on luggage! Also feeling confident that I can pull off 3 weeks of vacation carrying this bag around. I am truly and pleasantly surprised by this backpack; can't wait to push it to the limit to test its obvious qualities!
---
Vaude backpacks are available (online & in store) at Sport Dinaco, the store that made this post possible. Make sure to say "hi" to Miguel St-Hilaire if you see him! He's the one who allowed me to discover the Vaude Asymmetric 42+8 Backpack!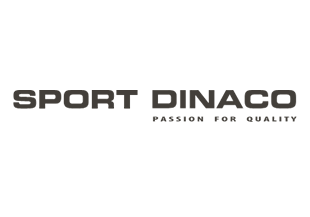 SPORT DINACO – www.sportdinaco.com
4330 Rue Joseph-Dubreuil
Lachine, Québec H8T 3C4
Tel: 514-636-8081
Fax: 514-636-0042