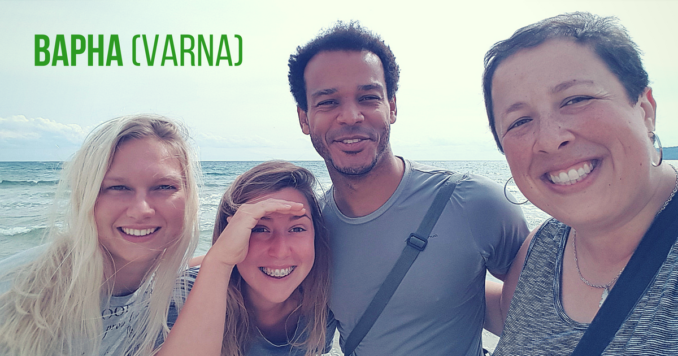 "Plus-Size Bulgaria: Varna" is the 4th post of a series dedicated to my recent trip to Bulgaria. In a little less than 3 weeks, in September and October 2017, I have been around this country and discovered it through 6 different cities. East, West, North and South, I have sampled many different Bulgarian regions and it's now time to share my adventures and discoveries!
---
Varna (Варна in Cyrillic): third biggest city in Bulgaria (more than 300,000 people live there) and gateway to the Black Sea beaches. Lots of casinos, luxury resorts, hotels… and tourists! On top of it, the city was declared European Youth Capital of the year 2017!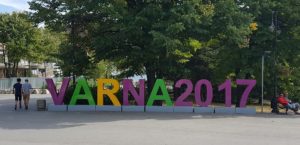 Still, in spite of all this luxury, this is a backpackers spot on the budget-traveler route across Bulgaria.
For my time in Varna, I settle down at Yo-Ho Hostel. The single room was nice and comfortable, and the ambiance was great. Location is also ideal, since it's a 5-10 min. walk to the city center!
I set foot in Varna on September 22, one week after landing in Sofia. This date is a holiday in Bulgaria; it's Ден на независимостта на България ! (In other – English – words: the Day of Independance…) Perfect timing! (Actually, I knew about this holiday and managed my travel planning with that in mind…)
---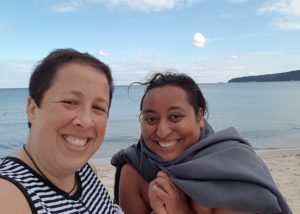 First… The Beach!
Varna is a very clean city. (Most of Bulgaria is, in fact.) A very neatly trimmed and polished town. Perfectly cobblestoned pedestrian streets… Even the McDonald's has a gorgeous facade!
As I arrived, I wasn't too sure if this city was for me… But since I always loved the sea side, I had to go! Morgane, a member of The Plus-Size Backpacker's Facebook page, had also reached out to me, letting me know that she lived there and would be happy to show me around. (How nice!)
From the day I arrived on the bus from Ruse, Morgane showed me around, introduced me to some of her friends and told me about the town.
We even went for a dip in the Black Sea, in spite of the quite cold water! (Honestly, we didn't expect it to be THAT cold and I suspect we suffered mild hypothermia in our hands and feet afterward… Nothing serious, luckily!)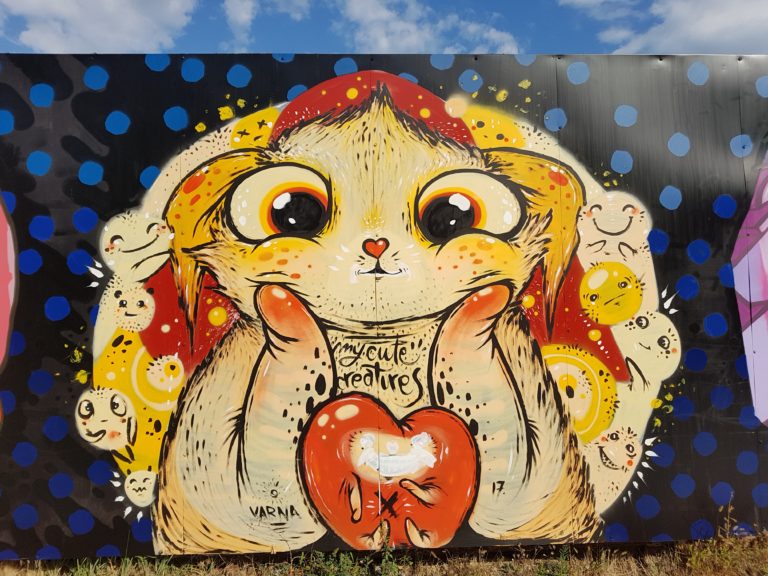 ---
The Monument of the Bulgarian-Soviet Friendship & the Sea Garden
Among other places in Varna, Morgane showed me the Monument of the Bulgarian-Soviet Friendship. Located in top of Turna Hill and the 305 steps of the "Staircase of Victors", this was part of a 19-km-of-walking day. (That's what my phone counted anyway!)
A typical example of the architecture used in the buildings of the soviet/communist era on the eastern side of the Iron Curtain. Tons of concrete (about 10,000) were poured to pay homage to the Bulgarian-Soviet partnership. The building has been closed to the public. The only way in is through a busted gate at the back… Sadly, my hiker butt wouldn't allow me passage. Still, the view from the outside is quite epic. Not only the building itself, but also the view of the city of Varna and, of course, the Black Sea.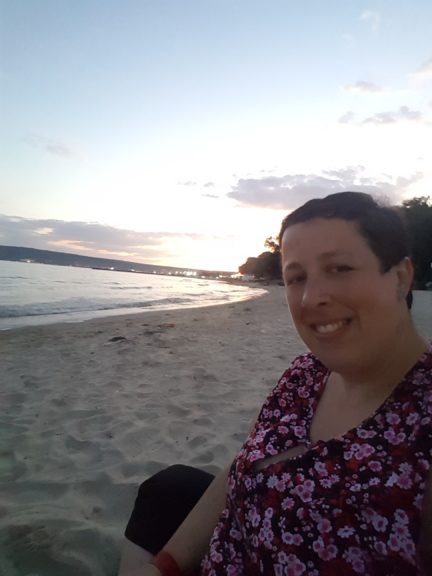 This walking day started at the heart of town, and took us (Morgane, her friends and I) from Varna's piers, across luxurious parks and to the Monument. It all ended with a few ciders on the beach at sunset. Then a dinner in a restaurant by the Sea Garden (a seaside paved path running along the Black Sea coast).
---
Pobiti Kamani (The Stone Forest / Stone Desert)
Sunday morning at the Yo-Ho Hostel, there was this – self-proclaimed! – jerk drunk guy. He was annoying and inappropriate, most likely because of his level of drunkenness. But thanks to him, many of us living at the hostel gathered in one corner of the lobby area and started chatting. That's how Chichi, Thiago, Ola, Zuzanna and I ended up making plans to visit Pobiti Kamani together that day!  (We were also collectively shushed by the angry bus ticket lady who found us too loud, as we bused our way outside of town to reach the Stone Forest, but that's another story…)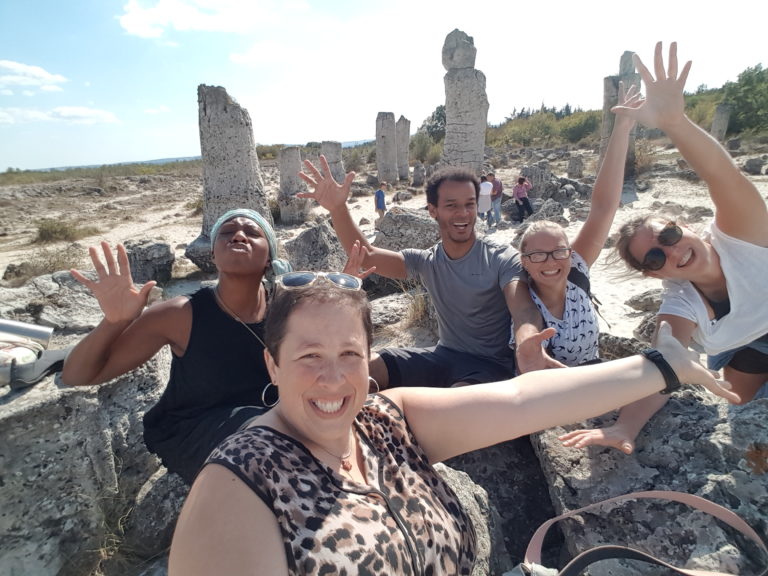 Pobiti Kamani is a rock pillar formation, spread over a few square kilometers. It's about 12.5 miles (20 km) out of Varna's center. You do the first part of the itinerary by public bus for a few levas. Once you get off at the stop (it's at a crossroad, outside the city), it's a 3 miles (5 km) walk to the Stone Forest. Make sure to bring plenty of water and some snacks… (It's a bit in the middle of nowhere; we haven't seen any places to buy food or water on the way…) Also: keep your ticket and from the bus lady… and make sure you have the right one! The bus lady ticket gave a bit of a hard time to Thiago because she gave him the wrong ticket… and then wanted him to pay AGAIN! (Luckily, that didn't happen…)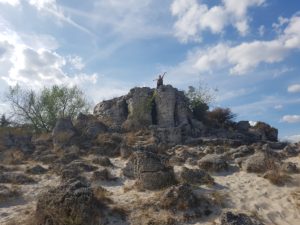 ---
Dinner in the sky at Cherno More Hotel
Tired and hungry after our excursion to the Stone Forest, I was in charge of finding a restaurant for dinner. I read in a travel guide that the Panorama, a restaurant on the 15th (top) floor of the Cherno More Hotel was… A decent and cheap eat! (We all had strong doubt it as we showed up wearing quite casual wear, since that's all we had to wear, but it was true!) Though the menu is mostly consisting in European (not Bulgarian) dishes, we all enjoyed our meals. Mostly, we were there for the breathtaking view of Varna at sunset… And that didn't disappoint, as you can see by the pictures below!
After an – unsuccessful – quest for a karaoke, Thiago, Ola, Zuzanna and I walked our way back to the hostel. As we walked back, we sang "What's up" by 4 Non Blondes in the streets. (You know, the kind of simple, magical moment that only happens when the timing – and the people! – is right… ♥)

Varna wouldn't have been the same without all the amazing people I met on my way.
♥ A very warm and special "thank you" to Morgane for showing me around town! ♥
♥ Chichi, Ola, Zuzanna, Thiago… you guys are awesome people to explore with! ♥
---
After making my way from West to East and having reached the oriental end of Bulgaria, it was time to turn back and head West again! Next stop: Veliko Tarnovo… Back into the green mountains of Central Bulgaria!
Stay tuned for the 5th installment of "Plus-Size Bulgaria"!
---
All photos (C) 2017 – Edith Bernier (The PS Backpacker)