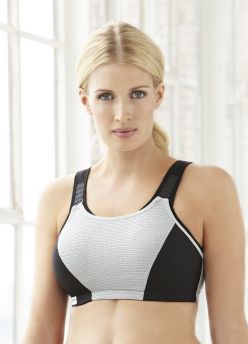 This one is for the ladies!
Another challenge faced by plus-size backpackers is to find a bra that won't stink at the first drop of sweat, won't be too hot to wear or take forever to dry or end up all crooked because they have wires and can't tolerate being twisted and squeezed and wrung and… well you know what we do with our underwears when we pack our luggage… (they ended up packed and folded and squished in a tiny corner to save room!)
Glamorise, a New York-based company established in 1921, has a few interesting style worth giving a try.  Most sports models are available from 34 to 50, B to G cups, so it is almost certain that you will find your size in there!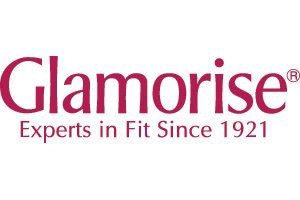 The first style I will review is the Glamorise SPORT Double Layer Custom Control Bra (back hook). I brought 2 with me (on a total of 5 bras) along with two No-Bounce Camisole Bra on my last backpacking trip to Guatemala.
FAST FACTS:
Price I paid: CAN $37.88 (about US $36 / £22 / €27 – bought on OneStopPlus.com, now FullBeauty.com) PLUS shipping, customs, etc.
Size I picked: 46 D (34-46, B-G cup size available on Glamorise Website)
Color I picked: black/grey, white/grey
Tissu: 56% Polyester, 37% Nylon/Polyamide, 7% Elastane (Spandex)
Washing & Care: Machine wash warm, line dry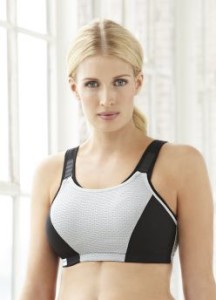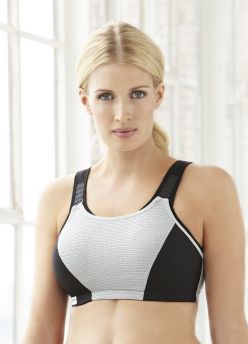 BEST BACKPACKING FEATURES:
-Excellent support (tested while horseback riding and jogging), thanks to the adjustable motion control front panel that allows you to loosen up or keep it tight, depending on what you do
-Incredibly packing efficient due to the absence of wire
-Complete freedom of movement doubled with a support that won't… let you down! (Pun intended!)
-Air-dry time is about 4-6 hours
I won't lie to you: it is a very covering bra.  Also, you might feel a bit "corseted" when you first wear it, but you will easily forget it (I did anyway).  I could never tolerate bra with wires and, because of that, it limits the choice of sports/high support bra available.  But this one seems a true miracle at a relatively affordable price (Plus Size bras have always been and will always be expensive, especially when you look into "specialty" undergarments.)

FINAL WORD:
This bra is an answer to the needs of busty girls and is definitely approved.  You can stop wearing 2-3 bras to go and do your favorite bouncy activities, ladies!