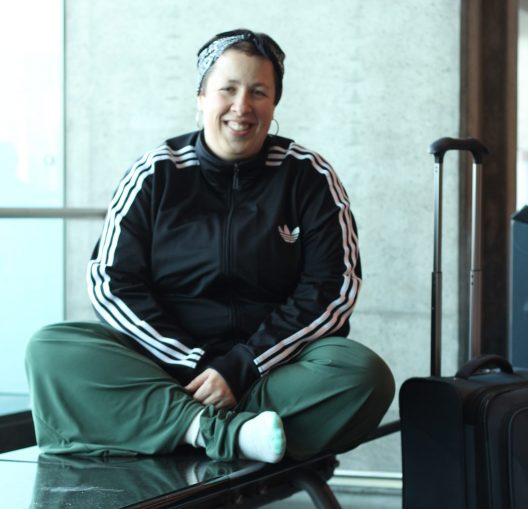 ---
** Wanna know more about SWAK Designs clothes? Check these posts! **
---
**I recently mentioned SWAK Designs, in my review of their
Emmylou printed tunic (click to read more about it!).**
---
pa·laz·zo / pəˈlätsō/ noun
noun: palazzo; plural noun: palazzi; plural noun: palazzos

a palatial building, especially in Italy.
So I took my Perfect Palazzo Pants on the road… to the airport. (Trust me, I looked at all those people getting ready to fly away and I was truly jealous! I came this close to buy a ticket… after all, I already had my suitcase and a bunch of outfits with me, haha!)
As I was browsing through SWAK's website, I set my mind on this specific model among all the other plus-size bottoms they have in store for one very specific reason: the fabric.  (For those who have been following this blog for a while, you already know that polyester is one of my favorite go-to fabrics to pack as small and light as possible!)
A sure pick for your luggage
Palazzo and other similar bottoms are a great addition to a backpacker's travel kit as they can be appropriate for many occasions, from the most casual to a tad more fancy outings, with the right accessories.  They can also fit with a variety of tops, from a tank top to a more elaborate blouse.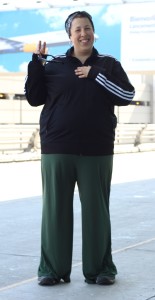 Loose pants like those are also especially useful while visiting countries that have regulations on women's attire or maybe just more conservative values when it comes to female clothing; by being loose-fitting, they can hardly be considered inappropriate!
The Perfect Palazzo pants are an interesting choice for female backpackers because they combine most of the qualities we look for in travel clothes.  Their very generous and loose cut makes them incredibly comfortable, even in warmer climates (the polyester-spandex is not a very warm fabric).  In the case of colder climates, there is plenty of clothes to wear leggings or thermal underwear beneath, and nobody would know!  (This also could be a good idea also for long-haul flights that often tends to get chilly after a while in the air…) For women who don't like tighter clothes when they travel, like leggings, these pants offer a great alternative.
FAST FACTS:
Regular price: $ 45.90 US (approx.  $ 60 CAN / € 40 / £ 32)
Fabric: 95% Polyester, 5% Spandex
Size Available: 1X to 6X
Colors Available: I wear Olive on the pictures; also available in Mocha Brown, Brown, Deep Burgundy, Khaki, Red, Royal (Blue), Black & Grey
Washing & Care: Hand wash cold; lay flat to dry
BEST BACKPACKING FEATURES:
-Lightweight and very compact (especially considering the size!)
-Can be easily dressed up or down
-Range of neutral colors available offers great matching potential
-Very comfortable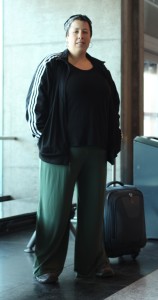 What makes this palazzo so perfect? I bet it's the fold-over waist! It really adds to the comfort of the pants and removing this "cutting" feeling that you often get with pants that have elastic or regular "flat" waistbands… Depending on your silhouette and/or the top worn with it, the fold-over waistband may accentuate your belly, so if you are not too keen on exposing this part of your body, just make sure you pair the pants with the appropriate clothes.  (Personally, I don't really see this a flaw…  but it's a good thing to know before you leave, so you can take the time to try and match them with the perfect tops!)
VERDICT
Though the Perfect Palazzo pants might need a trim at the bottom for shorter ladies (I'm 5'8 and they might need a little hemming job), they are the most dressed pants you will ever wear that reach this level of comfort.  I'm sure those will quickly become my favorite long-distance commute pants! Make sure to keep an eye out on their website for their new models… there has to be more great and interesting stuff coming, on top of what's already available (and they regularly have sales with pretty good deals!).
---


SWAK (Sealed With A Kiss) Designs – www.swakdesigns.com
Los Angeles, California
Phone : 1-866-432-6497
Email : support@swakdesigns.com
Twitter : @SWAKDesigns
Facebook : SWAK Designs
Instagram : @swakdesigns