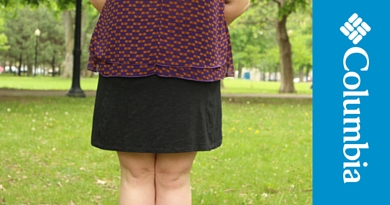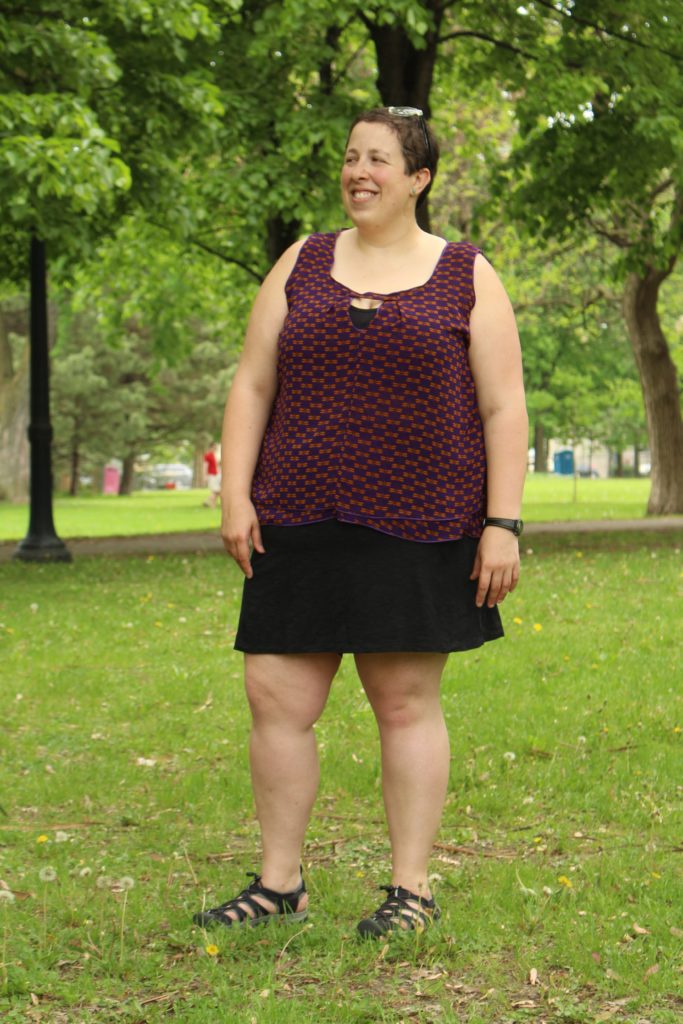 I discovered by accident the Rocky Ridge III skirt as I was shopping in an off-price department store. Lucky accident though, because this is one of Columbia Sportswear most interesting piece I have ever gotten! I'm already sad at the idea I might have to get rid of it one day, after years of loyal service.  (Sadly, this item seems to be unavailable for the moment, but let's hope Columbia remembers their plus-size lady clients and bring that model back!)
(I think at this point, I don't need to praise the practicality of neutral colored bottoms,  from skirts to capris to leggings and pants… So I will spare you.  For once.  But if you did miss my numerous praises of "bottom neutrality", check out these posts in which I mention the million reasons why you can focus on the tops for colorful outfits and stick to neutral tones for the bottoms…)
Details, please!
What's great about the Rocky Ridge III? It is really, really soft and follows your every move!  The fabric is stretching in all directions and allows complete freedom of movement. Feels like you are not wearing a skirt actually!
If you feel like covering up a bit more and don't feel comfortable just wearing leggings and a top/blouse/tunic (whether it's cold or if it's just not your cup of tea to walk around in leggings), this skirt comes to the rescue!  It can also be pair with a swimsuit or a tankini top at the beach, and can easily replace a (short) pareo. #VersatilityIsTheKey
Want to more about the top? Make sure you check out my post about the
"Summer Chiffon Tank by SWAK Designs" !
Taller ladies – I'm 5 ft 8 – might find it a tad short to be worn by itself, so it's actually better to wear it with leggings or at least bike shorts. (Or the AMAZING Anti-chafing shorts!)
FAST FACTS:
Fabric: 55% Cotton / 42% Rayon / 3% Elastane
Color: Black (in the pictures); was also available in Light Grey & Blue
Sizes available: 1X to 3X
Washing & Care: Machine wash in cold water; tumble dry low temperature
BEST BACKPACKING FEATURES:

-Easy to mix & match with most outfit
-Ideal for any occasion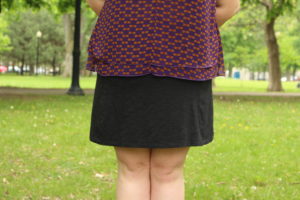 VERDICT
Very practical to bring a little variety to a series of neutral colors bottom, a black skirt will easily pair with your black leggings and will add a little style and prop up the typical "top & leggings" that we all know and love but, let's be honest, it's not the best outfit for more upscale bar or a restaurant! The Rocky Ridge III skirt will allow a less sporty look, without eating all the space in your luggage!

---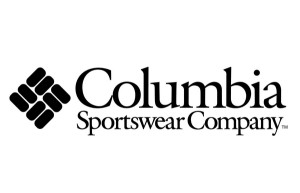 Columbia Sportswear – www.columbia.com
Tel.: 1 -800-622-6953
On Facebook: Columbia Sportswear
On Twitter: @Columbia1938
On Instragram: @columbia1938
On Pinterest: @Columbia1938