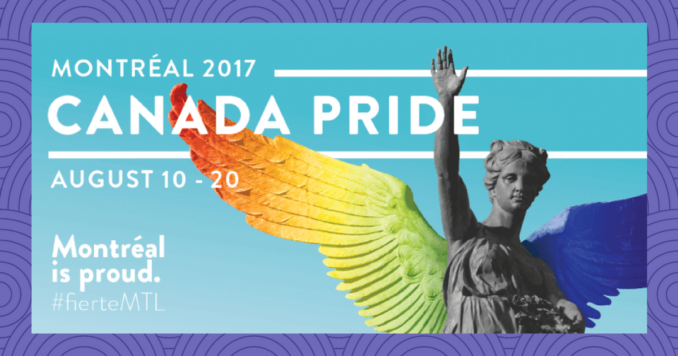 Canada Pride Montreal 2017 has been raging since August 10 in my part of town. My neighborhood is more vibrant and bustling than ever! It will end this weekend with its traditional and joyful Pride Parade.
The festivities started with the opening show, Montréal est fière (Montreal is proud), hosted by a pumped-up Gregory Charles who did 2.5 hours on stage with his guests. The next day, the party continued with an event to celebrate the 30 years of Mado Lamotte's career (more details at the end of the post).
---
Living in the (Gay) Village
After nearly five years of residing in the neighborhood called "The (Gay) Village", I think it's about time that I wrote about that!" (This is not a joke, it's on Google Maps!) The Montreal Pride (even better, the Canada Pride this year!) felt like a perfect timing to bring up the topic on the blog!
I have always felt at ease within the LGBT community, especially among gay men community. (At the moment, most of my current male friends are gay.) I have always supported the fight for marriage equality and against homophobia / transphobia. Since the humble beginnings of this blog, I always wanted to make sure this was a safe place for fat queer females / identifying as females / non-binary / trans travelers. There is already enough hate going around, I clearly won't discriminate between the "categories" of fat!
I was raised in a home where my mom always made sure that friends who came over didn't have to hide who they were. That they could be whoever they were deep inside. They didn't have to hide. I like to believe that our home was a safe place for my friends who might have been struggling. In a small town, it must be a relief to feel safe somewhere. I sure hope they did at our place.
Our fight for the recognition – and the abolition – of the discrimination that both fat and LGBT people struggle with have a lot in common. But it's also important to recognize that the LGBT repression has been horrendous and can be literally barbaric, in certain parts of the world. Even to this day.
---
Being Gay Can be a Crime. Being fat? Thankfully it's not.
It wouldn't be honest to bring the similarities of the discrimination we live with without also bringing its differences…
In opposition to being homosexual or transsexual, it was never a crime to be fat. The law has never persecuted fat people. Especially not the way they did the LGBT community. Fat people were never jailed for having sex. A group of fat people, hanging out, dancing and drinking in the same bar were never considered a threat to morality. Straight fat people were always able to get married and adopt children. There are no countries in the world where being fat is a crime. In the mean time, being gay is punishable by law in 72 countries (and by death in over half a dozen of these countries). Right now. In 2017.
In too many countries, gay women are victim of "corrective rape", in order to "cure them" of their homosexuality. Very recently, gay men were kidnapped and tortured in "extermination" camp in Chechnya.

LGBT Rights per states/countries – Red & orange indicate areas where homosexuality is a crime.
Source : Wikicommons – By Htonl – Information drawn from w:en:LGBT rights by country or territory, CC BY-SA 3.0
---
Still more in common than meets the eye, though…
It wouldn't be honest to pretend to know the struggles the LGBT communities across the world are going through. I won't even try to. Because it's not my place to do so. And it would be an offense to those who actually dealt with that and are still stuck with this.
But it is safe to say, that, in both circles, there are people that dealt with rejections, misconceptions, stereotyping, bullying, violence/aggression. All that based on who they were and/or their physical traits. We would like to pretend that LGBT – and fat – people are no longer suffering from discrimination. Sadly, we all know that there still a long road ahead before we can even pretend to that. We are still far from reaching a full, complete acceptance. As of now, we are barely within the "tolerance" range. (And, depending on who you are with and where you are, "tolerance" is an optimistic perspective.)
---
So this was my little outreach moment for the blog. Gay Pride can be such a joyful even that it's important to remember where it takes its roots. You have to give it to the LGBT community… they sure found a way to blossom in their hardship. What a lesson in resilience!
And to conclude on my awesome neighborhood… I just wanted to share how blessed I feel to live in such an awesome place. Where I am not embarrassed to be a plus-size woman when I go out. Whether I hang out in a bar, drinking with friends, dancing the night away, I just don't feel self-conscious.
---
Life is a Drag…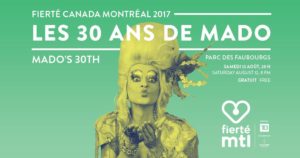 I can't talk about the Village without mentioning the Cabaret Mado. This is where you will find the best drag queen shows in town! Mado Lamotte is by far the most famous drag queen in Quebec. She is known for her sassiness… and her unique bingos! (The bingo events raised her to the rank of celebrity!) If you drop by this place, chances are, you will stumble upon Tracy Trash and Barbada de Barbade, two of the most established – and adorable – drags in town.
Mado is such an essential part of Montreal's LGBT community that she was the center of a more than 2 hour long homage-show, celebrating her 30 year career. From soul singer Sylvie Desgroseillers (in a bilingual duet of I Will Survive) to Nathalie Simard (vibrant Purple Rain) and former Star Académie contestant Étienne Drapeau (with a Suavemente muy caliente!), that evening was quite energetic!
Congratulations are also in order for Barbada, who won the Mx Fierté Canada Pride 2017 title. She will take part to Drag Superstars, another event of Fierté Canada Montréal 2017. This free outdoor show will feature some of the hottest drag queens from the popular reality show RuPaul Drag Race. This is happening tomorrow night (Aug. 17, 2017) at the Parc des Faubourgs. Also tomorrow night, Barbada will perform her one-drag-show, Colors at Cabaret Mado. Don't miss that!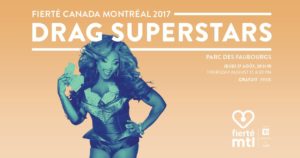 ---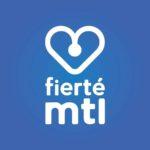 Fierté Montréal / Montréal Pride
www.fiertemontrealpride.com
Facebook @fiertemontrealpride
Twitter @FierteMTLPride
Instagram @fiertemontreal