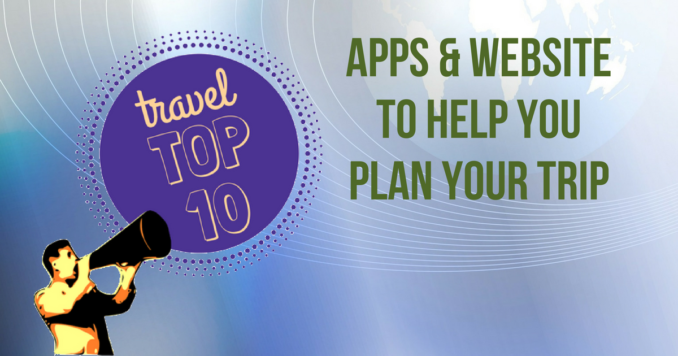 Apps and websites for travel planning are legions. It's hard to figure out which ones are the best and the most practical. With up to six years of use in some cases, I have managed to compile a top 10 of my favorites.
When I planned my very first trip, I remember asking myself how people planned their trips BEFORE the Internet. (I know they used guides and maps and called tourism offices, but still… What a time-consuming process it must have been!) With the omnipresence of smart phones and tablets, it's becoming easier than ever to plan most aspects of your adventures. Here are the ones I can't live without and I'm currently using for my Bulgaria planning…
---
10) Your country's travel alerts & warnings website (website/app)
Most countries have their own website of travel warnings and alerts dedicated to their expats. It's a good place to start looking if you want to know if a destination you consider is safe. That is often where you will find the information on medical requirements and recommendation. You will also find your country's diplomatic mission abroad, which is always good to know, in the case of an emergency.
---

9) PackPoint Travel Packing List (app)
If you are not so good at getting your luggage ready, if you always forget your cell phone charger or toothpaste, then this will help you make sure you don't forget the most basic and essential stuff. (Available in "free" and "pro" versions)
---
8) TripIt (app)
If you need serious help to manage most things that come with preparing a trip, including tracking your flight details and numerous details, then TripIt could be of help for the new traveler… or the very disorganized one!
---
7) XE.com (website & app)
Why? Because… money! To find out up to date exchange rates for the whole world, see the currencies trend, etc. That could help you shop for a better rate at your currency exchange location.
---
6) Hostelworld.com (app & website) / Hostels.com (website)
I have used these 2 websites over the past 6 years to book my accommodations in 8 different countries (England, Scotland, Ireland, Peru, India, Mexico, Poland, Guatemala). The reviews and ratings seemed quite appropriate. (I think it's important to read the ratings. Hostels are not 5-star hotels, therefore, the level of noise, comfort, etc. will be different.) My favorite feature is the "Map" Display, which allows you to see where the hostels are in town, and ideally, helps you pick one that is strategically placed, based on your needs.
---
5) Hopper (app)
I stopped counting the strategies and so-called tips related to finding the cheapest flights. I don't use many strategies, other than booking 4-6 months in advance. (This far, this technique has worked well for me.) Hopper, a Montreal-based company, is an app that uses big data to predict and analyze airfares. You input planned travel dates, the city you depart from and landing into, and see the recommendations on the airfare rate (buy now, wait, etc.), along with expected fluctuations. The accuracy of the fluctuations and predictions is obviously not guaranteed, but it's an interesting concept that deserves a try.
---
4) Numbeo – Cost of Living (website)
If you have no idea of the living costs where you are going, Numbeo will be of great help. It's the Wikipedia of international living costs since the numbers that come up there are compiled based on users contributions. With a few clicks, you can find the costs of restaurants meals, beverages (ex. beer, coffee, water, etc.), basic staple foods (rice, bread, cheese, fruits, etc.), along with transport related costs (ex. cab fares, public transportation) and much more. You can also compare two cities (ex. the one you live in and the one you plan on visiting) to help you figure out your travel budget.
---
3) Wikitravel (website)
In a single page for most countries, Wikitravel brings tips on what you really need to know about a country, from typical local product (food, alcohol, traditional local crafts) to climate, transport and local etiquette. A very good summary when you are destination shopping and would like to have a good general idea of a country.
---
2) Lonely Planet (website & app)
Lonely Planet has been a major player in the travel guides industry for 45 years. They know their stuff. It's a good place to figure out the low/high/shoulder seasons for most countries and have a good overview of the major cities and attractions at the destination you are considering. They also launched a Lonely Planet Guides application that appears to be very promising! (To be continued upon further testing…)
---
1) A proper mix of Google apps: Google Flights, G Suite (incl. Google Drive, Docs, Calendar, Gmail, etc.) & Google Maps, Google Trips, Google Translate, etc.
I often tell my husband that I could probably manage my whole life with Google apps! From saving copies of important documents to accessing them in the case of emergency (Google Drive) to evaluating distances between places (Google Maps) and do all sorts of planning. Whether it's on my phone while I commute to/from work, at home, on my lunch break, I can document my ideas within the same document (ex. Google Sheets/Docs), since I pretty much always have my phone with me (Google Docs/Sheets).
Also, I only swear by Google Flights to find my destination(s), my tickets, my travel dates. I plan on doing a more detailed post about this eventually, because there is SO MUCH to tell about this!
Google Keep also has a checklist feature (great for things to do before you leave or preparing your luggage). The Calendar will remind you to do your online check-in in time and make sure you don't forget to do anything time-sensitive before you leave. Google Translate will help you navigate through a website that either doesn't have a proper translation in a language you understand, or simply, no translation at all. There are gazillions uses for numerous Google apps… use your imagination!