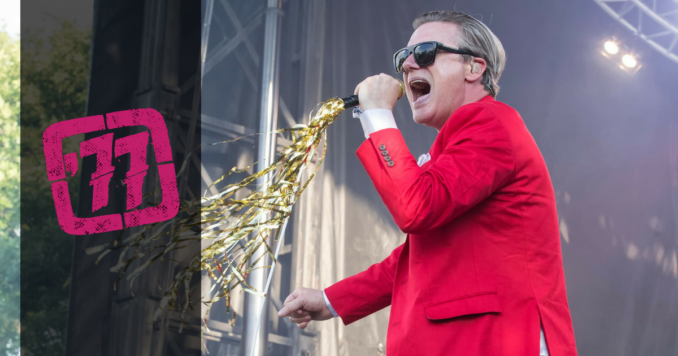 '77 Montreal took place on Friday, July 27. The 2018 event was the 2nd edition of the punk festival and took place in the Parc-Jean Drapeau, on Île Sainte-Hélène, in Montreal.
(Featured photo: Spike Slawson from Me First and the Gimme Gimmes – by Pat Beaudry)
---
An Impressive Upgrade
The family-friendly event offered a full day of decibels to punk rockers of all ages. This year's line-up was kicked up a few notches and more impressive than last year. It included punk cover supergroup Me First the Gimme Gimmes (California), The Planet Smashers (Canada), Satanic Surfers (Sweden), AFI (California) and Rise Against (Illinois). In a nutshell, there was something for everyone. The event also had a kids zone for mini-punks and their parents. (Considering the event is only at its 2nd edition, that is quite a respectable offer.)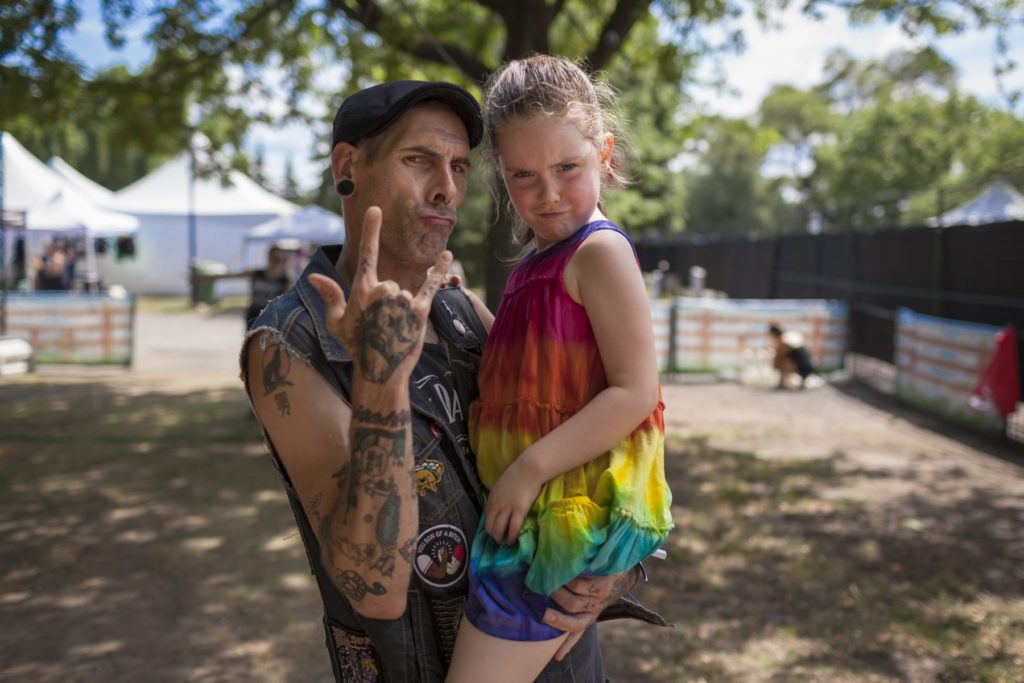 Among other bands present: Anti-Flag (Pennsylvania), No Policy (Canada) and veteran new wave punk band The Rezillos (Scotland).
I had the chance to chat with members of all these bands, along with Spike from Me First and the Gimme Gimmes – about body positivity… more to come on my YouTube channel!
---
Sidenote: More Than XXL Please…!
I am always extremely happy to see people of all ages, sizes and background gather under a shared interest (for music in this case).
It's still a challenge to find t-shirts and similar merch in sizes above XL, sometimes XXL in men's sizes. Considering the number of plus-size people I saw at the event, there is clearly a market for promotional items beyond the so-called "standard" sizes. I can only encourage "77 Montreal and the promo teams around the bands present to look into these options! It is never too late to answer the call of size diversity! Since punk has long been addressed to marginalized individuals, it could be a good idea to address the needs of… marginalized bodies!
---
Two Thumbs Up
The production and technical crews did a fantastic job. Across the 3 different stages, scheduling was impeccable. Performances were timed nearly to the minute. (The only downside of that is that it doesn't leave room for encores…)
Overall, a great success. The event is definitely growing in popularity and establishing a solid reputation. This can only make the 2019 edition very promising!
---
'77 Montreal
www.77montreal.com
Facebook: @77 Montréal
Instagram: @77montreal