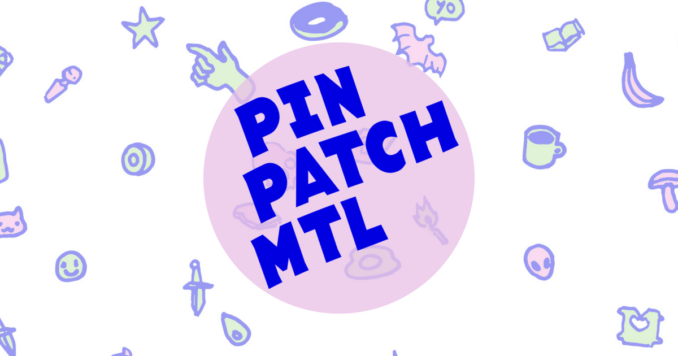 If you are a Montrealer fan of enamel / lapel pins and patches, maybe you've heard of Pin Patch Mtl. (If you haven't, well here's your chance at discovering an awesome new event!) The event was organized by Montreal-based pin and patch maker Manière Noire. It took place on Saturday, May 19, at La Gare, in the Mile-End neighborhood. It was, in fact, the second edition of this Montreal fair dedicated to… pins and patches!
I really wished I wrote about this before, but I thought that at least, you would be informed of this awesome event and be on the lookout for the next edition at least…! #BetterLateThanNever
---
The Pin Patch Mtl Spring Fair
The first 25 people to enter the event got gift bags… Silly me, I thought that, by being there at the opening at 11 am, I would have a chance of getting one of the goodies bags. (You know… Because people might want to sleep in on that Saturday morning.) HOW WRONG I WAS, haha! When I arrived, 10 min. before 11 am, there was already about 60-70 people patiently waiting in line at the entrance ahead of me… #ByeByeGiftBag

Though I was a little bit sad to have missed that opportunity for free goodies that seemed incredibly promising, there is a silver lining to it. It means that, already, at such a young "age", the event is popular! Which also means that there are good chances that the event will take place again! #WinWin Considering that the event took place on the same weekend as the Pouzza Fest, that is an excellent performance. (Both events may share a common crowd…)
---
Lapel / Enamel Pins 101
A lapel pin is a small pin worn on clothing, often worn on the lapel of a jacket. Lapel pins can be ornamental or can indicate wearer's affiliation with an organization or cause. […]
In recent years, pin collecting and trading has also become a popular hobby. Demand for pin designs based on popular cartoon characters and themes such as Disney, Betty Boop, and Hard Rock Cafe has surged and led to the creation of pin trading events and other social activities.
(Source: Wikipedia)
I always liked enamel pins. But I never really dared spend much on it. Why? Because I was always scared of losing them as I wore them! (The butterfly clutch mechanism that usually comes with such pins is not the most resistant.) Thanks to Pin Patch Mtl, I found out about "locking backs", a way to safely fasten and secure my favorite pins to avoid losing them. For a few bucks, you can get 5-10 of those. (Smart move: they had some for sale at the Spring Fair!) That's all you really need to start enjoying your pins without worrying. #LearningNewStuffEveryday
---
My Favorite Picks…
(Click for full size…)
---
Follow Pin Patch Mtl on Facebook and Instagram to find out about their upcoming events!