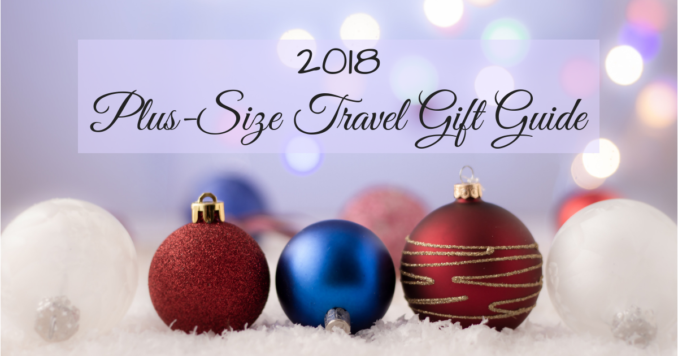 IT IS BAAAAACK! Following the success of last year's edition, here is the 2018 Plus-Size Travel Gift Guide! Perfect for Christmas, but useful all year long!
Soap, shoes, clothes, travel bags, outerwear, underwear… it's been a good year! After putting to the test numerous products and after careful considerations, here are some of my favorite ones to enhance your plus-size travel / backpacking experiences.
---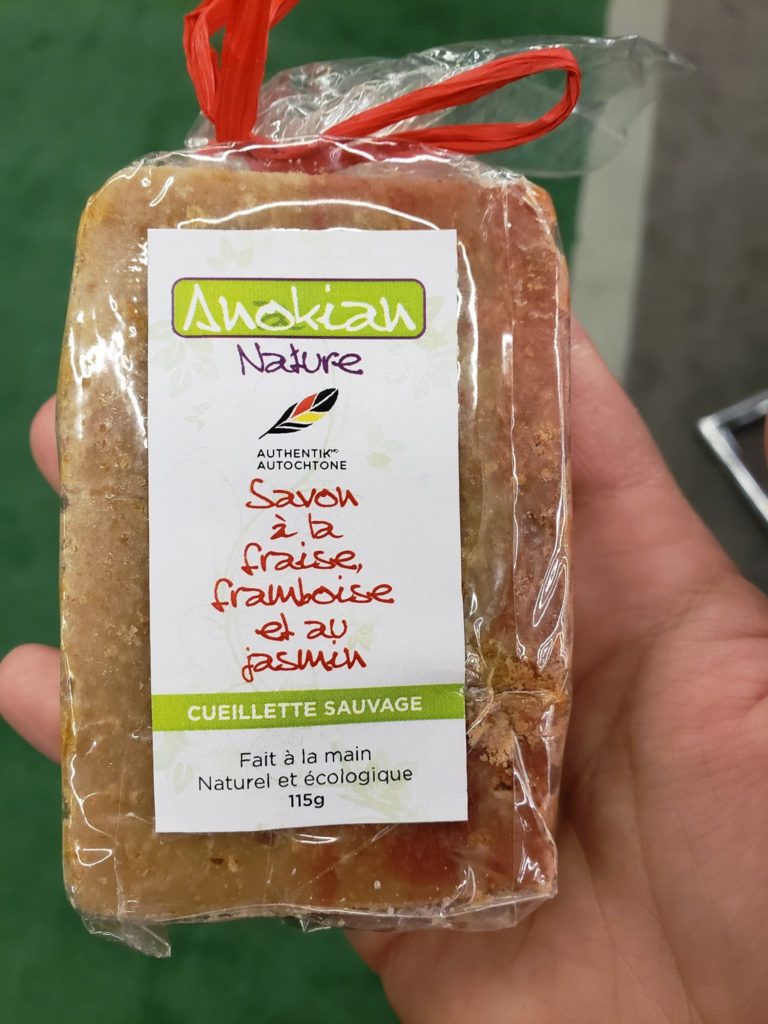 Anokian Soap
I have tested Anokian's Strawberry, Raspberry & Jasmine Soap after meeting with Minda Forcier, Anokian's founder, at the Montreal Outdoor Adventure Show. Not only does it smells fruity and fresh, there is so much more to it! Anokian's locally handmade products are:
Vegan
Gluten-free
Not tested on animals
Biodegradable
Ecologic (no ecological footprint)
Anokian has a variety of solid soaps to fit your skin type and (travel) needs. Made in respect with local indigenous traditions, they are a great addition to your luggage for your next adventure!
♥ Why is it included in the 2018 Plus-Size Travel Gift Guide?
Good, versatile, but mostly SOLID soap that can double up as a shampoo is essential to limit the amount of liquids – and toiletries – you pack. Anokian's soap has proven both efficient and pleasant to use, as a body soap AND shampoo. Approx. retail price: $12
---
Travelon Anti-Theft Classic Waist Pack
I always found that a waist pack (a.k.a. "fanny pack") is more practical than a backpack or a regular purse. More comfortable in case of extended wear, more accessible, more secure and hands-free. This entirely black waist pack is not too bulky but can contain a lot. The pockets and sections are numerous and the fabric on the inside is soft and will not scratch the screen of your smartphone or other valuables.
I rarely adopt anti-theft hidden features (for example, reinforced mesh / anti-slash or RFID protection specs). I often find they make a bag much heavier… and pricier. Good news: it's not the case with this Travelon product.
♥ Why is it included in the 2018 Plus-Size Travel Gift Guide?
Finding a waist bag that fits our body is always a challenge when you're a plus-size traveler. This model (# 42223) by Travelon fits waist up to 57″ (approx. 145 cm). Bonus: there is a "bottle carrier" built-in and the zipper pulls can be attached to stay properly closed. The anti-theft classic waist pack also comes with a tiny LED light to help you locate your stuff – or your way! – in the dark. Approx. retail price: $40-50
---
Eagle Creek Packable Daypack 
After years of loyal service, I had to replace my packable (foldable) backpack who "trespassed" at some point during my Peru trip. When I found this bright blue, 17 L backpack in Eagle Creek's "Necessities" collection (model # EC41247), I was pleasantly surprised at how comfortable it seemed. (The first thing that you lose, when you choose for a foldable daypack, is cushioning, especially at the shoulder level.)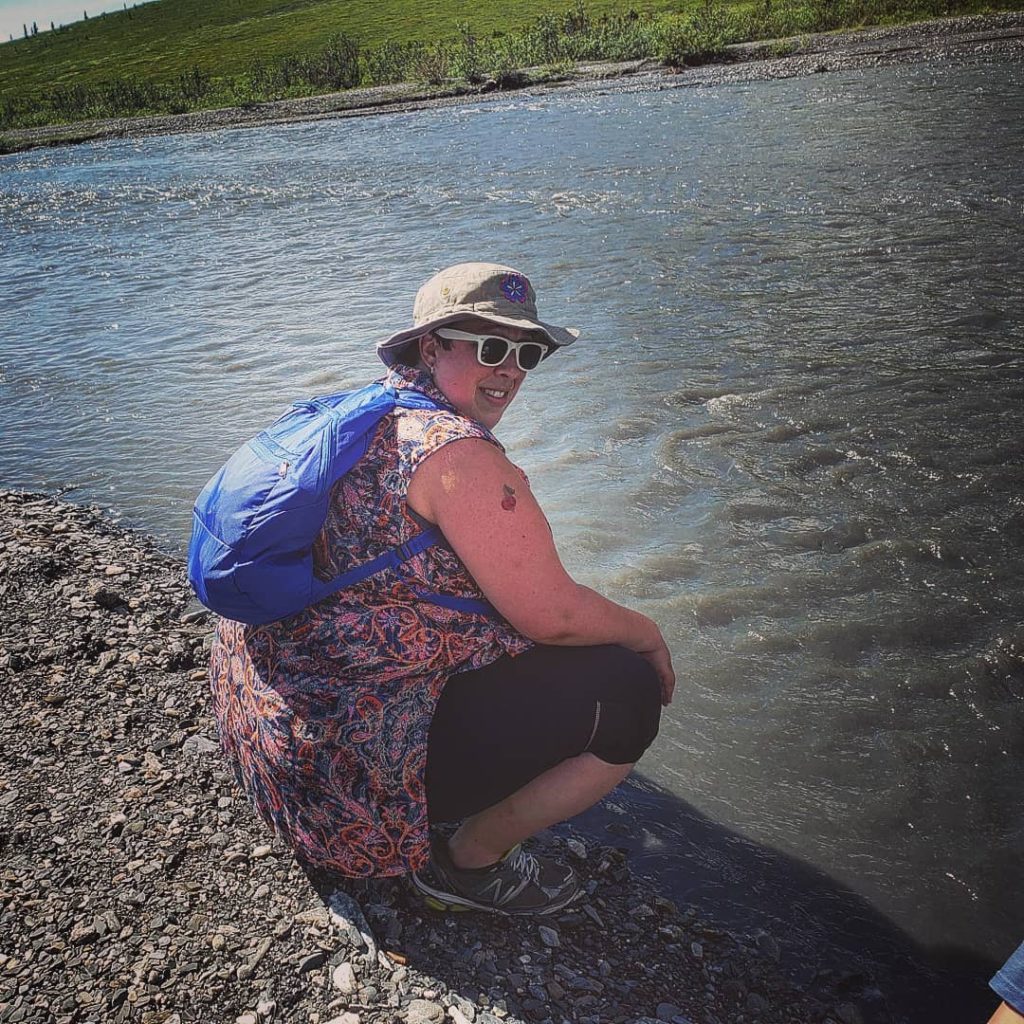 ♥ Why is it included in the 2018 Plus-Size Travel Gift Guide?
This bag will fit broader bodies and shoulders but also offers a larger bag alternative to a waist pack. Ideal for a full day out or a hike. Approx. retail price: $40
---
Penningtons Active Zone Plus Size Packable Hooded Jacket
Beyond the most basic windbreaker, it is REALLY hard to find a warm plus-size packable jacket. This Penningtons Packable Jacket (style # 410491) comes with its own "compression" pouch that gives a good taste of the packing capability of the product. It's cute AND comfortable, which also makes it a gem. Note that it runs a bit smaller on the size chart though (I took one size above what I usually wear). Among other specs: the detachable and adjustable hood and the possibility to zip it up inside Penningtons Soft Shell jacket to use as a winter jacket.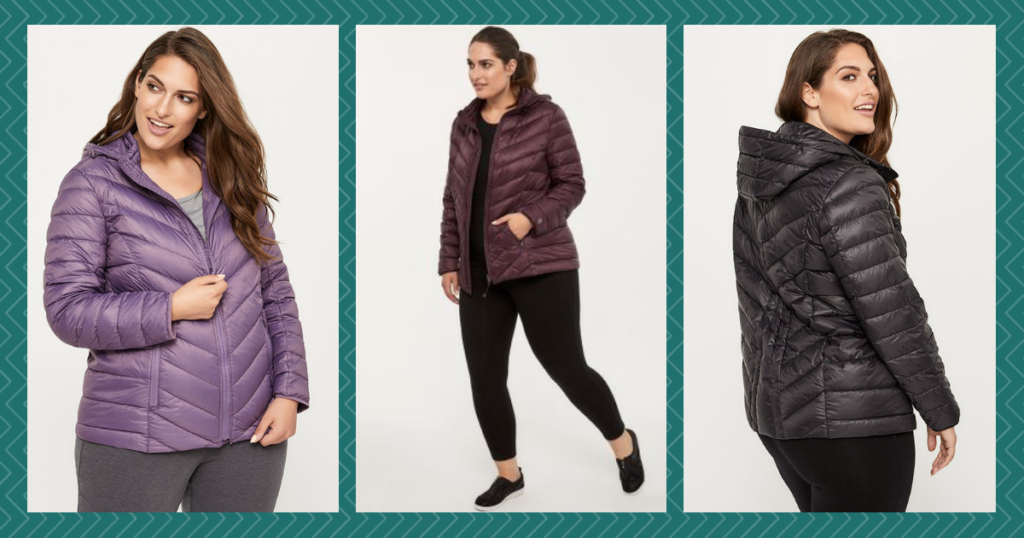 ♥ Why is it included in the 2018 Plus-Size Travel Gift Guide?
While being a great, comfortable and super puffy jacket, it packs REALLY small. I was recently able to compact mine to fit in a space about 6 x 5 x 3 inches (15 x 10 x 7.5 cm) without much effort! Penningtons Active Zone Plus Size Packable Hooded Jacket is also very lightweight. As many essential specs for a good backpacker choice! Retail price: $140
---
Coeur de Loup "Fred" Dress
Coeur de Loup is a Quebec City-based company that I have recently discovered through a fellow plus-size blogger. Though not specialized in plus sizes, Nathalie Jourdain (the woman behind the brand) offers custom-made garments at a very reasonable price. The Fred dress is a 3-in-1: a crop top, a sleeveless dress and a sleeved dress (if you wear the crop top on top/under the dress). The empire / princess waist ("A-Cut") makes it a roomy, comfortable, flowing dress without compromising its feminine style.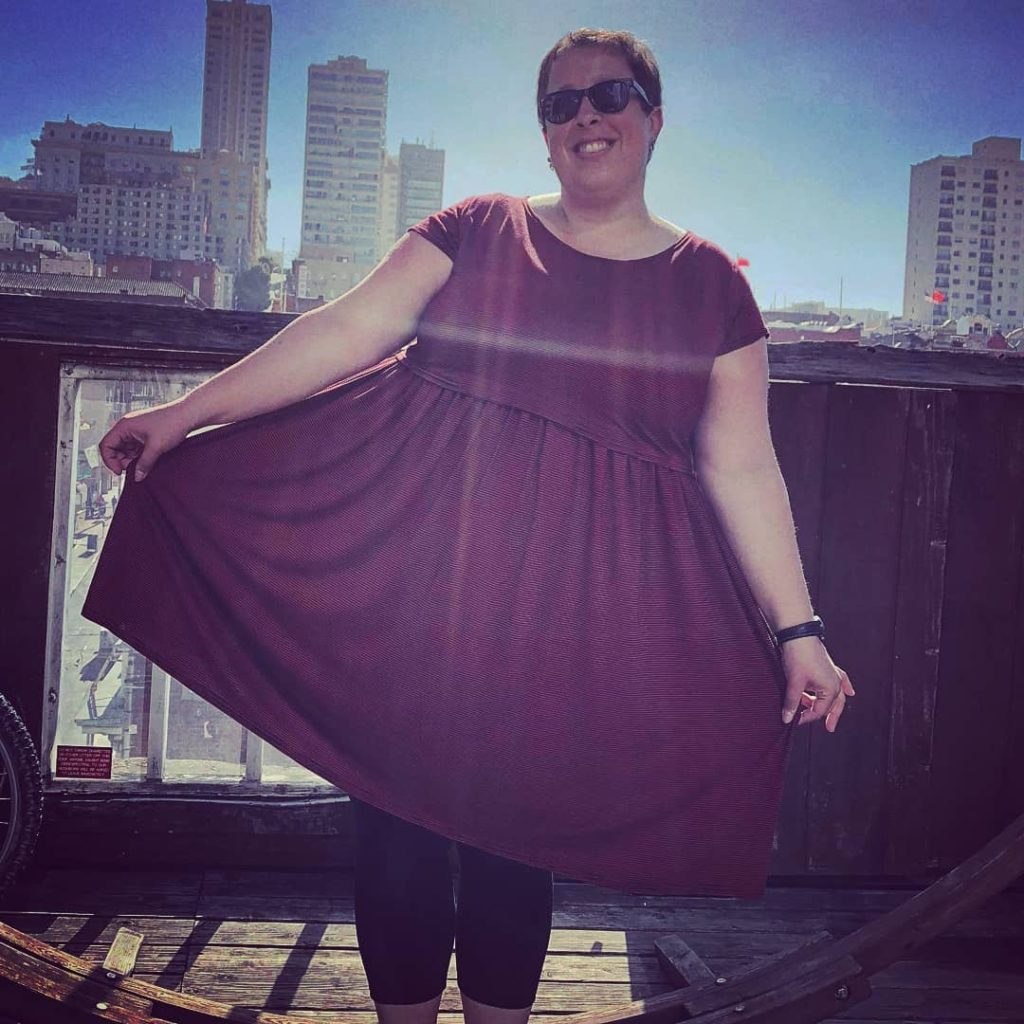 ♥ Why is it included in the 2018 Plus-Size Travel Gift Guide?
This model is comfortable and versatile. It's a great addition to a backpacker's luggage because it's both cute, comfortable and easy to dress up/down, with a few accessories. The soft fabric and the custom-made measurements allow for a perfect fit that never fails. (Note that the crop top is available in short/long sleeves.) Retail price: $130
---
Blundstone 510 Boots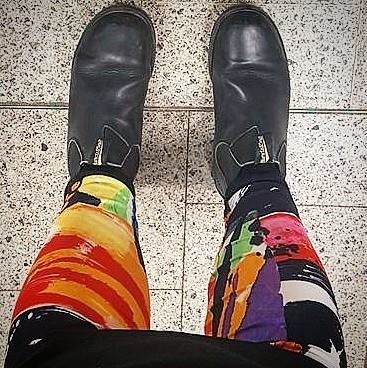 I bought my first pair of Blundstone 510 boots somewhere in 2015. This is the flagship model from this company based in Tasmania, Australia. They came highly recommended by a former colleague of mine who recalled hiking comfortably for many days with these boots on while in Hawaii. I have decided to give them a try, especially since I love short, "flat heal" boots. With the most minimal care – I hate to spend time on this! – a pair of Blundstone will last for years, without showing any sign of fatigue. (At least, nothing that a homemade shoe shine can't fix.)
♥ Why is it included in the 2018 Plus-Size Travel Gift Guide?
Though they are rather bulky, they could very well be the only shoes you need for a whole trip. (I wouldn't recommend packing them in your luggage at the risk of losing precious space!) The men's model is wide (and almost exactly like the woman's models), a necessity for many plus-size women who often have larger feet. The Blundstone 510's style is classic and timeless. And it's a good thing, because their featherweight comfort lasts for a long time.  Approx. retail price: $210-250
---
Special Mentions
More items caught my attention throughout the year. Here a few more that I felt were worth mentioning!
♥ Ti Voglio "Eva" Wirefree Bra
This soft, comfortable, lightly padded bra won't suffer (too much) from being squished in your luggage, since its wire-free. Available in many different colors and up to H cup! Retail price: $50
♥ Reebok Seamless Boyshort
Though they don't come specifically in plus sizes, these Reebok boyshorts (sold in 3-pack) run a bit large. (I fit comfortably in the size XL.) Tagless and seamless – to help diminish chafing – these stay well in place. The beehive texture increases breathability and wicks moisture away. Approx. retail price: $15-20 (for a pack of 3)
♥ Nike Air Force 1 Ultra Flyknit Low Trainers 
For once, I found a woman's style that fits my wide feet! The light purple (almost white) is really cute and perfect for warmer weather. The "knit" fabric is cooler and more comfortable than the traditional leather or "canvas"-like material. Approx. retail price: $125-175
♥ 2Bees Tubes, Multi-Activity Headwear
A multi-use polyester microfiber tube to help you manage your bad hair days, keep you warm, or just to add to your casual backpacker style. 2Bees Tubes are also available in a warmer, 100% Merino wool version. Retail price: Microfiber (50 cm / 20″) $15 – Merino wool (65 cm / 26″) $40
---
Did you find a new favorite travel gadget, bag, accessory or else in 2018?
Add it in the comments to contribute to the 2018 Plus-Size Travel Gift Guide!