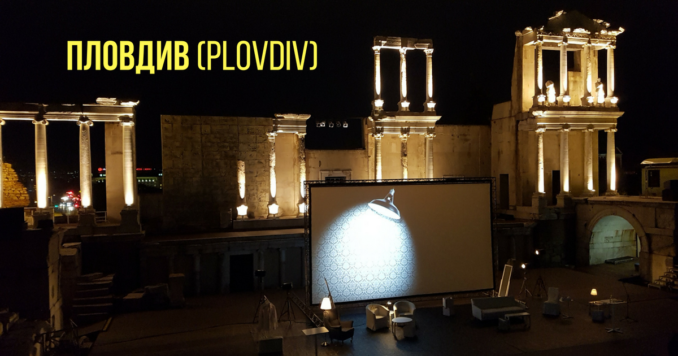 "Plus-Size Bulgaria: Plovdiv" is the 6th – and final – post of a series dedicated to my recent trip to Bulgaria. In a little less than 3 weeks, in September and October 2017, I have been around this country and discovered it through 6 different cities. East, West, North and South, I have sampled many different Bulgarian regions and it's now time to share my adventures and discoveries!
---
Plovdiv (Пловдив) is the 2nd biggest city of Bulgaria (after Sofia). It is located about 96 miles (150 km) south-east of the capital.  The city is one of the most continuously inhabited cities in Europe, due to its strategic location on trade routes and numerous influences.
Among the 3 biggest cities I visited in Bulgaria, Plovdiv was my favorite!
---
The Ancient Roman Theater
All of the Old Town of Plovdiv is awesome to walk through. Like many other cities in Bulgaria, lots of stairs will keep your legs well trained! The Ancient Roman Theater is probably the most famous attractions of the neighborhood, if not, of the whole city. (Do not confuse with the Philipolis Ancient Stadium, which you can find below the main pedestrian streets of the city, right next to the Dzhumaya Mosque and Square.)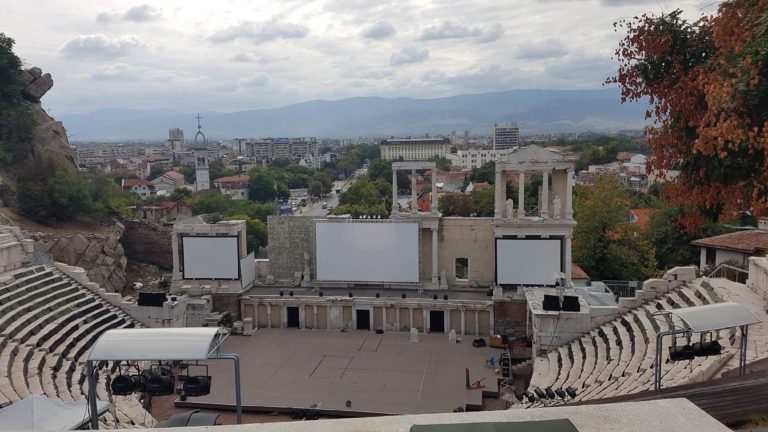 It's worth seeing during the day AND at night, since the lighting at night gives it a completely different atmosphere. During the high season, there are events/plays pretty much every night. We – Dorcas, a fellow backpacker from Singapore I met on the bus from Veliko Tarnovo to Plovdiv – decided to go to see a musical play. With the orchestra and all… and in Bulgarian, of course! (The image at the top of this post was taken after sundown, as we waited for the play to start.)
Neither of us spoke Bulgarian, but I think we got most of the story about this actor torn between love and a career who often broke into songs and ended with a very tearful musical ending. An interesting 2-hour experience for the modest sum of about $15. If you go in the fall, wear warm clothes. It was quite cold when the play finished (and it was the end of September).
---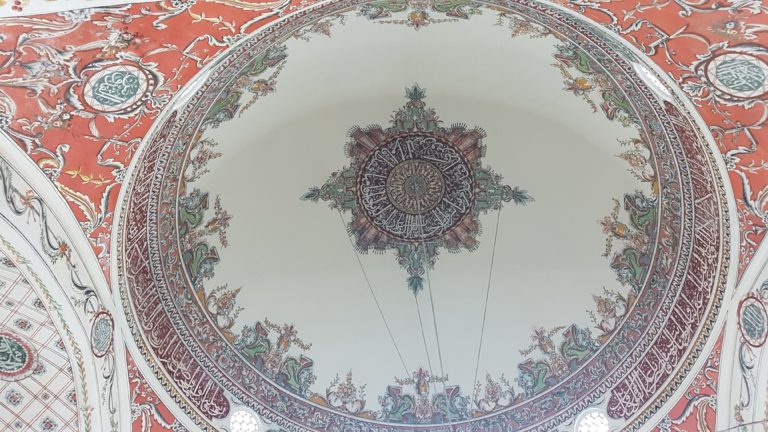 Dzhumaya Mosque
Yet again, I dropped by a mosque to have a look. Though it was prayer day, I was greeted warmly and could enter as soon as the prayer and the devotees were out.
Once again, the ceiling art took my breath away! The motifs – and writings – are incredibly delicate and precise. Amazement guaranteed. See for yourself!
---
The Free Plovdiv Tour
The only time I met a Quebecer (Marie-Claude, from Quebec City) in this whole trip was on this tour! Our guide, a law student named Iliya, was funny, knowledgeable, witty… and incredibly patient.
Side story: a group of senior people speaking only Italian mistakenly – it's still hard to figure out what happened! – joined our English-speaking tour. And they spoke loudly as Iliya was giving the tour explanations. I swear, they misbehaved the whole time!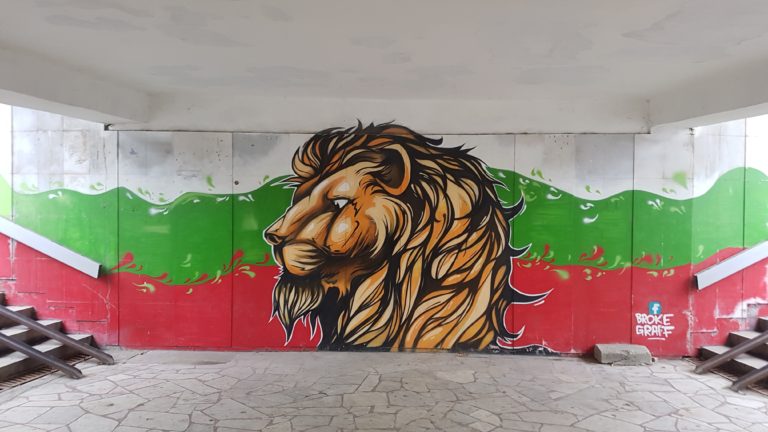 These tours take place every day, and they are free; you can always leave a tip for your guide at the end.
We stumbled upon Iliya later on that evening, in the crowds of the Kapana Fest (see next). He was with his boss, and we made sure to give him the proper praise for the awesome tour we had! #BackpackersGoodDeeds
---
The Kapana (Капана) Fest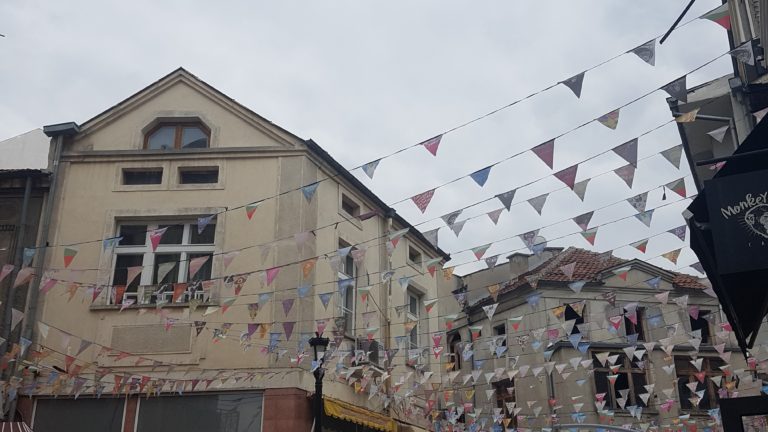 Stages and music scattered, local artisans, selling their crafts, and a bunch of pop-up bars and food stalls. Inexpensive, good stuff and entertainment. Basically: a true backpacker's paradise! Nothing like a neighborhood party to get the best of a place! Just walking around, looking at artists in action was an entertaining. There is more than one occurrence of the Kapana Fest through the year (almost always on weekends, though)… look it up to find out when is the next one, if you plan on visiting Plovdiv!
As we hung out  around the Kapana Fest, we ended up…
---
Drinking rakia (ракия) at No Sense Bar
Hard to believe I made it this far into my trip without trying rakia, a clear fruit brandy that happens to be a Bulgarian specialty. (It exists in surrounding countries like Greece, Croatia, and Bosnia, to name just a few places.) We are talking about 40%-80% alcohol here, so go easy on the rakia for your own sake!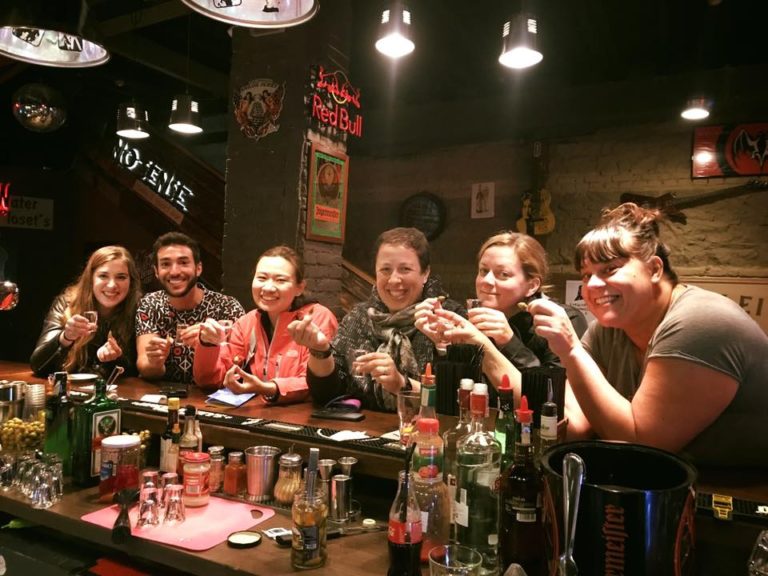 No Sense Bar staff was really nice and the ambiance of the place was more on the "alt-rock 90's bar" side, which was perfect for us. I highly recommend the Rakia Sour as mixed in this establishment!
Marie-Claude and I also discovered there a mixed drink called "Russian Breakfast" : tomato juice, vodka and spices, served in a shot glass with olives. Tomato juice gives your stomach something to hold on to, if you don't have access to proper food.
But being a solo female traveler, I always recommend going easy on the alcohol since being inebriated could compromise your safety!
---
Aivan (Айвън) Karaoke Bar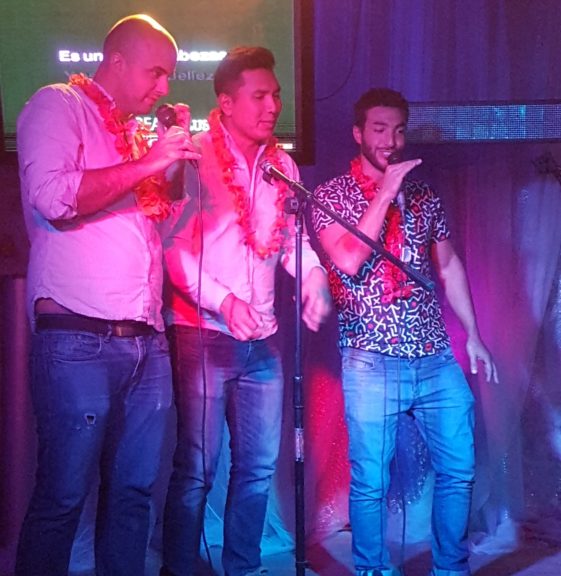 In case you didn't know… I love karaoke! I think this is one of the best ways to spend an evening of good, clean fun… and to be entertained! We had an awesome time there, the host (Aivan) was super nice and we set the place on fire with our (sometimes pitiful) performances!
Try that next time you travel…! Of course, no one is ever willing to go/sing in the beginning. But then most people change their mind. I know this for a fact: that very evening, I started the night singing "Sara Perche Ti Amo", a song in Italian… Have I mentioned that… I DON'T SPEAK ITALIAN! #KaraokeMagic #ImagineThat
People truly bond over karaoke! Give it a shot, you'll see!
---
Nebet Tepe Archeological Complex & the view of Plovdiv
A great place to have a look at the whole city (for free). This is also the hill on which Plovdiv was originally built, around 4000 BC. You can still see the ruins of the old walls, all around the site. The name of the site comes from Turkish words for "guard" (nevbet) and "hill" (tepe) and translates somehow as "the hill of the guards". It's an easy, uphill walk from the town center.

---
After an amazing weekend in Plovdiv, I headed West, direction Sofia, from which I would fly back home…
And that's it. The end of my series on my Bulgarian adventures!
---
♥ Thank you's…♥

I met awesome people while in Plovdiv! Dorcas, Marie-Claude, Lizanne, Rachel, Paige, Martin, Luis, Ludovic (the same Ludovic than in Veliko actually!): thanks for so much fun times!!!
---
Photos (C) 2017 – Edith Bernier (Except the Rakia Group Picture : (C) Lizanne V.)