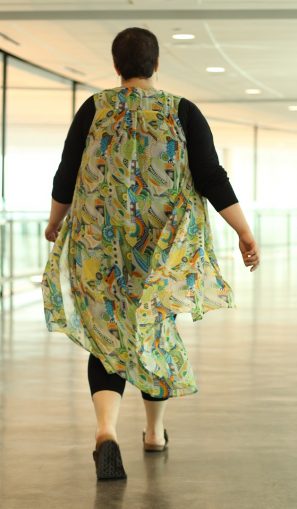 ---
** Wanna know more about SWAK Designs clothes? Check these posts! **

---
As this is not my first post about Sealed With A Kiss (SWAK) Designs, I think the company definitely won't need further presentation…  (In case you are new to this post, I present SWAK extensively in previous this post.)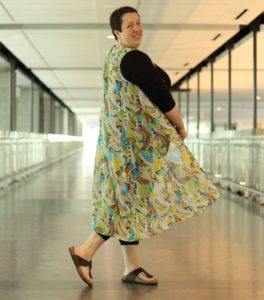 Though a duster is not a "full garment", I still think this is the kind of item that can easily prop up an outfit and add a little touch to what would otherwise be a pretty bland outfit.
Meet the Terri Chiffon Duster, in all it's sleeveless, maxi-sized, aerial glory!
The chiffon used in this design is semi-sheer and very light… definitely ideal for people who are worried about perspiration or feeling too hot while adding layers to their outfits!
Chiffon is a particularly interesting fabric for backpackers has it takes very little space in a backpack, doesn't wrinkle easily and dries very quickly.   (You like chiffon? Want some more? Make sure you check out SWAK's other plus-size tops to find more marvelous items!)
I really enjoyed the effect this garment added to this outfit (black leggings and t-shirt with Birkenstock sandals), an outfit that would be incredibly boring otherwise!  It jazzes it up by adding this little bohemian-70's-Woodstock touch… perfect for a day out at the festivals (Oh how I wish I were at Coachella with that duster!)
A duster is a light, loose-fitting long coat.
The original dusters were full-length, light-colored canvas or linen coats worn by horsemen to protect their clothing from trail dust.  […] At the late 19th and early 20th century, both men and women wore dusters to protect their clothes when riding in open motorcars on the dirt roads of the day.
Source : Wikipedia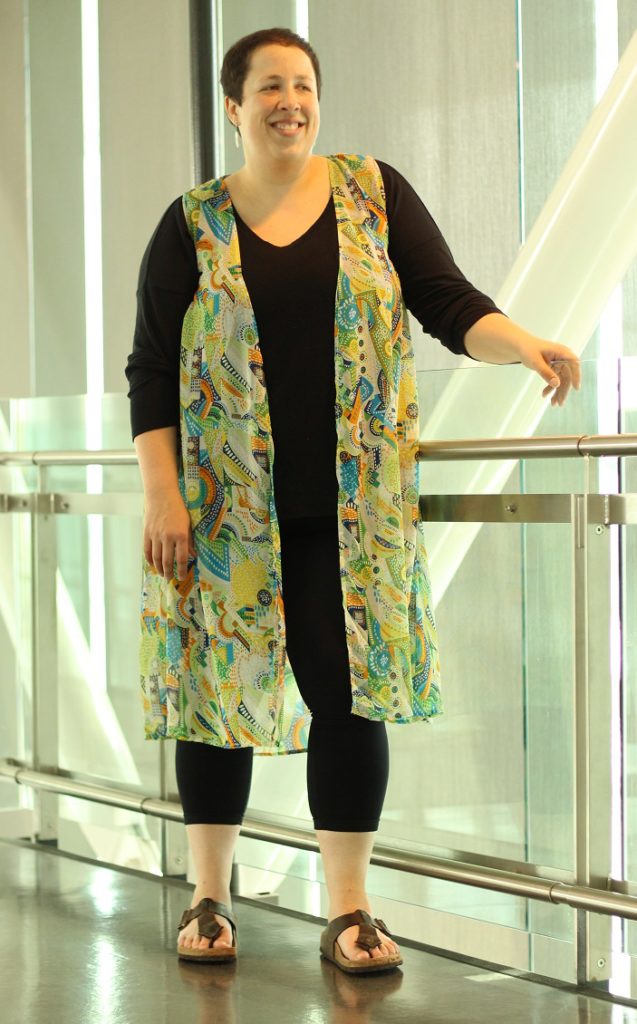 Not only does the Terri Chiffon Duster adds kick to your most comfortable, leggings-based outfit, but it also looks very nice with skinny jeans, jeggings and similar, tight-cut bottoms, whether they are full length or capris.  The Multi color being very colorful (mostly blue, yellow, green, orange and some white), it will be easy to match it with numerous dark or neutral colored clothing and will boost it with is brightness!
Due to its ample design, this duster will adapt to most types of silhouettes.  I was surprised how well it fit at the shoulders, considering I have quite broad shoulders…  Also, because there are no buttons or similar ways to close it up front and keep the sides "together", I was curious to see how it would "drape" and if it would accentuate my bust; even if tends to nestle close to the arm pit, it doesn't accentuate the chest too much (I don't like unnecessary attention to my bust…!)
FAST FACTS:
Price : $ 49.90 US (regular price – approx. € 45 / £ 35)
Fabric: 100% Polyester Chiffon
Color: Multi (in the pictures); also available in Mint
Sizes available: 1X to 6X
Washing & Care: Hand wash cold water; lay flat to dry
BEST BACKPACKING FEATURES:
-Lightweight & compact
-Virtually no air-drying time
-Can be matched with various outfits
VERDICT
The Terri Chiffon Duster is a great way to add a little style to the leggings-tank top/t-shirt look that would otherwise be incredibly boring and style-less!  Just make sure you keep a tiny space in your luggage for this item in your luggage, because that is all the place it requires.  Take out the big sunglasses and the even bigger sun hat and run to the next outdoor event with this garment as part of a new backpacker-friendly, festival-ready look !

---


SWAK (Sealed With A Kiss) Designs – www.swakdesigns.com
Los Angeles, California
Phone : 1-866-432-6497
Email : support@swakdesigns.com
Twitter : @SWAKDesigns
Facebook : SWAK Designs
Instagram : @swakdesigns